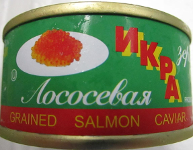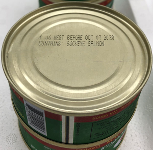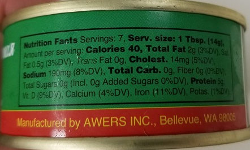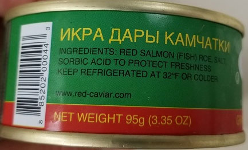 August 15, 2019 from FDA:
AWERS, Inc. of Bellevue, WA is recalling Grained Salmon Caviar 95g (Sockeye Salmon Caviar) with "BEST BEFORE OCT 07 2020", because it has the potential to be contaminated with Clostridium botulinum, a bacterium which can cause life-threatening illness or death. Consumers are warned not to use the product even if it does not look or smell spoiled.
Grained Salmon Caviar 95g was distributed in California, New York, Oregon, Washington and product may have further distributed to other states and Canada.
Product is packed in a metal tin with Cyrillic lettering. The tin is green, with red and white writing with an easy open pull lid. The "BEST BEFORE OCT 07 2020" is printed on the bottom on the tin (See attached photo).
Consumers must inform AWERS, Inc. if they possess any Grained Salmon Caviar 95g tins with "BEST BEORE OCT 07 2020". Customer must ship remaining affected product back to the firm or destroy it with permission from AWERS, Inc. for a full refund.
AWERS, Inc. can be reached by phone at (425) 747-7866, Monday-Friday, 8 am - 6 pm PST, or by email at awersinc1@gmail.com.
Canadian Food Recall Warning - Grained Salmon Caviar recalled due to potential presence of dangerous bacteria
August 14, 2019 from CFIA:
Kananaskistrade is recalling Grained Salmon Caviar from the marketplace because it may permit the growth of Clostridium botulinum. Consumers should not consume the recalled product described below.
Recalled products
Brand Name
Common Name
Size
UPC
Code(s) on Product
N/A (Cyrillic characters only)
Grained Salmon Caviar
95 g

8 85202 00044 3

Best before

OCT 07 2020
This recall was triggered by Canadian Food Inspection Agency (CFIA) test results. The CFIA is conducting a food safety investigation, which may lead to the recall of other products. If other high-risk products are recalled, the CFIA will notify the public through updated Food Recall Warnings. The CFIA is verifying that industry is removing recalled product from the marketplace.