The following health alert is from the Wawona packing and FDAon July 19, 2014 and the CFIA on July 21, 2014.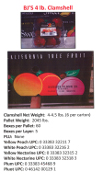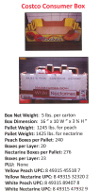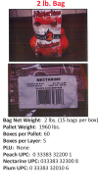 Wawona Packing Company of Cutler, Calif is voluntarily recalling certain lots of whole peaches (white and yellow), nectarines (white and yellow), plums and pluots packed between June 1, 2014 through July 12,2014 due to the potential of the products being contaminated with Listeria monocytogenes.
The recalled products were shipped directly to retailers and wholesalers who resell the products. Consumers can identify the recalled products by the information provided in the list below and photographs. Anyone who has the recalled products in their possession should not consume them and should discard them. Consumers with questions may contact Wawona Packing at 1-888-232-9912, M-F, 8am-5pm ET , or visit www.wawonapacking.comdisclaimer icon for a copy of this press release.

Information on companies which sold the fruit:
http://inspection.gc.ca/about-the-cfia/newsroom/food-recall-warnings/complete-listing/" target='cfia'>CFIA list of recalled Wawona, Sweet 2 Eat or Harvest Sweet fresh, whole peaches, plums, nectarines and pluot
BJ's
California Tree Fruit
Costco
Majestic Pearl White Nectarines
2 lb bag of Nectarines
Sweet2Eat Organic Nectarines and Peaches
Sam's
Black Diamond Black Plums
Summer Flame Peaches
Trader Joes Peaches
Dierbergs stores
The following revised kashrus alert is from Kosher Miami and the ORB on July 10, 2014 and July 22, 2014.
Please be advised that Pita Nosh located in the Festival Flea Market in Pompano Beach is NOT under the supervision of Kosher Miami, nor under the supervision of the ORB. They have a letter on display from KM and ORB that attests to the meat from a meat distributor, not to Pita Nosh.
The following kashrus alert is from the OK Kosher Certification on February 28, 2014 and reissued on July 21, 2014.

Please be advised that Post Limited Edition Honeycomb with Twisted Marshmallow Cereal is not kosher certified. It contains NON-KOSHER ingredients and does NOT have a kosher symbol on the package. Please use extra care when purchasing Honeycomb to ensure you buy original certified Honeycomb cereal ONLY.
Ed. note: One of my readers alerted me to the fact that the product with the marshmallows has the same UPC number as the product without. The only difference is a banner across the lower part of the front of the box indicating that there are marshmallows inside and no kosher symbol.
The following wheat allergy alert is from the FDA on July 16, 2014.
Barricini Milk Chocolate Peanut Butter Pretzels in Net Wt 6.5 oz. plastic tub, UPC 075655235181 Back Panel: Milk Chocolate Peanut Butter Cups Barricini Manufactured by Bazzini Holdings, LLC Allentown, PA 18106 have been voluntarily recalled because of undeclared wheat. The back panel applied to some containers of milk chocolate peanut butter pretzels was for milk chocolate peanut butter cups, which does not declare wheat. The product was distributed nationwide, excluding Pacific States
The following dairy allergy alert is from the FDA on July 16, 2014.

Ah! Laska Organic Cocoa Non Dairy Chocolate Mix; Low Fat, Vegan, USDA Organic; Net Wt. 12 oz. (340 g);
UPC 7-60519-10028-7;
Ingredient: Organic cane sugar, organic cocoa powder (non-alkaline) organic, rice syrup solids, xanthan gum (a natural thickener) carrageenan (a natural seaweed extract emulsifier), maltodextrin, organic vanilla powder. Made in a facility that processes peanuts, sesame, dairy, eggs, fish, and soy. This product is wheat free and gluten free. Distributed by Ah!Laska 313 Iron Horse Way Providence RI Product of USA
Lot 3280, Best by April 2015
This product has been voluntarily recaled by Koru Pacific Packaging, Inc. because internal testing confirmed the presence of milk allergen in finished product that is labeled "Non-Dairy". The product has nationwide distribution.
The following kashrus alert is from the OK Kosher Suprvision on July 17, 2014.
Please be advised that EdibleArrangements.com is advertising some of their facilities as being kosher certified by OK KOSHER CERTIFICATION.
OK KOSHER CERTIFICATION certifies the following facilities only:
Edible Arrangements at 402 Avenue M, Brooklyn, NY
Edible Arrangements at 958 Broadway, Woodmere, NY
Corrective action is being taken.
The following kashrus alert is from the Star-K on July 17, 2014.

Packages of Assorted Flavored Dropshotz Jello Shots Bronx, NY bear an unauthorized Star-K symbol. The product contains beef gelatin as listed on the ingredient panel. Corrective action is being taken.
The following kashrus alert is from the KSA posted on July 17, 2014.
Genesis Today: All products manufactured by Dr. Tims are not certified by KSA. Corrective measures have been taken.
The following Canadian kashrus alert is from the COR on July 11, 2014.
HEB Cabernet Sauvignon Pita Crackers were inadvertently labeled with a COR 263. This product is not kosher and should not be used even when bearing COR 263 Corrective measures have been taken
The following South African kashrus alert is from the Beth Din of Johannesburg on July 16, 2014.
Moirs Blueberry Cheesecake Instant Pudding has been reformulated and is no longer certified with immediate effect.