The following British kashrus alert is from the London Beth Din on September 2, 2015.

COFRESH
We have been informed that a limited number of non-certified savoury Cofresh products have erroneously had the KLBD logo printed alongside the best before date. Any products found with the KLBD logo which are not included on the KLBD list are not kosher certified nor approved and should not be used.
As far as we are aware only the following products are affected:
Balti Mix
Bombay Mix
Chevda
Chana Dal
Green Peas & Peanuts
Cornflake Mix
Punjabi Mix
For a full list of KLBD certified Cofresh products, check our superfast
Isitkosher
Search cofresh.
The following shmitta alert is from the London Beth Din on August 2, 2015.
IMPORTANT SHEMITTA INFORMATION
Rosemary from Israel should be avoided until beginning of June 2016 (not 2015 as previously listed)
For a full list of Shemitta dates for Israeli produce is at www.kosher.org.uk/article/shemitta-dates.
Ed. note: The Shmitta year will be over at Rosh HaShana however, see the schedule above as to when fruits and vegetables will no longer has shmitta status.
The following kashrus alert is from the OU on September 1, 2015.

Nathan's Hot Fries Potato Snacks, Inventure, Phoenix, AZ: The Orthodox Union certifies Nathan's Hot Fries potato snacks as an OU D Dairy product. This product contains dairy ingredients, as indicated in the allergen and ingredient statements. Some product was mistakenly labeled with a plain OU symbol, without the D Dairy designation. Corrective action has been implemented.
The following health alert is from the FDA enforcement reportt for August 26, 2015.

Friendly Ice Cream Corp., Wilbraham, MA is voluntarily recalling Friendly's Vienna Mocha Chunk Ice Cream Tub, 48 U.S. FL. OZ. UPC: 0-29839 00557-4 because of a foreign object. Code Info WC 10 06/18/16 xxxx xxxxxx Use By: 6/18/2016 ; Distribution Pattern ME, NH, VT, MA RI, CT, NY, NJ, PA, DE, MD, DC, VA
The following health alert is from the FDA on August 31, 2015.

Bonduelle USA Inc. of Brockport, NY is recalling 9,335 cases of frozen corn because it has the potential to be contaminated with Listeria monocytogenes.
The frozen cut corn was distributed to stores in the following states: New York, New Jersey, Pennsylvania, Vermont, Massachusetts, Indiana, Ohio, Kentucky, Maryland, Virginia, North Carolina, Florida, Mississippi and Louisiana.
The affected frozen cut corn was distributed in poly bags under the following labels and codes:
WYLWOOD Super Sweet Whole Kernel Corn, NET WT. 16 OZ (1 LB), UPC 051933002401, Codes: Best By June 2017 K51564 and K51574;
MARKET BASKET Cut Corn, NET WT. 16 OZ. (1 LB.), UPC 049705693414, Code: Best By June 2017 K51574;
Bountiful Harvest WHOLE KERNEL CUT CORN, NET WT. 40 OZ. (2.5 LBS.), UPC 822486120597, Code: Best By June 2017 K51574;
WEST CREEK FROZEN VEGETABLES Cut Corn, NET WT. 2.5 LBS., UPC 00806795285239 Code: Best By June 2017 K51574.
The recall was the result of product being tested at retail by the State of Tennessee which had tested positive for Listeria monocytogenes. The company has ceased distribution of the product, and the company and US Food and Drug Administration (FDA) continue their investigation as to what caused the problem. The company is fully cooperating with the FDA.
Consumers who purchased the product are urged not to consume this product and throw it away. Consumers requiring refund or with questions may contact the company at 1-877-990-2662, Monday - Friday, 9 am - 4 pm EST.
The following South African kashrus alert is from the Beth Din of Johannesburg on August 28, 2015.
GLUTEN FREE, CRANBERRY AND ALMOND BISCUITS as well as MOCHA CHOCOLATE BISCUITS manufactured by FRESH EARTH GLUTEN FREE BAKE HOUSE are erroneously marked as Parev. These products are Milchik. The company apologises for the error and are taking corrective action.
The following nut or dairy allergy alert is from the FoodAllergy.org on August 28, 2015.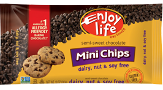 Enjoy Life Foods announced today a nationwide voluntary recall in the United States of a single production lot of the Enjoy Life Semi-Sweet Chocolate Mini Chips product (10 oz. bag) because some packages may contain undeclared sunflower seeds, pumpkin seeds and/or dried fruits that were inadvertently added to the product. Some consumers may be allergic or sensitive to these undeclared ingredients.
This recall is limited solely to the Enjoy Life Semi-Sweet Chocolate Mini Chips product (10 oz. bag), which was sold in retail stores and online in the United States. No other Enjoy Life products are affected, and this recall does not affect products in countries other than the United States.
The following product is being recalled:
Enjoy Life Semi-Sweet Chocolate Mini Chips, 10 oz. bag
Retail UPC: 853522 000306
Best By Date: Jun 18 2016 (found on back right of package)
A picture of the package label is shown above.
This issue was discovered as a result of consumer communications. One illness (a possible allergic reaction) has been reported to the company to date. Consumers who have this product should not eat it and should discard any product they may have.
Consumers should contact the company at 1-877-807-5633, 24 hours a day to get more information about the recall and how to receive a refund; Consumer Relations specialists are available Monday-Friday, 8 a.m. to 5 p.m. Central.
The following Candian health alert is from the CFIA on August 28, 2015.

The food recall warning issued on August 7, 2015 has been updated to include additional product information. This additional information was identified during the Canadian Food Inspection Agency's (CFIA) food safety investigation. Heinz Canada is recalling Heinz brand Pear Green Bean Mango from the marketplace due to potential loss of seal, causing spoilage. Consumers should not consume the recalled product described below.
| Brand Name | Common Name | Size | Code(s) on Product | UPC |
| --- | --- | --- | --- | --- |
| Heinz Canada | Pear Green Bean Mango | 128 ml | 2016 MA 24 SK 5B24 | 0 57000 02991 3 |
Distribution: Alberta, British Columbia, Manitoba, New Brunswick, Newfoundland and Labrador, Ontario, Quebec, Saskatchewan
The following kashrus reminder is from Dallas Kosher on August 28, 2015.
Reminder: as a kosher consumer, it is your responsibility to check each product for a symbol each time you purchase. Many products will change their supervision symbol or lose certification altogether. Please remember to check each product, every time.
The following kashrus alert is from the MK on August 28, 2015.
The MK wishes to inform the public that Mega Burger Truck and Mega Burger Restaurant is no longer under MK supervision.