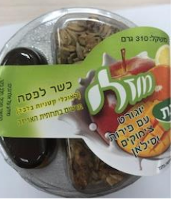 January 9, 2020 from health.gov.il
Einat Food Industries is informing all of its clients that due to an error, 2,615 units of the product 'muesli fruit yogurt with raisin and date honey' have been labeled "kosher for Passover" even though the product contains leavened granola.
The product 310 gr "muesli fruit yogurt with raisin and date honey" kosher for Passover (only for legume eaters) carrying the barcode 7290006991522,best used before 10/1/2020, 12/1/2020, has been erroneously marked as kosher for Passover and the ingredient list did not state puffed wheat granola (contains gluten) and oatmeal.
The allergens list also left out eggs, fish,and peanuts as customarily printed in the leavened products labeling.
Out of precaution,consumers who are sensitive to gluten and the allergens listed above andon the product labeling are requested not to consume this product.
To be clear, the product's kashruth is in practice ultra-orthodox kashrut Mehuderet of Beit Yosef and kashrut Mehadrin of Rabbi Y. Ben David.
The company is working to collect the products.
For any questions,the public is welcomedto contact the company's customer service center at telephone: 03-9385167Sunday –Thursday 9:00-16:00