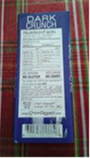 Chip'n Dipped Issues Allergy Alert on Undeclared Milk in "Dark Chocolate Crunch Bar"
January 10, 2017 - from the FDA:
Chip'n Dipped of Huntington, NY, is recalling its 2.9-oz. bar, Dark Chocolate Crunch because they may contain undeclared milk. People who have allergies to milk run the risk of serious or life-threatening allergic reactions if they consume these products.
The recalled "Dark Chocolate Crunch" was distributed nationwide in retail stores.
The product comes in 2.9oz Bar form. The lot numbers are 1100506, 1100483 and 1100524 and are stamped on the back of the packaging box. Individual bars are unmarked.
The recall was initiated after it was discovered that the milk-containing product was distributed in packaging that did not reveal the presence of milk.
Consumers who have purchased The Dark Chocolate Crunch Bar are urged to return them to the place of purchase for a full refund. Consumers with questions may contact the company at 1-888-545-2447, Monday-Friday 10am -4 pm ET.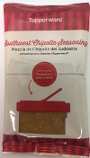 Tupperware U.S., Inc. Recalls Southwest Chipotle Seasoning Because of Possible Health Risk
January 11, 2017 - from the FDA:
Tupperware U.S., Inc. of Orlando, Florida, is voluntarily recalling limited quantities of Southwest Chipotle Seasoning, because it has the potential to be contaminated with Salmonella. The product was manufactured for Tupperware by a third party blender of fine spices and seasonings. This recall is being carried out in an abundance of caution after the FDA found traces of Salmonella at the facility where buttermilk powder, one ingredient in the seasoning mix, was manufactured.
Tupperware has not experienced any problems or complaints about this product, and no illnesses have been reported. This recall is a precautionary measure only. Anyone in possession of any of the recalled product should send it to:
Tupperware U.S., Inc.
ATTN: Julie Castro
14901 South Orange Blossom Trail
Orlando, FL 32837
The returning party should include a name, address, phone number and email address. Once the product is received, Tupperware will send, in return, a $15 eGift Certificate, per Seasoning package, to cover the cost of the product and shipping.
Please forward this message to anyone else who has purchased the Southwest Chipotle Seasoning since August 2, 2016. If you have any questions, please call Customer Care at 1-800-TUPPERWARE (1-800-887-7379).
Kosher Alert on Trader Joes Piñon Coffee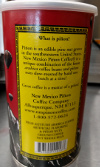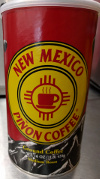 January 11, 2017 - from the editor:
Trader Joes is selling a Whole Bean Piñon Coffee. This product is on the shelves with the plain whole bean coffee. It contains flavorings and needs certification which is does not have.
Kosher Alert Martin's Funnel Cake Flavored Potato Chips

January 9, 2017 - from the OU:
The Orthodox Union certifies Martin's Funnel Cake Flavored Potato Chips as an OU D - Dairy product. This product contains dairy as indicated in the ingredients and allergens statements. Some packaging was printed with an "OU Pareve" symbol as opposed to an OU D - Dairy symbol. Correction actions are being implemented
Kosher alert on Effy's Grill, NY, NY
January 10, 2017 from the OK:
Please be advised that as of January 10th, 2017 OK KOSHER CERTIFICATION has revoked certification of Effy's Grill (104 W 96th Street, New York, NY 10025)
Kashrus information on KVH certified products
January 9, 2017 - from the Vaad of Denver:
The KVH certification is now a recommended certification.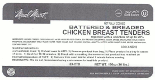 Schreiber Processing Corp. Recalls Chicken Tender Products Due to Possible Foreign Matter Contamination and Misbranding
January 9, 2017: from USDA:
Schreiber Processing Corp., a Maspeth, N.Y. establishment, is recalling approximately 2,330 pounds of chicken tender products that may be contaminated with plastic and misbranded, the U.S. Department of Agriculture's Food Safety and Inspection Service (FSIS) announced today.
The breaded chicken breast tenders were produced on December 8, 2016 and packaged on December 9, 2016. The following products are subject to recall: [View Label]
10-lb. boxes containing "Meal Mart BATTERED & BREADED CHICKEN BREAST TENDERS" bearing item code 03-CTB and production code 0246
The products subject to recall bear establishment number "P-787" inside the USDA mark of inspection. These items were shipped to institutional and retail locations in New Jersey, New York, and Washington.
The problem was discovered after the firm received a consumer complaint.
There have been no confirmed reports of injury or illness due to consumption of these products. Anyone concerned about an injury or illness should contact a healthcare provider.
Consumers who have purchased these products are urged not to consume them. These products should be thrown away or returned to the place of purchase.
Consumers and media with questions about the recall can contact Mordechai Milworn, Q&A/HAACP Manager, at (718) 894-2000 ext. 336.
From the FSIS is a list of RETAIL CONSIGNEES FOR FSIS RECALL 002-2017:
| | | | |
| --- | --- | --- | --- |
| Retailer Name | Street Address | City | State |
| Riverdale Kosher Market | 5683 Riverdale Avenue | Riverdale | NY-New York |
| Kosher World/Always Fresh | 1913 Cornaga Avenue | Far Rockaway | NY-New York |
| Mountain Fruit | 1523 Avenue M | Brooklyn | NY-New York |
| Affordable Kosher | 5980 1st Avenue South | Seattle | WA-Washington |