The following kashrus alert is from the COR Detroit on July 15, 2015.
ZANE FOODS and WESTBORN MARKET brands of HUMMUS, BABAGANOUSH and GARLIC CREAM are no longer certified by COR Detroit, even when bearing the K-COR symbol.
The following kashrus alert is from the COR Detroit on July 15, 2015.

BASKIN ROBBINS ROCKY ROAD ICE CREAM and BASKIN ROBBINS PINK BUBBLE GUM ICE CREAM varieties are not Kosher, and therefore do not bear a Star-D on their containers.
Kashrut.com has information on Ice Creama and Frozen Desserts at http://www.kashrut.com/consumer/ice_cream.
The following Mexican kashrus alert from KMD Mexico on July 21, 2015.
El Instituto Gastronómico Corbuse Interlomas ubicado en Jesús del Monte Nº 35 L-25 en la Colonia Jesús del Monte, Huixquilucan ya no cuenta con nuestra supervisión
The Culinary Institute located Corbuse Interlomas in Jesus del Monte No. 35 L -25 in the Colony Jesus del Monte, Huixquilucan no longer under KMD supervision
The following information on chodosh is from Rabbi Y. Herman and published at cRc on July 21, 2015.
The following is the new weekly crops bulletin from the US Department of Agriculture. The oats harvest is slowly starting. The harvest of the spring wheat and barley has not yet started, but is imminent. Here is the first tentative estimate of Chodosh dates. All the items below are subject to revision:
Freshly baked items using spring wheat, including breads, challahs, bagels, rolls, pizza and some cakes and cookies may be Chodosh in the Midwest after the PURCHASE DATE of Aug 8. Elsewhere in the US, this date would be Aug 15.
Packaged foods from spring wheat may be Chodosh after the PACKING date of Aug 8, or the PURCHASE date of Aug 22.
Noodles and pasta may be Chodosh after the PACKING date of Aug 15 and the PURCHASE date of Sept 1.
Barley, such as pearled barley, may be Chodosh after the PACKING date of Aug 8 and PURCHASE date of Aig 22.
Oats: Last year, according to the O-U all oats used in cereals had a Chodosh PACKING date of Sept 1 or later, PURCHASE DATE of Sept 15 or later. Exceptions to this included General Mills cereals such as Cheerios and Quaker oats. We are waiting for an update on this for the forthcoming season from the O-U. Oats used in non-cereal products such as oatmeal cookies, may be Chodosh starting a packing date of Jul 26.
Barley malt (also listed in the ingredients as "malt") may be Chodosh as of the packing date of Dec 15. Package codes should be checked after the purchase date of Jan 15 for beer and Mar 15 for malt in other products.
The following kashrus alert is from the cRc on July 21, 2015.
Produce from Israel requires special attention to ensure that it is "kosher". This includes oversight that it is neither arlah nor from shemittah, and that terumah and ma'aser are separated.
For more on those terms, see IsraeliProduce
As part of its certification of Hungarian Kosher (Skokie), the cRc addresses these issues for bell peppers, carrots, Jaffa oranges and any other Israeli produce offered for sale. Accordingly, consumers may consume all produce sold at this store and can rest assured that all of the mitzvos specific to the land of Israel have been fulfilled.
Kashrut.com has information on Shmitta and Terumos and Maasros at http://www.kashrut.com/consumer/vegetables/.
The following milk allergy alert is from the FDA on July 20, 2015.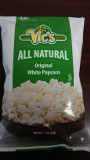 Barrel O' Fun Snack Foods Co. of Perham, MN is recalling one specific lot of Vic's Original White Popcorn 1-1/8oz size bags (UPC 0-46555-00062-1) because it may contain an undeclared milk allergen.
The recall is limited to one specific manufacture date of Vic's Original White Popcorn (1-1/8oz bags) bearing the Best By date of 09DEC2015 and Manufacture Code of 5195M75. The code is printed on the upper right front of the bags. No other lots, bag sizes or products are affected.
Distribution of the affected product is limited to product distributed through foodservice and retail in the following states: IA, MN, MO, NE, SD, and WI.
The recall was initiated after it was discovered that white cheddar popcorn, a product containing milk, was distributed in packaging for a different product, Original White Popcorn, that did not reveal the presence of milk. Subsequent investigation indicates the problem was caused by a temporary breakdown in the company's production and packaging processes.
Consumers who have purchased the recalled product are urged to return it to the place of purchase for a full refund.
Consumers with questions may contact Barrel O' Fun Snack Foods Co. at 1-800-346-4910. Monday - Thursday 7am - 5pm CST and Friday 7am-11am CST
The following kashrus alert is from the OK on July 17, 2015.

Domino Creamer, Domino Sugar, Yonkers, NY: A very limited amount of Domino Creamer has been packed with an OK-P (Passover) symbol instead of the OK-D (Dairy) symbol. Please be aware this product is kosher and dairy – NOT certified for Passover.
If any consumer has this product, he should call the 800# on the canister. The product will either be replaced or a voucher will be issued.
Corrective action has been taken.
The following kashrus alert is from the Kof on July 16, 2015.

First Tea Leafs Distributed by First Tea North America. This company is NOT Kosher certified. Corrective action is being taken.
Company has cooperated and products have been willingly recalled.
The following heath alert is from the FDA 'enforcement report for July 15, 2015.

DASANI Purified Water, 24/20 fl. oz. (1.25 pt) 591 mL, pack, Desani, The Coca Cola Company, Atlanta, GA 30313 has been recalled because there is the potential that some of the bottles may contain linear pieces of plastic from the bottle production.
UPC Code: 0 499770 4, Date Codes: MAR 2116 KMA, MAR 2116 KMB, MAR 2116 KMC, MAR 2116 KMD, MAR 2816 KM A, MAR 2816 KM B, MAR 2816 KM C, MAR 2816 KM D, MAR 2816 KM E, MAR 2816 KM F, APR 1116 KM A, APR 1116 KM B, APR 1116 KM D, APR 1116 KM E, APR 1816 KM A, APR 1816 KM B, APR 1816 KM C, APR 1816 KM D, APR 1816 KM E and APR 2516 KM B.
The following heath alert is from the FDA 'enforcement report for July 15, 2015.

Kerry, Inc. Beloit WI is voluntarily recalling all Nondairy Creamer produced between May 12, 2015 and May 28, 2015 due to the potential for a few packages to contain small pieces of metal from a broken screen on the production line.
Kraft Non-Dairy Creamer, Net WT/Contenido Neto 16 oz (454 g) SKU 2100042503. Kraft Non-Dairy Creamer, Net WT/Contenido Neto 6 oz (170g) SKU 2100042202. Country Barn, Coffee Creamer, Non-Dairy creamer, Net WT/Peso Neto 6 oz ( 170g), SKU 3540603606. Country Barn, Coffee Creamer, Non-Dairy creamer, Net WT/Peso Neto 11 oz ( 312g), SKU 3540603611. Libby's Coffee Creamer, Non-Dairy creamer, 16 oz (544 g) SKU 1614308012. Libby's Coffee Creamer, Non-Dairy creamer, 22 oz SKU 1614308013. Libby's Coffee Creamer, Non-Dairy creamer, 35.3 oz SKU 1614308014. Golden Flag, Non Dairy Creamer, Net WT 22 oz (1 lb 6 oz) 624 g, SKU 6464410734.
Code Info: 515595601 513595604 520595602 513595603 515595604 521595602
Kraft French Vanilla, Creamer, Non-Dairy Creamer, Net WT/Contenido Neto 35.3 oz (1 kg) SKU 2100002971. Publix, Nondairy, FrenchVanilla, Naturally and Artificially Flavored Coffee Creamer, Net Wt 15 oz (425 g), SKU 4141501625.
Code Info: 515595606 522595602