Ferrara Candy Issues Allergy Alert on Undeclared Peanuts and Wheat in Almond Supremes with a Best by Date of 4/22/2017


September 19, 2016 - From the FDA:
Ferrara Candy Company has initiated a voluntary recall of Brach's® 5 ounce Almond Supremes with a best by date of 4/22/2017 after discovering that some Brach's® Almond Supremes packages may include Brach's® Bridge Mix, a product that contains peanuts and wheat. No other Ferrara Candy Company products are affected. he affected product was distributed throughout retail stores in Florida, Iowa, Illinois, Indiana, Michigan, Minnesota, Missouri, Montana, Nebraska, Ohio, South Carolina, Texas, Washington and Wisconsin. Recalled items include:
Item: 39733
Description: Brach's® Almond Supremes, 5oz
Item UPC - 11300 39733
Code Date: 6G23CC33102
After discovering the issue, Ferrara Candy immediately investigated and determined that the packaging error was caused by an incorrect roll of packaging film being accidentally loaded in one of its manufacturing facilities. Ferrara Candy has moved quickly to locate the potentially affected product and has currently retrieved over half of it. To date, only six bags of Brach's® Almond Supremes have been found to include Brach's® Bridge Mix, and to date no illnesses have been reported in connection with this issue.
Consumers looking for additional information on the recall are encouraged to speak with one of Ferrara Candy Company's representatives regarding this issue by calling the Company during normal business hours, Monday through Friday 8 a.m. to 5 p.m. CDT, at 800-323-1768.
Kellogg Company Recalls Limited Number of Kellogg's® Eggo® Nutri-Grain® Whole Wheat Waffles Due to Potential Health Risk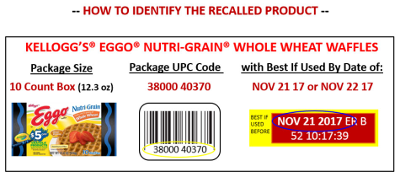 September 19, 2016 - From the FDA:
Kellogg Company is voluntarily recalling approximately 10,000 cases of Kellogg's® Eggo® Nutri-Grain® Whole Wheat Waffles because they have the potential to be contaminated with Listeria monocytogenes. No other Eggo products are impacted by this recall.
Recalled product was distributed to customers and retailers in 25 states (CO, CT, DE, GA, IA, IL, IN, KS, MA, MD, ME, MI, MN, MO, ND, NE, NH, NJ, NY, OH, PA, VA, VT, WI, WY). The affected product is:
Package Size: 10 Box Count (12.3 oz)
Package UPC Code: 38000 40370
With Best If Used By Date of: NOV 21 17 or NOV 22 17
The date code can be found on the side of the package.
The recall is a result of routine tests that the company conducts which identified the potential for contamination. As soon as the company learned of a potential concern, it moved quickly to identify any foods that might be impacted and resolve the issue.
Kellogg is asking that people who purchased affected product discard it and contact the company for a full refund. Consumers can call 1-800-962-1413, Monday through Friday, 9 a.m. - 6 p.m. ET or by visiting
https://www.kelloggs.com/en_US/contact-us.html
.
Kashrus Advisory KVH Certified Bakery Products containing Berries
July 6, 2016 - from KVH Kosher:
"Effective September 1st 2016, certification has been discontinued on bakery products prepared by In-Store Kosher Bakeries if they contain fresh berries, as it is impractical to prepare them in a way that meets Kosher requirements."
"A KVH Symbol should not be displayed on any product containing fresh berries.:
"This affects all In-Store Kosher bakeries under our supervision Including: Stop & Shop, Star Market & Shaw's."
"All other products of these bakeries remain under KVH Kosher Certification when purchased from Certified Bakery Departments in these stores."
Rabbi Herman PRELIMINARY GUIDE TO CHODOSH - 18 Sept 16
"This is the final version going to the printer. You will note many companies and facilities that were listed as Yoshon last year are missing from this preliminary issue. That is because the mashgichim for those companies did not respond to our requests yet for confirmation of their hashgocho. We hope to have the lists completed for the final Guide due approximately in December. If anyone wants a PDF copy of this Guide, they should send email to chodosh@moruda.com."
Rabbi Herman: PRELIMINARY GUIDE TO CHODOSH September 18, 2016
Kashrus information on Greenfield's Halushka Noodles

September 16, 2016 - from COR Detroit:
GREENFIELD'S HALUSHKA NOODLES from Greenfield Noodle Co., in 12 oz. bags that bear the expiration date of 05-20-18, have been found to be infested with black and brown flour beetles, and should not be used. Bags bearing other expiration dates may be used.
note:(Note: The cases of this product, containing 12 – 12 oz. bags, are labeled as "Lasagna" on the outside of the case.)
Food Recall Warning - Wild Sockeye Smoked Salmon and Sensations by Compliments brand Smoked Wild Pacific Smoked Salmon recalled due to Listeria monocytogenes




September 17, 2016 - CFIA:
Central Epicure is recalling Wild Sockeye Smoked Salmon and Sensations by Compliments brand Smoked Wild Pacific Smoked Salmon from the marketplace due to possible Listeria monocytogenes contamination. Consumers should not consume the recalled products described below. The following products have been sold in Ontario and may have been distributed in other provinces or territories:
| Brand Name | Common Name | Size | Code(s) on Product | UPC |
| --- | --- | --- | --- | --- |
| None | Wild Sockeye Smoked Salmon | 85 g | 2017SE07 | 0 61279 00330 7 |
| Sensations by Compliments | Wild Smoked Wild Pacific Smoked Salmon | 170 g | 2017MA30 and 2017JN03 | 6 23682 11204 7 |
What you should do
If you think you became sick from consuming a recalled product, call your doctor.
Check to see if you have recalled products in your home. Recalled products should be thrown out or returned to the store where they were purchased.
New Slurpee flavors
September 17, 2016: The following are new kosher slurpee flavors are from 7-11 and are all pareve:
Faygo Rock N Rye
Faygo Cotton Candy
Mt. Dew Game Fuel Berry Lime
Fruitworks Skittles Green Apple
Fanta Blue Raspberry
Fanta Banana
The Kashrut.com Slurpee list can be found at www.kashrut.com/consumer/slurpees.
Food Recall Warning (Allergen) - Nutribar brand Original Chocolate Supreme Meal Replacement Powder recalled due to undeclared egg


September 15, 2016 - CFIA:
Peppo Foods is recalling Damascus delites brand Falafel Vegetarian Balls from the marketplace because it contains wheat which is not declared on the label. People with an allergy to wheat or sensitivity to gluten should not consume the recalled product described below.
Brand Name
Common Name
Size
Code(s) on Product
UPC
Damascus delites
300 g
LOT JN16195
BB JN 2017

6 24042 89864 9
Kosher Information on Certified Coffee Bean & Tea Leaf Stores

September 5, 2016 from the KosherLA:
"All Coffee Bean & Tea Leaf food items, including ALL BAKED CASE GOODS, in Kosher LA certified Coffee Bean and Tea Leaf Stores are, and have always been, kosher certified."
"There have been NO changes in any facilities and all bakery items come from the same Kosher LA certified bakery that they have always come from in years past."
"Any other sources of information are FALSE and inaccurate. The Los Angeles, San Diego, etc. CBTL stores and Nevada CBTL stores which have always been kosher certified by Kosher LA in their entirety, still remain Kosher certified. For any further questions 310-246-3417."
Every Coffee Bean and Tea Leaf store that is kosher supervised by Kosher LA has a Teuda stating what is kosher in that particular store. Please refer to these teudot.
Kosher Alert Truwhirl Topping

September 13, 2016 from the OU:
Truwhirl (topping), Peak Foods LLC, Troy OH: The Orthodox Union certifies Truwhirl topping as an OU D - Dairy product. This product contains a dairy ingredient as indicated in the ingredients panel. Some packaging was printed with a plain OU, without the D – Dairy designation. Corrective measures have been implemented.