British Kashrus alert: Haliborange Kids Multivitamins, Calcium & Iron Chewable now dairy
January 5, 2017: From the London Beth Din:
listed on p.141 of The Really Jewish Food Guide 2016 as approved Parev now contain lactose and are approved Dairy

British Kashrus alert: Baxters Tartare Sauce now Dairy
January 5, 2017: From the London Beth Din:
Listed on p. 82 of The Really Jewish Food Guide 2016 as approved Parev has changed formulation and is now approved Dairy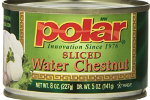 Kashrus alert on Polar Water Chestnuts
January 5, 2017 - from a reader's question with additional infomation from the Star-K
Polar water chestnuts are produced in various manufacturing facilities, some kosher certified, some not. Consumers are urged to check each can label for reliable kosher certification symbol indicating that the product was produced in a kosher certified facility.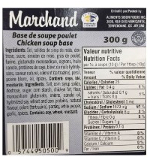 Kashrus alert on Marchand Chicken Soup Base
January 5, 2017 - from the MK:
Please be advised that Marchand Chicken Soup Base manufactured by Sibon Foods bears an unauthorized MK symbol. This product is Not kosher and has been recalled.
Kashrus alert on breads found in unsealed bags
January 5, 2017 - from the MK:
Please be advised that bread manufactured under MK certification may only be purchased in a sealed bag, if the bag bears the MK symbol.
Should bread be found in an unopened bag, the product should be considered as not kosher, as it may have been baked and prepared in a non-kosher oven.
Kashrus information on Kroger Salad Dressings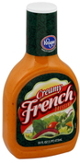 December 29, 2016 - from Kosherquest.org.
Many flavors of Kroger Salad Dressings (sold at Ralphs markets on the West Coast) are now certified Kosher under OU supervision. Check the label on each bottle of dressing for the OU symbol.
Ed. note: This alert and others about Kroger are also true for other products from stores owned by Kroger including Fred Meyer, Ralphs, Smith's Food & Drug Stores, City Market, Dillons Supermarkets, Fry's Food & Drug, King Soopers, Kwik Shop, Littman Jewelers, Loaf 'N Jug, Tom Thumb, Turkey Hill, Food 4 Less, Quik Stop, Quality Food Center (QFC), Baker's, Barclay Jewelers, Foods Co. Fred Myer Jewelers, Smith's.
One should always check each product for the kosher symbol.
Kashrus alert on various Planters Nut Products
From the COR Detroit on July 29, 2015 with additional information on December 31, 2016:


PLANTERS NUT PRODUCTS are acceptable only when bearing an OU symbol. Products bearing a K (which include most Planters Dry Roasted items) may contain gelatin, or may be produced on the same equipment as gelatin-containing products.
Planters Honey Roasted Cashews in the 3 oz. size bears an OU, but the 1.5 oz. size bears a K because it is not produced on an OU approved production line. Every package should be carefully checked for the OU symbol.
Kosher alert reminder on Snapple

December 31, 2016- from the COR Detroit:
SNAPPLE Reminder: Although most Snapple products are OK certified and pareve, some are not. Snapple FRUIT PUNCH and Snapple CRANBERRY RASPBERRY (regular and Diet) Juice Drinks, plus any other varieties that contain grape juice, are not Kosher and do not bear an OK symbol.
Snapple GO BANANAS drink contains milk and cream and is certified OK Dairy.
Many Snapple items in cans are produced on dairy equipment and bear OK DE.
Each bottle or can should be checked carefully for the OK symbol and its Pareve / Dairy status. (A plain OK symbol without a D indicates pareve status.)
Care should also be taken when purchasing variety packs, which may contain a mixture of Kosher and non-Kosher varieties.
---
March 11, 2016- Kashrus reminder from the RCC: This is to remind you that, although many Snapple products are certified kosher by the Circle-K , not all are kosher.
Fruit Punch – NOT KOSHER
Snapple Cranberry Raspberry Juice Drink –NOT KOSHER
When buying the variety pack that includes these non-Kosher items, you must remove them immediately and dispose of them .
Always check for the circle-K symbol on the bottle.
---
The following kashrus alert is from the OK on March 23, 2015.
Please be advised that while OK Kosher certifies many Snapple products, not all are Kosher certified.
Snapple Cranberry Raspberry Juice Drink is no longer certified.
This includes Regular and Diet.
Consumers are urged to check for the OK symbol before purchasing any products.
Kashrus Alert: PORT SIDE CHUNK LIGHT TUNA IN WATER
December 31, 2016- from the COR Detroit: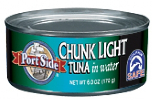 PORT SIDE CHUNK LIGHT TUNA IN WATER, on sale at Save-A-Lot, bears an OU on some cans, but other identical cans in the same bins do not bear an OU, because they are produced by different suppliers. Check each can carefully.
Kashrus alert on Bama's Gourmet Sauces Apricot Brandy BBQ Sauce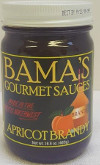 January 3, 2017 from Oregon Kosher:
A recent run of Bama's Gourmet Sauces Apricot Brandy BBQ Sauce was mis-labeled as kosher pareve. This is a new product that contained a dairy ingredient, and any products bearing a production date before 1/3/2017 should be treated as kosher dairy. The issue has been rectified and future runs will be kosher pareve.