The following Canadian kashrus advisory is from the COR on November 8, 2013.
Please be advised that due to a manufacturing change in a particular plant, Kellogg's All Brand Buds will now be designated as "Dairy Equipment" (DE). All Bran Buds that currently carry the standard COR (pareve) symbol were produced before this change and remain pareve. Please also note that other Kellogg's cereals are produced in a separate plant and are therefore not affected by this manufacturing change and remain pareve.
Ed. note (from the KVH): Bran buds in the USA have been KD (DE) for quite some time.
The following kashrus information is from the Kosherquest.org on November 4, 2013 and confirmed by the responsible agencies.
Bocca Restaurant in Encino no longer has the RCC supervision. As of 11/4/13, Bocca is under Kehilla supervision.
The following kashrus alert is from the COR Twitter Feed on November 7, 2013.

President's Choice The Decadent Flourless Chocolate Cake was inadvertently labeled without a 'dairy' designation on the COR logo. This product is kosher DAIRY. Corrective action is being taken to ensure correct labeling.
The following health alert is from FDA on November 8, 2013.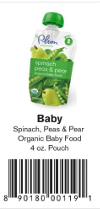 Plum Organics is voluntarily recalling pouch products within its Baby Stage 2, Tots Mish Mash and Kids lines after discovering a manufacturing defect that may cause spoilage in some pouches. Recalled products can be identified by the "Best By" dates ranging from 08/05/14 to 12/08/14 and the letters "AT." Consumers can find a list of affected products at www.plumorganics.com/Nov13Recall.pdf.
Plum has determined that the potential spoilage may cause some pouches to swell. Out of an abundance of caution, Plum is removing all pouches with affected codes.
Parents should not feed any of these products to their children. Consumers who have purchased affected products should contact the Plum Organics Consumer Hotline at 866-495-3774 or send an email to info@plumorganics.com to request a product replacement voucher.
The following kashrus alert is the Kof-K dated May 9, 2013 and re-issued November 7, 2013.
"It has come to our attention that a number of Kosher consumers have confused the Kof-K certification With a certification with a similar sounding name.   Please do not assume that a food service facility Is under our certification unless the establishment Displays a current Kof-K Certificate. The Kof-K symbol is prominently displayed on All our certificates. A current list of Kof-K Certified food service establishments can be found on our website at www.kof-k.org."
The following kashrus alert is from the OU on November 4, 2013.
Linda Ellen's Bakery Challah Egg Bread, Summerland Foods, Toluca Lake CA bears an unauthorized OU D symbol. The Orthodox Union does not certify this product. Corrective measures have been implemented.
The following expanded alert is from FDA on November 3, 2013.
Reser's Fine Foods, Inc. of Beaverton, Oregon is voluntarily expanding its October 22, 2013 recall of refrigerated ready-to-eat products because they may be contaminated with Listeria monocytogenes. The recalled refrigerated ready-to-eat products were distributed nationwide and Canada.
The product is sold in retail and food service establishments. The packages will be marked with a Use-by-Date or Best By Date and followed by a plant identifier code of 20. Products affected by this recall are listed below.
The recalled products were manufactured at the Topeka, KS salad manufacturing facility. No other Reser's Fine Foods, Inc. manufacturing facilities are involved in this recall.
Consumers who purchased the product may take it back to the store for a refund or discard it. For more information please contact Reser's Fine Foods Consumer Hotline 1-888-257-7913 (8am-10pm EST)
Affected Products which bear a K follow:
Brand
Net Weight
Item Description
Unit UPC
Case UPC
Use By Date
RESERS
16
OZ
MACARONI AMISH AM CL 6/16z K
071117190441
71117.19044
11/27/13 Through 12/11/13
RESERS
3
LB
MACARONI AMISH AM CL 6/3# K
071117193152
71117.19315
11/28/13 Through 12/04/13
RESERS
16
OZ
POTATO AMISH SLD AM CL 6/16z K
071117190458
71117.19045
11/27/13 Through 12/11/13
RESERS
3
LB
POTATO AMISH SLD AM CL 6/3# K
071117193169
71117.19316
11/28/13 Through 12/12/13
The following Canadian milk allergy alert is from the CFIA dated October 31, 2013..
Hershey Canada Inc. is recalling Glosette Raisins, 275 g, with codes on 97RFBF123 Best By 03 2014 and 16HFBF223 Best By 06 2014 and a UPC 0 68000 70310 9 because of an undeclared allergen, Milk.
Ed. note: the product bears an OU-D.
The following revised kashrus and Passover alert is from the OU on August 28, 2013 with additional information from the Chief Rabbi of Finland.

Moses Vodka from Global Drinks Finland bears an unauthorized OU-P. The Orthodox Union does not certify this product for Passover or year round use. Corrective actions have been implemented.
This does not include product that was imported by Happy Hearts Wine & Spirit and labeled as such; for product in bottle sizes 50ml, 375ml and 750ml produced in Estonia and bearing in addition the certification of Rabbi Gruber.
Ed. note: Global Drinks Finland decided to drop the OU. They are now certified by Chief Rabbi Simon Livson and Chug Chatam Sofer.
Kosher Certificate from Rabbi Livson is here.
The following kashrus alert is from the OU on October 24, 2013.
Daily's Cocktail Mixers, Concentrates, Ready to Drink Pouches and Fruit Barrel Drinks, Daily's, Verona PA: The company is discontinuing the OU certification of these products. Consumers should be careful to only purchase product bearing the OU. Daily's may be contacted at 412-828-9020 x6150 or http://dailyscocktails.com/connect-with-us/comment-inquiry.
Older alerts
The information posted is from secondary sources. We cannot take responsibility for the accuracy of the information.
Copyright © kashrut.com. Permission is granted to reprint these alerts in hardcopy print media if kashrut.com is credited as the source of the information.
כל האומר דבר בשם אומרו, מביא גאלה לעולם אבות ו"ו