Kashrus Advisory on Kashi Cereals
September 26, 2016- from the COR Detroit:

KASHI CEREALS: Some varieties have changed status from plain OU (i.e., pareve) to OU-D. Each box should be checked.
Currently, all Kashi cereals that bear OU-D are DE (dairy equipment) status. (This refers only to Kashi cereals; not to other Kashi products.) Products manufactured on dairy equipment may be eaten after meat without a waiting period, but not with meat.
The OU cautions that even where it states that a product is DE, the OU does not supervise the cleaning of the equipment between dairy and non-dairy productions.
Please note that cereals are subject to frequent reformulations. It is therefore recommended that consumers check for dairy in the ingredient listing on every purchase, and also to contact the OU office at 212-613-8241 or kosherq@ou.org every three months to reconfirm the DE status.
Kashrus Advisory on Wish Bone Salad Dressings
September 26, 2016- from the COR Detroit:
WISH-BONE DRESSINGS currently have OU certification on only two varieties - regular Italian, and Robusto Italian. Additional varieties will be receiving certification in the future. Every jar should always be checked for the OU symbol to verify that it is from a Kosher production.
Albany's Terra International Restaurant is Dropping Kosher Supervision
September 27, 2016- from the YeahThatsKosher:
The Terra Pescatarian International Restaurant in Albany, NY is dropping it's kosher supervision on September 289, 2016. "The restaurant was the only Cholov Yisroel kosher restaurant in the Capital District region."
"The owners are seeking the possibility of opening a smaller kosher restaurant that can be sustained by the limited kosher observant population, and travelers who pass by on their way between NYC & Montreal."
Pas Yisroel and Yoshon information on Trader Joe's Half Moon Cookies, Trader Joe's Chocolate Brooklyn Babka And Mango Brooklyn Babka
September 26, 2016- from the COR Detroit:

TRADER JOE'S new HALF MOON COOKIES, and TRADER JOE'S CHOCOLATE BROOKLYN BABKA and MANGO BROOKLYN BABKA, bearing OU Pareve, are Pas Yisroel and Yoshon.
Kosher Alert Naturally Irene's - Missing D - Dairy Designation

September 23, 2016 from the OU:
he Orthodox Union certifies Naturally Irene's Cheese Blintzes as an OU D – Dairy product. Some labels were printed with a plain OU symbol, without the D – Dairy designation. Corrective actions have been implemented.
FDA Suspends Food Facility Registration of SM Fish Corp

September 21, 2016 - FDA:
No food from the facility may be sold or distributed, Ossie's and Ossie's Gourmet ready-to-eat seafood products recalled
FDA is using authorities granted under the 2011 FDA Food Safety Modernization Act to suspend the food facility registration of SM Fish Corp. of Far Rockaway, NY, because food, including ready-to-eat (RTE) food, from this facility may be contaminated with L. monocytogenes (Listeria).
Consumers with any un-expired RTE food products manufactured by SM Fish should not eat these products, which were sold at the company's seven retail outlets located in New York and New Jersey, and instead throw these products away. This is an expansion from the July 29, 2016 recall to include all un-expired RTE foods from SM Fish.
Consumers should be aware that symptoms of listeriosis can appear from a few days up to a few weeks after consumption of contaminated food.
FDA's decision to suspend the registration of SM Fish was prompted by a second 2016 inspection showing widespread and persistent Listeria contamination throughout its food facility.
No food from SM Fish's facility may be sold or distributed while the food facility registration is suspended.
---
SM Fish Corp Recalls Select Ossie's Ready to Eat Salads Because of Possible Health Risk
September 15, 2016 - From the FDA:
SM Fish Corp. of Far Rockaway, NY, is voluntarily recalling OSSIE'S brand ready-to-eat salads because they have the potential to be contaminated with Listeria monocytogenes.
The recalled products were sold at the firm's seven retail outlets located in New York and New Jersey between August 1, 2016 and September 9, 2016.
The recalled products were packed in plastic deli containers with a UPC Code and "Best By" date codes of 8/21/16 through 10/18/16 (located on the bottom of the tub):
OSSIE'S PICKLED LOX DAIRY, NET WT. 8 OZ., UPC 739885114136
OSSIE'S HERRING IN SOURCREAM, NET WT. 8 OZ., UPC 739885114174
OSSIE'S TAAM SHABBOS HERRING, NET WT. 7 OZ., UPC 739885109057
OSSIE'S STIGLITZ HERRING, NET WT. 7 OZ., UPC 739885109064
OSSIE'S WASABI HERRING, NET WT. 7 OZ., UPC 739885109088
OSSIE'S SWEDISH MATJES HERRING, NET WT. 7 OZ., UPC 739885109101
OSSIE'S DUBLIN HERRING, NET WT. 7 OZ., UPC 739885109002
OSSIE'S HONEY MUSTARD HERRING; NET WT. 7 OZ. 739885109019
OSSIE'S PICKLED LOX & CREAM, NET WT. 8 OZ., UPC 739885104113
OSSIE'S SHMALTZ HERRING, NET WT. 8 OZ., UPC 739885104182
OSSIE'S ROMAN SHMALTZ HERRING, NET WT. 7 OZ., UPC 739885109026
OSSIE'S PICKLED HERRING, NET WT. 8 OZ., UPC 739885104175
OSSIE'S PICKLED HERRING CLEAR, NET WT. 8 OZ., UPC 739885104205
OSSIE'S PICKLED LOX, NET WT. 8 OZ., UPC 739885104137
OSSIE'S EGG SALAD, NET WT. 7OZ., UPC 73988570552
OSSIE'S EGG WITH MUSHROOM, NET WT. 7OZ., UPC 73988570556
OSSIE'S EGG WITH SCALLION, NET WT. 7OZ., UPC 73988570555
OSSIE'S LITE TUNA, NET WT. 7OZ., UPC 73988570551
OSSIE'S HOME MADE TUNA SALAD, NET WT. 7OZ., UPC 73988570550
The recall was the result of sampling and inspectional findings by the US Food and Drug Administration (FDA). FDA found Listeria monocytogenes in multiple locations throughout the facility. SM Fish Corp. has ceased production and distribution of products following discussion with FDA on September 8, 2016. The company and the FDA continue their investigation as to the cause of the problem.
Consumers who have purchased any of the above listed products are urged not to consume them and promptly discard. Consumers with questions may contact the company at (718) 945-9838, Monday - Friday, 9 am - 4 pm EDT, or via email at:
recallssmf@gmail.com
.
Ferrara Candy Issues Allergy Alert on Undeclared Peanuts and Wheat in Almond Supremes with a Best by Date of 4/22/2017


September 19, 2016 - From the FDA:
Ferrara Candy Company has initiated a voluntary recall of Brach's® 5 ounce Almond Supremes with a best by date of 4/22/2017 after discovering that some Brach's® Almond Supremes packages may include Brach's® Bridge Mix, a product that contains peanuts and wheat. No other Ferrara Candy Company products are affected. he affected product was distributed throughout retail stores in Florida, Iowa, Illinois, Indiana, Michigan, Minnesota, Missouri, Montana, Nebraska, Ohio, South Carolina, Texas, Washington and Wisconsin. Recalled items include:
Item: 39733
Description: Brach's® Almond Supremes, 5oz
Item UPC - 11300 39733
Code Date: 6G23CC33102
After discovering the issue, Ferrara Candy immediately investigated and determined that the packaging error was caused by an incorrect roll of packaging film being accidentally loaded in one of its manufacturing facilities. Ferrara Candy has moved quickly to locate the potentially affected product and has currently retrieved over half of it. To date, only six bags of Brach's® Almond Supremes have been found to include Brach's® Bridge Mix, and to date no illnesses have been reported in connection with this issue.
Consumers looking for additional information on the recall are encouraged to speak with one of Ferrara Candy Company's representatives regarding this issue by calling the Company during normal business hours, Monday through Friday 8 a.m. to 5 p.m. CDT, at 800-323-1768.
Kellogg Company Recalls Limited Number of Kellogg's® Eggo® Nutri-Grain® Whole Wheat Waffles Due to Potential Health Risk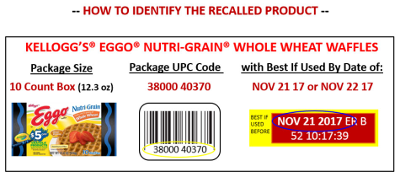 September 19, 2016 - From the FDA:
Kellogg Company is voluntarily recalling approximately 10,000 cases of Kellogg's® Eggo® Nutri-Grain® Whole Wheat Waffles because they have the potential to be contaminated with Listeria monocytogenes. No other Eggo products are impacted by this recall.
Recalled product was distributed to customers and retailers in 25 states (CO, CT, DE, GA, IA, IL, IN, KS, MA, MD, ME, MI, MN, MO, ND, NE, NH, NJ, NY, OH, PA, VA, VT, WI, WY). The affected product is:
Package Size: 10 Box Count (12.3 oz)
Package UPC Code: 38000 40370
With Best If Used By Date of: NOV 21 17 or NOV 22 17
The date code can be found on the side of the package.
The recall is a result of routine tests that the company conducts which identified the potential for contamination. As soon as the company learned of a potential concern, it moved quickly to identify any foods that might be impacted and resolve the issue.
Kellogg is asking that people who purchased affected product discard it and contact the company for a full refund. Consumers can call 1-800-962-1413, Monday through Friday, 9 a.m. - 6 p.m. ET or by visiting
https://www.kelloggs.com/en_US/contact-us.html
.
Kashrus Advisory KVH Certified Bakery Products containing Berries
July 6, 2016 - from KVH Kosher:
"Effective September 1st 2016, certification has been discontinued on bakery products prepared by In-Store Kosher Bakeries if they contain fresh berries, as it is impractical to prepare them in a way that meets Kosher requirements."
"A KVH Symbol should not be displayed on any product containing fresh berries.:
"This affects all In-Store Kosher bakeries under our supervision Including: Stop & Shop, Star Market & Shaw's."
"All other products of these bakeries remain under KVH Kosher Certification when purchased from Certified Bakery Departments in these stores."
Rabbi Herman PRELIMINARY GUIDE TO CHODOSH - 18 Sept 16
"This is the final version going to the printer. You will note many companies and facilities that were listed as Yoshon last year are missing from this preliminary issue. That is because the mashgichim for those companies did not respond to our requests yet for confirmation of their hashgocho. We hope to have the lists completed for the final Guide due approximately in December. If anyone wants a PDF copy of this Guide, they should send email to chodosh@moruda.com."
Rabbi Herman: PRELIMINARY GUIDE TO CHODOSH September 18, 2016