The following shmitta alert is from the Israeli Chief Rabbinate on November 3, 2015.
The Israeli Chief Rabbinate is reminding people to be aware that product fo Shmitta is in stores. ,
Information on shmitta and a link to a list as to when fruits and vegetables have shmitta status is at www.kashrut.com/consumer/vegetables/#SCHMITTA.
The following South African kashrus alert is from the Beth Din of Johannesburg on Nobember 3, 2015.
Please be aware, that all products manufactured by "Snoek Wholesalers", under the Atlantic label are no longer under Beth Din supervision and are therefore no longer certified Kosher.
The following kashrus alert is from the OU on October 29, 2015.

TMRG All Products, Dr. Remez - TMRG Voice Specialists, Ramat Gan Israel: The Orthodox Union does not certify TMRG Voice Specialists products. Some brochures were printed with an unauthorized OU mark. Corrective actions have been implemented.
The following food safety alert is from the FDA on October 26, 2015.
Northstar Produce Inc. Recalls Granny Smith Size 175 Apples Because of Possible Health Risk
Northstar Produce Inc. of St. Louis Park, MN is recalling 33 cases of Granny Smith Size 175ct apples, because a test performed on a sample of the apples indicated the presence of Listeria monocytogenes.
The Granny Smith Size 175ct apples were sold at Mike's Discount Foods, 230 Osborn Ave., Fridley, MN and Mikes's Discount Foods, 516 East River Road, Anoka, MN
The apples were sold in tray packs between October 1, 2015 and October 19, 2015
Consumers who purchased these apples should directly contact Mike Abernathy at 763-286-0110.
The following food safety alert is from the FDA on October 22, 2015.

Kar's Nuts Recalling Certain Packages of Sweet 'N Salty Mix
Kar's Nuts is issuing a voluntary recall of a limited number of Sweet 'n Salty Mix® products after several consumers reported hard, clear foreign material found in some of our Sweet 'n Salty Mix® packages. There are no reports of illness or injury. All recalled products are being removed from store shelves. No other products are affected. For more information please call 800-527-6887 Monday through Friday 8 a.m. – 5 p.m. EST. A complete list of items and UPC's is available for consumers to review in the table here
The following gluten allergy alert is from the FDA on October 27, 2015.

Herr's Announces Voluntary Recall of Select Bags of 1.875 oz. Sour Cream and Onion Potato Chips with Packaging Error
Herr Foods Inc. has initiated a voluntary recall of certain bags of its 1.875 oz. Sour Cream and Onion Potato Chip due to a packaging error that incorrectly states that the product is gluten free.
While the back panel of the package complies with U.S. Food & Drug Administration (FDA) label regulations by listing "Wheat" in the ingredient statement as well as "Contains Wheat" in its related allergen statement, the front panel of the package erroneously features the words "Gluten Free."
Herr's Sour Cream & Onion Potato Chips, 1.875 oz. bags only, were distributed nationwide through retail stores, distributors, and internet sales. These products were sold as individual bags. No other bag sizes of Herr's Sour Cream 'N Onion Chips are involved with this recall. No other Herr's products are involved with this recall.
| Product Name/Description | Code Date | UPC No. | Herr's Product Code |
| --- | --- | --- | --- |
| 1.875 oz. Herr's Sour Cream & Onion Potato Chips | January 02, 2016, up to and including January 30, 2016 | 72600 00061 | 122 |
The packages are a green metallic color bag with a red Herr's logo at the top center of the package. The lot number is located at the upper right hand corner on the front of the package below the statement "Guaranteed Fresh Until". The UPC number is located at the lower right hand corner of the back panel of the package.
Herr Foods announced the recall to prevent consumers who are allergic or sensitive to gluten from consuming this product. Consumers with wheat allergies, celiac disease or gluten intolerance should not consume them and should return them to the retailer where they were purchased for a full refund. Herr Foods and other retailers are removing recalled product from the retailers' shelves. As a result, consumers can be assured that all other Herr's products that remain on-shelf are safe and not subject to this recall. Consumers with questions may call 1-800-523-5030. Live assistance is available 9am- 5pm EST, Monday thru Friday.
The following kashrus alert is from the OK Kosher Certification on October 30, 2015.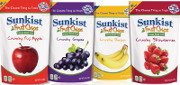 Please be advised that SNACK IT FORWARD 60080 Center Drive Los Angeles, CA is using UNAUTHORIZED OK KOSHER SYMBOL. Snack It Forward is distributing Sunkist Trail Mix and Sunkist Fruit Chips bearing an unauthorized OK Kosher symbol on the packaging. Corrective action is being taken.
The following additional information on the Mexican kashrus alert from KMD Mexico posted on October 39, 2015.
Por causa de lo suscitado en el establecimiento Súper Zol donde se encontraron anomalías en el Kashrut de la carne. Baruj Hashem nos percatamos del suceso y ya se tomaron medidas estrictas para que no vuelva a suceder.
Se recalca que los problemas fueron con la carne de res y no con el pollo.
La Comunidad se hace responsable y afronta la situación y ayudaremos sin cargo a todos aquellos que lo soliciten.
Por favor acercarse a los Rabinos de la Comunidad Maguén David para recibir las instrucciones necesarias acerca de la kasherización de la cocina y sus utensilios, lo cual es obligatorio según la Halajá, para lo que se cuenta con un grupo de señoras voluntarias que se ponen a disponibilidad del público que necesite hacer la hagala. Favor de comunicarse con las Coordinadoras de las voluntarias:
Sra. Milly Sacal. Tel: 55 8543 3333.
Sra. Amelia Blanga. Tel: 55 5109 2148.

También habrá una hagalá pública el día lunes 2 de noviembre de 10:00 a 16:00 horas en el Midrash Kol Eliahu, ubicado en la calle Secretaría de la Marina No. 578 (frente a Residencial Vidalta). Informes con R. Yaacov Alfíe, tel. 55 6316 5608.
Los utensilios deben estar limpios y sin uso por 24 horas
Para mayor información favor de comunicarse con:
Rab Shelomó Tawil, tel. 55 5109 2349.
Rab David Abourmad, tel. 55 1568 6879.
Translated by Google translate:
Because of the points made in the establishment where Zol Super abnormalities Kashrut meat found.
Baruch Hashem we realize the event and already strict measures to ensure that does not happen again taken.
It is emphasized that the problems were with beef and not chicken.
Community liable and face the situation and help free of charge to those who request it.
Please approach the Rabbis of the Community Magen David to receive the necessary instructions on kasherización kitchen and utensils, which is required by Halacha, for which it has a group of volunteer ladies are made availability to the public you need do it. Please contact the coordinators of the volunteers:
Mrs. Milly Sacal.. Tel: 55 8543 3333.
Mrs. Amelia Blanga.. Tel: 55 5109 2148.

There will also be a public haggalah on Monday, November 2 from 10:00 to 16:00 hours in the Midrash Kol Eliahu, located at the Navy Secretariat No. 578 (vs. Residential Vidalta). Reports R. Yaacov Alfie, tel. 55 6316 5608.
Utensils must be clean and unused for 24 hours
For further information please contact (see above)
---
The following Mexican kashrus alert from KMD Mexico on October 23, 2015.
Se Detectaron irregularidades en la Carnicería "Super Zol" ubicada en Secretaria de Marina No. 471, Lomas de Chamizal. El establecimiento está cerrado. Las irregularidades fueron causada por un empleado.
Las personas que adquirieron carne a partir del 1 de julio de 2015 hasta la fecha no pueden consumirla.
Los utensilios que se usaron para esta carne, en caliente, se les debe hacer Hagalá.
Al horno se le debe hacer Libún Kal.
Las vajillas de porcelana se les puede hacer hagalá tres veces para kasherizar.
Antes de hacer hagalá o libún se debe de esperar pasen 24 horas sin uso.
Los utensilios que se utilizaron con esta carne a fuego directo como alambres, planchas, parrillas de asado, charolas de hornear al horno directo, etc., no tienen arreglo y deben ser cambiadas.
Translation from a reader, William Sherwin:
Irregularities were detected in the butcher shop "Super Zol", located at Secretary of the Navy No. 471, Lomas de Chamizal. The establishment is closed. The irregularities were caused by an employee.
People who bought meat from 1 July 2015 onward should not consume it [as it is not considered to be kosher from that date].
The utensils that were used for this meat, if it was hot, must be kashered by haggalah.
One's oven may be kashered by Libun Kal.
Porcelain tableware may be kashered by performing haggalah three times.
Before performing haggalah or libun, ensure that the items in question were not used for 24 hours.
The utensils that were used with the meat over direct heat as wires, plates, barbecue grills, baking trays, directly in an oven, etc., cannot be kashered and must be replaced.
The following South African kashrus alert is from the Beth Din of Johannesburg on October 30, 2015.
Please be aware that "BarOne Ice Cream Sandwiches" are NOT kosher. They erroneously bare the Beth Din logo and we are working with the company to rectify this.
The following South African kashrus alert is from the Beth Din of Johannesburg on October 30, 2015.
Please be aware, that "Funky Korn", manufactured by "Cartoon candy" has been incorrectly labelled as "Parev", this product is in fact "Milchick". The manufacturer is taking corrective action to remedy the error. Please also take note, that all Nachos, manufactured by "Natures Choice" are "Milchik", even though they are not labelled as such on the packaging.