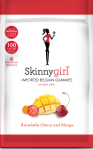 November 5, 2018 from the OU:
Skinnygirl Gummies, Rivo USA, Las Vegas NV has an unauthorized OU:
The Orthodox Union does not certify Skinnygirl Gummies. Some Skinnygirl Gummies packages are labeled with an unauthorized OU mark. Corrective actions are being implemented.
Ed. note on January 14, 2019: I am reposting this since a reader spotted the product is on the shelves at the Burlington Coat Factory.