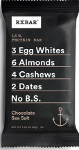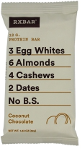 Peanut Allergy Alert: RXBAR- updated recall
January 15, 2019: from FARE:
RXBAR is voluntarily recalling certain varieties of bars because they may contain undeclared peanuts. People who have peanut allergies run the risk of serious or life-threatening allergic reaction if they consume this product. Varieties being recalled are:
RXBAR: Apple Cinnamon, Blueberry, Chocolate Chip, Chocolate Hazelnut, Chocolate Sea Salt, Coconut Chocolate, Coffee Chocolate, Mango Pineapple, Maple Sea Salt, Mint Chocolate, Mixed Berry, Pumpkin Spice
RXBAR Kids: Apple Cinnamon Raisin, Berry Blast, Chocolate Chip
No other RXBAR flavors or RXBAR products are affected by the recall. Please go to
www.rxbar.com/recall
for a detailed list of Best By dates included in this recall.
RXBAR identified the potential for peanut in two varieties – Chocolate Sea Salt and Coconut Chocolate – in December and initiated a recall of those varieties. We are expanding the recall out of an abundance of caution after recently receiving consumer contacts regarding allergic reactions to additional varieties.
People who have purchased affected product and who have peanut allergies should discard the product and contact their local retailer or RXBAR for replacement or a full refund. Consumers can contact the RXBAR consumer service team at info@rxbar.com or 1-312-624-8200 Monday through Friday, 8:30am CT - 6pm CT and Saturday and Sunday 10am CT - 1pm CT.
Updated Canadian Food Recall Warning (Allergen) - Certain RXBAR brand Protein Bars recalled due to undeclared peanut
February 8, 2019: from CFIA:
The food recall warning issued on January 15, 2019 has been updated to include additional product information. RXBAR is recalling certain RXBAR brand Protein Bars from the marketplace because they may contain peanut which is not declared on the label. People with an allergy to peanut should not consume the recalled products described below. The following products have been sold nationally through Internet sales (www.amazon.ca, www.rxbrands.ca, and possibly other websites) as well as possibly through retail.
Brand Name
Common Name
Size
Code(s) on Product
UPC
RXBAR
Protein Bar – Blueberry

624 g

(12 x 52 g)

Best By dates between

03 21 2019

to

05 21 2019

and

07 07 2019

to

09 29 2019

8 57777 00426 3

RXBAR
Protein Bar – Blueberry

52 g

Best By dates between

03 21 2019

to

05 21 2019

and

07 07 2019

to

09 29 2019

8 57777 00419 5

RXBAR
Protein Bar – Chocolate Sea Salt

624 g

(12 x 52 g)

Best By dates between

03 04 2019

to

09 11 2019

and Best By

10 11 2019

8 57777 00430 0

RXBAR
Protein Bar – Chocolate Sea Salt

52 g

Best By dates between

03 04 2019

to

09 11 2019

and Best By

10 11 2019

8 57777 00423 2

RXBAR
Protein Bar – Coconut Chocolate

624 g (12 x 52 g)

Best By dates between

03 01 2019

to

10 13 2019

8 57777 00428 7

RXBAR
Protein Bar – Coconut Chocolate

52 g

Best By dates between

03 01 2019

to

10 13 2019

8 57777 00421 8

RXBAR
Protein Bar – Mint Chocolate

624 g

(12 x 52 g)

Best By dates between

03 02 2019

to

04 18 2019

and

07 26 2019

to

08 09 2019

8 57777 00434 8

RXBAR
Protein Bar – Mint Chocolate

52 g

Best By dates between

03 02 2019

to

04 18 2019

and

07 26 2019

to

08 09 2019

8 57777 00433 1