The following kashrus advisory is from the OU on May , 2014.

Oronoque Orchards 9" Deep Dish Pie Shell UPC: 70427 13709, Mrs. Smith's Bakeries: The OU symbol was inadvertently left off the most recent printing of packaging. The product and UPC listed above is kosher pareve and certified by the OU, even without the OU symbol. Future packaging will bear the OU symbol.
The following kashrus alert is from the Buckeye Kosher's Twitter Feed on May 6, 2014.
Ice cream pies sold in Graeter's retail stores have been mistakenly labeled with a STAR-K symbol. They are actually certified STAR-D, dairy.
The following health alert is from the FDA on May 1, 2014.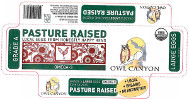 Sixdog Investments, LLC is voluntarily recalling some cases of their certified organic eggs, because of the potential they are contaminated with Salmonella. This voluntary field action was initiated because of routine testing results, and not because of illness to date from consumption.
Product was distributed in Colorado; some may have gone to Idaho, Kansas, New Mexico, and Utah. These were distributed through retail outlets.
The eggs are packed in dozen and half-dozen packages. The products in question will have a packing date of 93, 94, 97, or 98; an expiration date of "051814", "051914", "052214", or "052314"; they will also include a location code of 1 or 3. All this information is on the package, located on a white sticker on the end of each carton.
Consumers who have purchased these products may return it to the place of purchase for a full refund. Consumers with questions may contact the company at (970) 286-0080; a representative will be available 10:00-5:00 Monday through Friday..
The following kashrus alert is from the Houston Kashruth Associationon May 6, 2014.
Crumbs Bake Shop brand Cinnamon Crumb Cakes certified by the Houston Kashruth Association, available at BJ's Wholesale stores has dairy ingredients without the dairy designation next to the scroll HKA. Future packaging will be corrected.
The following health alert is from the FDA on May 5, 2014.


Pacific Organic Produce, San Francisco, CA is voluntarily recalling a limited number of cases of organic Tommy Atkins mangos (PLU numbers 94051 & 94959) that were sold under the Purity Organic brand between the dates of April 14, 2014 and May 2, 2014 due to a possible health risk from Listeria monocytogenes. No illnesses have been reported in association with the recall and no other mangos or products under the Purity Organic brand are being recalled.
The PLU number is printed in the middle of the PLU sticker on the fruit. The mangos were shipped to retailers and distributors in limited quantities within five (5) U.S. states (Arizona, California, Colorado, New Jersey and Texas).
Only the specific PLU numbers and sell dates identified above are included in this recall. Consumers who have any remaining product with these Product Codes purchased between the dates of April 14, 2014 and May 2, 2014 should not consume it, but rather should discard it. Consumers should retain their store receipts, PLU stickers or any other proof of purchase they may have. Retailers and consumers with questions may call Amy Rosenoff at Pacific Organic Produce customer service at 415-673-5555, which is open 8:00 am to 4:00 pm (PT) Monday - Friday.
The following kashrus alert is from the /yeahthatskosher.com on May 2, 2014 and confirmed by Rabbi Aaron Mehlman.
Rabbi Aaron Mehlman announced that all Pinkberry (frozen yogurt) locations on the Upper West Side are no longer certified kosher under National Kosher Supervision.
This applies to the 93rd/Broadway and 70th/Broadway locations. Rabbi Mehlman has withdrawn his hechsher due to the introduction of multiple non-kosher items that include Sugarpova, a non-kosher candy that includes gelatin as one of its ingedients.
The following egg allergy alert is from the FDA on May 3, 2014.

Wells Enterprises, Inc., maker of Blue Bunny ice cream said today it has recalled Blue Bunny Premium Bordeaux Cherry Chocolate Ice Cream sold at retail grocery stores in Kansas, Indiana and Iowa because the product may contain egg not declared on the label.
The recalled Blue Bunny Premium Bordeaux Cherry Chocolate Ice Cream, sold in 56 fluid ounce packages with LOT #40010 TTT 19115 18:00 4100 and a UPC 070640034123 with a Best Used By Date of 10/9/15, was distributed to a limited number of stores in Kansas, Indiana and Iowa.
Customers in the impacted states should return the product to stores for a full refund or replacement.
The following kashrus alert is from Kosher Dairy Miami on April 30, 2014.
Please be advised that effective today, April 30, La Parisienne, located at 1166 Kane Concourse in Bay Harbor, has been sold. It is our understanding that the new owners will NOT be changing the name, and it is also our understanding that La Parisienne will NOT be kosher certified. For a complete list of certified establishments, please visit www.kosherdairymiami.org.

The following revised kashrus alert is from the cRc on April 24, 2014.

Although cRc certified during the majority of the year, certain packages of products manufactured by the following companies may have the cRc logo removed or covered during a period after Passover. Please be careful to check those products as the cRc does not certify those specific items unless the cRc is on each package.
Today's Temptations
Eli's Cheesecake
Biondillo's
Kashrut.com has compiled information about places to purchase chometz products after Pesach from a number of sources.
This information is at www.kashrut.com/Passover/ChometzAfterPassover.