The following health alert is from the Ontario Health Office on September 29, 2011.
Ontario's Chief Medical Officer of Health, Dr. Arlene King, and Toronto's Medical Officer of Health, Dr. David McKeown, are warning Ontarians not to consume the following brand of smoked salmon because it may be contaminated with Listeria:
Strubs Smoked Salmon ready to eat, lot 09192011, distributed: in 250 gram vacuum packs.
Although the originating processing plant for the product is in Toronto, the extent of the distribution of the product across Ontario is unknown. If you have the product, it is recommended that it be discarded or returned to the retailer or the food supplier. If it is to be returned to the supplier, the product should be clearly marked and kept separate from other food products until it is returned. The smoked salmon may have been purchased from supermarkets, grocery stores or delicatessens. There have been no reported illnesses associated with the consumption of this product.
The following health alert is from the FDA on September 29, 2011.


Jensen Farms of Holly, CO is including whole cantaloupes shipped to the states of Indiana, Louisiana and Wisconsin in its September 14th recall notification.
The following health alert is from the Denver Post on September 23, 2011.
The FDA said an audit of customer records found Jensen cantaloupe was shipped to 22 states, not just the 17 mentioned in the farm's recall. Eight people have now died in the listeria outbreak that began in Colorado, of at least 56 people who have fallen ill from the ailment nationwide.
The new states added to the shipping list Thursday are AR, CA, ID, OH and OK. The states already mentioned in the recall are AZ, CO, IL, KS, MN, MO, NE, NJ, NM, NY, NC, OK, PA, TN, TX, UT and WY.
FDA officials said they are conducting a "root-cause investigation and environmental assessment" at the Jensen farm, near Holly and the Colorado-Kansas border. Labs matched listeria DNA from those stricken and grocery-store cantaloupe to machinery and stored cantaloupe at Jensen. Now, investigators are reviewing and sampling everything from field soil to growing and cooling temperatures as they search for the original spot of contamination.
---
The following health alert is from the CFIA on September 19, 2011.
Certain cantaloupes purchased at Food Basics store located on Sheppard Ave East, North York, Ontario on September 12, 2011 may contain salmonella bacteria. The affected cantaloupes were sold unwrapped. There is no lot code sticker, UPC or product name on the individual cantaloupes.
---
The following health alert is from the FDA ThePacker.com on September 14, 2011.
Jensen Farms, of Holly, CO is voluntarily recalling their shipments of Rocky Ford whole cantaloupe because they have the potential to be contaminated with Listeria. The company is working with the State of Colorado and the FDA to inform consumers of this recall.
The whole cantaloupes in question were shipped between July 29th, 2011 and September 10th 2011, and distributed to the following states: IL, WY, TN, UT, TX, CO, MN, KS, NM, NC, MO, NE, OK, AZ, NJ, NY, PA. The whole cantaloupes have a green and white sticker that reads: Product of USA- Frontera Produce-Colorado Fresh-Rocky Ford-Cantaloupe or a gray, yellow, and green sticker that reads: Jensen Farms-Sweet Rocky Fords. If the whole cantaloupe is unlabeled, please contact your retail store for sourcing information. Jensen Farms is requesting any consumer that many have one of these cantaloupes to please destroy the products. The recall involves only whole cantaloupe shipped by Jensen Farms, and no other commodities are involved. Jensen Farms feels it is prudent to participate in the recall as the State of Colorado has stated (in their September 12th, 2011 press release) that people at a high risk for infection should not eat whole cantaloupe from the Rocky Ford growing region.
Consumers with questions may contact Jensen Farms via email at recall@rfordcantaloupe.com or phone 1-800-267-4561 between the hours of 9am and 4pm MST.
The following health alert is from the FDA on September 29, 2011.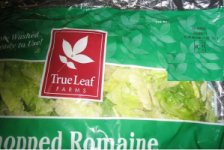 True Leaf Farms is expanding its voluntary recall of romaine to include 2,498 cartons of chopped or shredded romaine because of the potential of contamination with Listeria monocytogenes. The initial recalled product was shipped between September 12 and 13 to a retail food service distributor in Oregon who further distributed it to at least two additional states, Washington and Idaho.
At the request of the US Food and Drug Administration the recall notification is expanded to cover additional product shipped to wholesale food service distributors in 19 states and Alberta, Canada. The states include Alaska, Alabama, Arizona, California, Colorado, Connecticut, Florida, Illinois, Kentucky, Maryland, Minnesota, Missouri, Nevada, New York, Ohio, Oregon, Pennsylvania, Tennessee and Vermont. All the romaine affected by this recall has a "use by date" of 9/29/11.
The only outlet where the romaine was available for direct consumer purchase was at Unified Grocers, Inc. Cash & Carry Smart Food Service stores in Oregon, Washington, and Idaho. The product at those outlets was packed in True Leaf Farms cardboard cartons. All bags carry a "use by date" of 9/29/11. This product was labeled as follows: 2# bags, chopped romaine- Bag and box code B256-46438-8.
Consumers with questions or who need information may call Church Brothers, LLC, the sales agent for True Leaf Farms, at 1-800-799-9475, or may visit www.churchbrothers.com for updates.
The following health alert is from the FDA on September 28, 2011.
Andrew Williamson Fresh Produce is voluntarily recalling one lot of organic grape tomatoes sold under the Limited Edition® and Fresh & Easy labels due to a possible health risk from Salmonella.
The organic grape tomatoes are sold in 10.5 oz. plastic "clam shell" containers containing UPC code 033383655925, located on the front of the package, below the barcode. The containers also have the words "LIMITED EDITION" and "Product of Mexico" printed on "he label. The organic grape tomatoes are also sold in 7 oz. plastic "clam shell" containers with Barcode 20025465, and marketed under the "Fresh & Easy" brand. The organic grape tomatoes were distributed to 18 U.S. states (AZ, CA, CT, FL, ID, IL, KS, MO, MT, NE, NJ, NY, NC, OR, SC, TN, TX, UT) and two Canadian Provinces (British Columbia, Ontario). Consumers with questions may contact Andrew Williamson Fresh Produce at 1 (619) 661-6000, Monday-Friday, 8am–5pm pacific time, or email questions to info@andrew-williamson.com.