The following teruma and maaser and alert is from the Vaad of Denver, Chief Rabbinate of Bnei Brak and the Beth Din of Johannesburg posted on December 20, 2009.
The produce from Israel needs to be tithed (Terumah, Ma'aser) properly before consuming. Please be aware that Sam's Club is selling packages of the multi colored peppers that says product of Mexico and Israel. These peppers need to be tithed without a brocho since it is sofek from where they originate. Other similar packages say product of Mexico and Nicaragua so one should be diligent in their selection.
The Beth Din of Johannesburg is stating that Grapefruit and other produce from Israel are currently available in South Africa and these need to be tithed.
Ed. note: Kashrut.com has links to information on Teruma and Maaser on www.kashrut.com/consumer/vegetables/#TITHING.
The following kashrus update is from the Kof-K Halachically Speaking on December 15, 2009.

Listerine® is reinstating Kof-K hashgacha on the Listerine® Pocketpaks® due to the numerous phone calls that Johnson and Johnson (manufacturers of Listerine Pocketpacks) received from consumers. The product will bear a Kof-K symbol in the very near future. In the interim, all LIsterine Pocketpaks being sold now are crtified kosher by the Kof-K even without the Kof-K symbol on them.
The following kashrus alert is from the Kof-K dated December 10, 2009.
Please be advised that Gianni New York Italian Ices is not under KOF-K supervision. Products sold bearing the KOF-K are unauthorized.
The following South African kashrus notice is from the Beth Din of Johannesburg on December 15, 2009.
We are pleased to announce that a wide range of Floyd's products are once again kosher certified. This applies ONLY to products bearing the Beth Din logo. Some products are parev and some milchik, please check labels carefully.
British kashrus alert from the London Beth Din on December 14, 2009.
The following products, listed as approved and Parev in The Really Jewish Food Guide 2009, have changed formulation and are Not Kosher:
Bird's p.49 NK Brandy Flavour Sauce Mix
Typhoo p.63 NK QT Instant Tea
Schwartz Classic BBQ Seasoning, listed on p.96 as approved and Parev, has changed formulation and is now Dairy.
British kashrus alert from the London Beth Din on December 14, 2009.
Twinings Winter Spice Infusion contains Natural Wine Flavouring and is therefore Not Kosher. All other Twinings teas are permitted.
The following kashrus notice is prompted by a reader's question and confirmed by the Star-K on December 11, 2009.
Trader Joes is selling two kinds of kosher meat, Trader Joes brand (non-glatt) under the Triangle K and EKB brand (glatt) under the Star-K.
The following kashrus notice is from the Star-K on December 11, 2009.
BREAD PRODUCTS produced exclusively at the NEW YORKER BAKERY, 9443 Georgia Avenue, Silver Spring, MD 20910, are under the supervision of the Star-K only when bearing the Star-K Pareve label.
Please Note: Star-K's supervision is limited to the wholesale division of the NEW YORKER BAKERY facility above and DOES NOT include ANY retail outlets of the NEW YORKER BAKERY either under its name or the brand name BREADS UNLIMITED.
The following Canadian health alert is from the CFIA on December 11, 2009.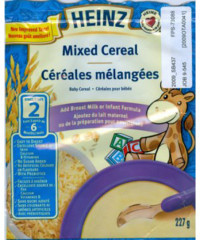 The Canadian Food Inspection Agency (CFIA) and Heinz Canada are warning the public not to consume the Heinz Mixed Cereal for babies described below as it may contain elevated levels of Ochratoxin A (OTA). The following product is affected by this alert: Heinz Mixed Cereal, a Baby Cereal, Stage 2, From 6 Months, 227 g, UPC 0 57000 02516 8
Codes: BB/MA 10 DE 26 and BB/MA 10 DE 29
The best before date codes are located on the top left hand corner of the package. The affected product has been distributed nationally. Ochratoxin A is a mycotoxin produced by some fungi that can grow in certain food crops such as grains, grapes and coffee beans. Ochratoxin A has been classified by the International Agency for Research on Cancer (IARC) as a possible human carcinogen. If you have the products bearing the identified product code in your home, they should not be consumed in order to minimize your child's exposure. However, if your children have already consumed this food, then there is no need for other actions since even the highest levels of ochratoxin A found in these products are not high enough to pose a health risk when consumed as part of a normal diet over the short term. The manufacturer, Heinz Canada, North York, ON, is voluntarily recalling the affected product from the marketplace. The CFIA is monitoring the effectiveness of the recall.
The following kashrus alert is from the OU on December 10, 2009.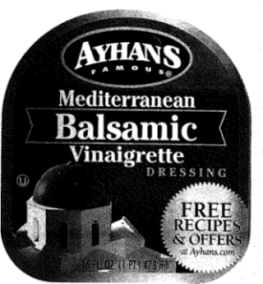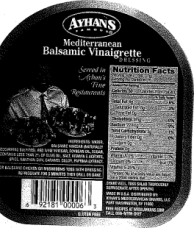 Ayhans Famous Mediterranean Balsamic Vinaigrette Dressing 16 oz., UPC 92181-00006: Ayhan's Mediterranean Brands, LLC - Port Washington, NY; This product bears an unauthorized OU symbol. Consumers spotting this product are requested to contact the Orthodox Union at 212-613-8241 or via email at kashalerts@ou.org.