The following public notice is from the Rabbi Moshe Weiner of the Kosher Information Center (KIC) of Brooklyn, NY, relating to Kaporos on September 23, 2009.
It is the recommendation of the KIC with the approval and urging of Gedolai Torah, that the following guidelines for live chicken kaporos be instituted:
Every Kaporo center be under a reliable Hashgacha, be it a Kehila or a recognized individual Rav. This entails the following responsibilities.

Treatment of the chickens to minimize tzar baalay chaim.
Proper handling of chickens to prevent problems that may cause treifos.
Schechita
Bedika
Kashering
Final distribution to aniyim/tzedakah institutions.

Adequate control that live chickens are not being reused for other Kaporos.
Enforcement of the proper separation of men and women, during the procedures is encouraged.
Public is urged to patronize only those Kaporos centers which abide by the above guidelines.

Ed note: A Kapposos guidelines poster prepared by Dr. Joe Regenstein, Cornell University and Rabbi Yosef Wikler, Editor, KASHRUS Magazine originally published in KASHRUS Magazine, July 2008 is linked to here (with permission of Kashrus Magazine).
The following health alert is from FDA dated September 15, 2009.
Ippolito International, LP of Salinas, California is voluntarily recalling 1,715 cartons of bunched spinach, because it has the potential to be contaminated with Salmonella. These products were packed as Queen Victoria and Tubby brands. More detailed information on the recall can be found at /www.fda.gov/Safety/Recalls/ucm182964.htm
The following health alert is from FDA dated September 15, 2009.
Gilster-Mary Lee Corp, of Chester, IL is recalling a single lot of 21oz. Great Value Berry Crunch cereal because it may contain undeclared almonds. This product was distributed in AL, AZ, CA, CO, FL, GA, IA, IN, KS, KY, MD, MI, MN, MS, NC, ND, NE, NM, NV, NY, OH, OK, PA, SC, SD, TN, TX, VA, WI, and WV solely through Walmart stores. Only product containing the code 07 21 10 N02 is affected by this recall. Consumers who have this product may return it to the store where they purchased it for a refund or replacement. Any questions regarding can be directed to Gilster-Mary Lee at 800 851 5371 between the hours of 8:00 AM and 5:00 PM Central Time, Attn: Tom Welge.
The following revised kashrus notice is from New Square and the Star-K on August 24, 2009 and September 17, 2009.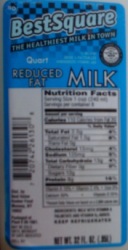 Please be advised that the milk products being marketed under the new label Best Square are not under the supervision of the New Square Kashrus Council, who is not taking any responsibiilty for the kashrus of amy products under the Best Square label.
Ed. note: The milk is under the supervision of Rabbi Mordechi Ungar and the Star-K.