The following product hazard alert is from the U.S. Consumer Product Safety Commission on June 24, 2009.
Black & Decker® brand Spacemaker™ Coffeemakers have been recalled by Applica Consumer Products Inc., of Miramar, FL because the brew basket can shift out of alignment allowing hot water to overflow. This poses a scalding and burn hazard to consumers. The recalled product is the Black & Decker-branded Spacemaker™ coffeemaker. The product has an under-cabinet mount, programmable digital clock/timer, removable water reservoir, and either a 12-cup glass carafe or an 8-cup thermal carafe. Only model numbers ODC440, ODC440B, ODC450 and ODC460 are included in the recall. The model number can be located on the back of the coffeemaker. Sold at: Major retailers nationwide, including K-Mart, Kohl's, Target, Wal-Mart, Bed, Bath & Beyond, and Amazon.com, from March 2006 through March 2009 for between $60 and $70.
Consumers should stop using the recalled coffeemaker immediately and contact Applica for a free replacement brew basket. Consumer Contact: For additional information, contact Applica toll-free at (866) 668-4442 between 8:30 a.m. and 5 p.m. ET Monday through Friday or visit the firm's Web site at www.acprecall.com
The following kashrus alert is from the Chicago Rabbinical Council on June 24, 2009.
White Chocolate Raspberry Cupcake Mix manufactured by Xcell Intl. Corp. / Dean Jacobs, Lemont, Illinois, contains dairy ingredients, as stated in the ingredient panel. However, the "D - Dairy" designation was inadvertently omitted from the package. The product is indeed certified by the cRc as dairy, cholov stam.
The following British kashrus alert is from the London Beth Din on June 23, 2009.
Due to a change in formulation, Supasweet Mini Sweeteners, listed on p.98 of The Really Jewish Food Guide 2009 as approved and Parev, are now Not Kosher.
The following kashrus notice is from the Atlanta Kashruth commision and confirmed by the OU on June 18, 2009.
Due to recent changes, only several Maalox products remain OU certified. Check packaging before purchasing.
The following kashrus alert is from the OU on June 22, 2009.
Williams-Sonoma Chipotle Almonds and Williams-Sonoma Sweet Spiced Pecans, Williams-Sonoma, Inc. San Francisco, CA contain dairy ingredients as listed on the ingredient panel but the dairy designation has been inadvertently omitted. Future packaging will be revised.
The following Israeli kashrus alert is from the Israeli Chief Rabbinate on June 18, 2009.
The fraud division of the Rabbanut of Israel reports that they are concerned that "Of Hanegev" has illegally used the symbol of the CHK – Beis Din of Crown Heights - on poultry meant for export out of Israel. They may also illegally be using labels of "Vaad Rabbanei Chabad, under supervision of Rabbi Hillel Posner."
The following egg allergy alert is from the FDA on June 19, 2009.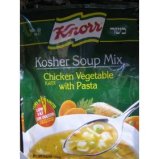 Unilever United States, Inc. is voluntarily recalling Knorr® Kosher Soup Mix – Chicken Vegetable Flavor with Pasta packed in a pouch (bag) 2.18 oz (62 g).imported from Israel because it contains undeclared egg. The product was distributed nationwide. UNIT UPC: 4800170660 (located on the back of the pouch under the bar code) – including all "BEST-IF-USED-BY" dates (located on a panel next to the UPC). The recall was initiated after it was discovered that product containing egg was distributed in packaging that did not reveal the presence of egg.
Consumers who have the Knorr® Kosher Soup Mix – Chicken Vegetable Flavor with Pasta product are asked to discard it and call 877-270-7412, which is operational 24 hours a day, for information on the recall and to request a full refund. In addition, a consumer services representative is available between the hours of 8:30 AM and 6:00 PM EDT.
The following kashrus alert is from the OK on June 18, 2009.
Please be advised that Macayo Green Chile Enchilada Sauce, produced by Fiesta Canning Company, Inc., Phoenix, AZ 85016, contains non-kosher ingredients. Product is being recalled and labels are being corrected.
The following kashrus and milk allergy alert is from the FAAN on June 18, 2009.
Smith Dairy Products Company is recalling "SMITH'S Tea with Lemon" gallon size due to undeclared milk. The product was distributed in Ohio. The product is in a gallon-size container with UPC 70424 00560 and lot number 07/07/09. Consumers may return the product to the place of purchase for a full refund. Consumers with questions may call (800) 776-7076.
The following product has been recalled by the FDA on May 5, 2009 for possible undeclaired peanuts and the OK for kashrus reasons on June 17,2009.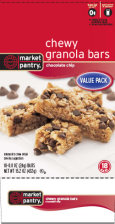 Leclerc Foods, Montgomery, PA has initiated a limited voluntary recall of a single lot of Market Pantry Chocolate Chip Chewy Granola Bar packages with UPC Code 85239 20124 and a "Best By" date of 18JAN2010. The recall was initiated after it was discovered that product was mispackaged and the retail units may also contain (which are OK-D- certified) and possibly S'more bars (which are NOT KOSHER). As a result the ingredient statement on the retail package does not include peanuts as an ingredient.
Consumers are advised not to consume these items and may return the items to Target for a refund or they may call Target Guest Relations at 1-800-316-6151. Consumers with additional questions on the recall may contact Leclerc Foods Customer Service at 1-800-463-6144, Monday to Friday between 8:30am and 4:30pm EDT.
The product with Best By 18 JAN 2010 has been recalled from all Target stores and is no longer available at retail. If you see this product with Best By 18 JAN 2010 in the market, please call the OK office at 718-756-7500.