The following kashrus alert is from the OK on June 18, 2009.
Please be advised that Macayo Green Chile Enchilada Sauce, produced by Fiesta Canning Company, Inc., Phoenix, AZ 85016, contains non-kosher ingredients. Product is being recalled and labels are being corrected.
The following kashrus and milk allergy alert is from the FAAN on June 18, 2009.
Smith Dairy Products Company is recalling "SMITH'S Tea with Lemon" gallon size due to undeclared milk. The product was distributed in Ohio. The product is in a gallon-size container with UPC 70424 00560 and lot number 07/07/09. Consumers may return the product to the place of purchase for a full refund. Consumers with questions may call (800) 776-7076.
The following product has been recalled by the FDA on May 5, 2009 for possible undeclaired peanuts and the OK for kashrus reasons on June 17,2009.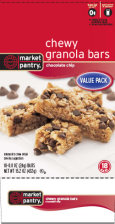 Leclerc Foods, Montgomery, PA has initiated a limited voluntary recall of a single lot of Market Pantry Chocolate Chip Chewy Granola Bar packages with UPC Code 85239 20124 and a "Best By" date of 18JAN2010. The recall was initiated after it was discovered that product was mispackaged and the retail units may also contain (which are OK-D- certified) and possibly S'more bars (which are NOT KOSHER). As a result the ingredient statement on the retail package does not include peanuts as an ingredient.
Consumers are advised not to consume these items and may return the items to Target for a refund or they may call Target Guest Relations at 1-800-316-6151. Consumers with additional questions on the recall may contact Leclerc Foods Customer Service at 1-800-463-6144, Monday to Friday between 8:30am and 4:30pm EDT.
The product with Best By 18 JAN 2010 has been recalled from all Target stores and is no longer available at retail. If you see this product with Best By 18 JAN 2010 in the market, please call the OK office at 718-756-7500.
The following revised kashrus alert is from the Star-K Keeping You Kurrent posted on June 17, 2009.
Me-latte located at both the Johns Hopkins Cancer Center and the Johns Hopkins School of Nursing , Baltimore, MD has decided to terminate its association with the Star-K as its kashrus consultant.
Ed. note: They are are now fully certified by Baltimore's Rabbi Y Zvi Weiss, Cholov Stam.
The following kashrus information is from the cRc on June 15, 2009.
The Chicago Rabbinical Council has published an alert to remind the public about the proper washing and inspection of leafy vegetables prior to use: "It is common to see certain leafy vegetables labeled as "triple washed". While this additional cleaning process may reduce the content of some undesirables such as sand or dirt, or possibly even some insects, it does not satisfy the halachic requirements necessary for the proper washing, removal and inspection of all insects in that produce. In fact, we are constantly finding high level of infestation in the "triple washed" bagged leafy vegetables."
One must do one of the following in order to meet those requirements:
Carefully follow the guidelines set by a kashrus agency that you respect to wash and check your leafy vegetables. Ed. note: Kashrut.com links to the cRc policy and that of other agencies at kashrut.com/consumer/vegetables/#WASHING.
Purchase those questionable leafy vegetables only if they are certified by a reliable kashrus agency.
Purchase those questionable leafy vegetables from a source that has a trained and reliable mashgiach checking that produce.
The following kashrus alert is from the OU on June 15, 2009.
Food Lion Salsa Con Queso, UPC: 35826 04798, Food Lion, LLC-Salisbury, NC: This product bears an unauthorized OU symbol and corrective action is being taken. Consumers spotting this product are requested to contact the Orthodox Union at 212-613-8241 or via email at kashalerts@ou.org.
The following kashrus alert is from Rabbi Mendel Gurkow of Shaloh House, Stoughton on on June 15, 2009.
Please be advised that as of Monday June 15, 2009, the Shalom Tel Aviv restaurant in Stoughton, MA is no longer under the Kashrut supervision of Rabbi Mendel Gurkow. No further information is available.
The following South African kashrus alert is from the Beth Din of Johannesburg on June 12, 2009.
Please be advised that African Skies Kosher Adventure Tours, www.koshersafaris.co.za) is using an unauthorized Beth Din trademark on their website and posters. Their tours and catering business are NOT under the supervision of the Beth Din. Appropriate legal action has been taken.
Ed. note: The operator of the program says that it is self certified.
The following kashrus alert is from the OU on June 12, 2009.
Foodtown Rice Cakes- Caramel Made with Whole Grain, Foodtown, Inc. - Avenel, NJ: This product contains dairy ingredients as listed on the ingredient panel but the dairy designation has been inadvertently omitted. Future packaging will be revised.
The following kashrus alert is from the OK on June 11, 2009.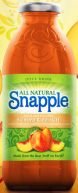 Please be advised that a limited quantity of Snapple Summer Peach, Snapple Beverage Corp. was inadvertently labeled OK Pareve. This product is NOT KOSHER. Labels are being corrected.