The following kashrus update is from the Kof-K on January 19, 2009.

Please note that a limited number of Tradition Brand Chicken Noodle Soup Cups were labeled with the Jehling Brand Ramen noodle soup lids. This product was produced with a mashgiach timidi and is Kosher Parve.
The following kashrus alert is from the Rabbi Aaron Teitelbaum on January 15, 2009.
The following is from Rabbi Aaron Teitelbaum: "As is known, of the recent world-wide problem of raisin infestation, therefore, we had our mashgichim check the Mispacha brand Raisins, which are under my hashgach and they were found ti be part of the problem. We therefore request to return this product to the store for a full refund."
The following Canadian CLOSURE NOTICE is from the COR posted on January 16, 2009.
The following 2 establishments have closed and are, therefore, no longer under COR supervision:
Gladstone's Bar & Grill and
Yossi's Fine Foods/Classic
The following health alert is from the FDA on January 16, 2008.
Kellogg Company today announced a voluntary recall of certain AustinŽ and KeeblerŽ branded Peanut Butter Sandwich Crackers and select snack-size packs of Famous AmosŽ Peanut Butter Cookies and KeeblerŽ Soft Batch Homestyle Peanut Butter Cookies because the products have the potential to be contaminated with Salmonella. No other products are involved in this recall. Additional information and a list of products can be found at www.fda.gov/oc/po/firmrecalls/kellogg201_09.html
The following health alert is from the FDA on January 13, 2008.
Kellogg Company, Battle Creek, MI today announced it has taken the precautionary measure of putting a hold on Austin and Keebler branded Toasted Peanut Butter Sandwich Crackers, Peanut Butter and Jelly Sandwich Crackers, Cheese and Peanut Butter Sandwich Crackers, and Peanut Butter-Chocolate Sandwich Crackers.
FDA and other regulatory agencies have indicated that Peanut Corporation of America (PCA) is the focus of their investigation concerning a recent Salmonella outbreak thought to be caused by tainted peanut butter. PCA is one of several peanut paste suppliers that the company uses in its AustinÂŽ and KeeblerÂŽ branded peanut butter sandwich crackers.
Kellogg Company's investigation has not indicated any concerns, nor has the Company received any consumer illness complaints about these products. Nonetheless, Kellogg Company is taking precautionary measures including putting a hold on any inventory in its control, removing product from retail store shelves, and encouraging customers and consumers to hold and not eat these products until regulatory officials complete their investigation of PCA and Kellogg provides further information as to the resolution of this issue.
While no additional consumer action is necessary at this time, consumers with questions or who would like a product refund can call the Kellogg Consumer Response Center at 888-314-2060.
The following South African kashrus notice is from the Beth Din of Johannesburg on January 16, 2009.
The following FRYS products, although kosher and parev, are not mehadrin:
Chicken Burger, Chicken Nuggets, Veg Express Cottage Pie.
All other Frys products which bear the Beth Din logo are kosher, parev and mehadrin.
The following kashrus alert is from OK on January 9, 2009.
Please by advised that Camille Bloch chocolates (Mon Chocolat Suisse) imported by Euro-Excellence, Inc., Candiac, QC, Canada, is being sold with an unauthorized OK-D symbol on the label and is NOT certified by OK Kosher Corporation. Corrective measures are being taken.
Ed. note: These products are certified by Triangle K - Rabbi Ralbag.
Ed. note: Camille Bloch products that are not kosher are the Cognac, Grappa and Grand Marnier liquor chocolates.
The following corrected kashrus information is from Rabbi Gershon Gewirtz on January 13 2009.
Please be aware that Rabbi Gershon C. Gewirtz of Young Israel of Brookline is voluntarily providing kosher supervision to Milk Street Cafe, Boston, MA on an interim basis while Milk Street Cafe explores opportunities for permanent hashgacha.
The following kashrus alert is from the The Orthodox Rabbinical Council Of Greater Boston on January 9, 2009.
Please be advised, effective immediately and until further notice, The Orthodox Rabbinical Council Of Greater Boston is removing the kashrus certification from: The Milk Street Cafe, 50 Milk St., Boston, MA. 02109
The following allergy alert is from the IFT and FDA on January 14, 2008.
The Food and Drug Administration (FDA) has warned Newman's Own Organics in a letter that packages of the company's spelt pretzels fail to note "the presence of wheat." Under the Federal, Food, Drug, and Cosmetic Act, major food allergens must be listed on the packaging. Allergens are defined as milk, egg, fish, crustacean, shellfish, tree nuts, wheat, peanuts, and soybeans, as well as any food ingredient that contains protein derived from one of these foods, with the exception of highly refined oils.
The packaging on the company's spelt pretzels includes the statement, "While spelt is a member of the same grain family as oats and wheat, it's an entirely different species." Although this statement is true, the FDA has stated that "wheat" means all species of the genus Triticum, of which spelt (Triticum spelta L.) is a part. The FDA is concerned that the statement may give the impression that the spelt pretzels product does not contain the allergen found in wheat and is safe and suitable for consumption by consumers who are allergic to wheat. This is not the first time the company has been warned about this issue. The FDA sent a similar warning letter in Dec. 2006. According to an article on Bloomberg.com, Peter Meehan, Newman's Own Organics' CEO, said that the pretzel's packaging will change.
The following kashrus notice is from OK on January 13, 2009.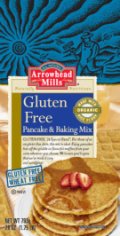 Please be advised that ORGANIC GLUTEN FREE PANCAKE & BAKING MIX produced by Organic Arrowhead Mills was mislabeled as OK~Dairy. The product is in fact PAREVE. Labels are being corrected.
The following kashrus alert is from OK on January 13, 2009.
Please be advised that ROYAL CANDY COMPANY, Brooklyn, NY has been distributing tootsie roll midgies, vanilla caramels, and other soft candies with an unauthorized OK symbol. Only the hard candies are certified by OK Kosher Certification. Corrective measures are being taken.