The following kashrus alert is from the Atlanta Kashruth Commission on June 6, 2008.
LYONS brand DESIGNER DESSERT SAUCES have been reformulated and are no longer pareve. They are now either marked D or DE.
The following kashrus alert is from the Atlanta Kashruth Commission on June 6, 2008.
Cafe Agora at 262 East Paces Ferry, Atlanta, GA mistakenly used advertisements that have the word "kosher" in them. This is a non-kosher restaurant and they have agreed to remove the word "kosher" from all future advertisements.
The following updated health alert from the FDA and FDA on June 7, 2008.
The Food and Drug Administration is expanding its warning to consumers nationwide that a salmonellosis outbreak has been linked to consumption of certain raw red plum, red Roma, and red round tomatoes, and products containing these raw, red tomatoes.
FDA recommends that consumers not eat raw red Roma, raw red plum, raw red round tomatoes, or products that contain these types of raw red tomatoes unless the tomatoes are from the sources listed below. If unsure of where tomatoes are grown or harvested, consumers are encouraged to contact the store where the tomato purchase was made. Consumers should continue to eat cherry tomatoes, grape tomatoes, and tomatoes sold with the vine still attached, or tomatoes grown at home.
On June 5, using traceback and other distribution pattern information, FDA published a list of states, territories, and countries where tomatoes are grown and harvested which have not been associated with this outbreak. This updated list includes: AR, CA, GA, NC, SC, TN, TX, Belgium, Canada, Dominican Republic, Guatemala, Israel, Netherlands, and Puerto Rico. The list is available at www.fda.gov/oc/opacom/hottopics/tomatoes.html#retailers. This list will be updated as more information becomes available.
The following kashrus alert is from the Vaad Hakashrus – Cleveland Kosher on June 6, 2008.
Please be advised that the Vaad Hakashrus – Cleveland Kosher no longer certifies Old World Foods, Cleveland, Ohio.This includes all potato pancake products.
The following kashrus alert is from the OK on June 6, 2008.
Please be advised that Wink (chocolate covered wafers with cvaramel), produced by Simsek Biscuit and Food Company (Turkey) has been distributed in Israel by Alpha Intoit Food Products, Ltd. as being certified by OK Kosher. We request that any consumer who finds a package of Wink Wafers to please contact the OK certification immediately.
The following revised new slurpee information and alert is from the Chicago Rabbinical Council on June 6, 2008.
With the warmer temperatures comes a flurry of new 7eleven Slurpee flavors. Among them are several under the Yo Cream or Jolly Rancher brands. Please be aware that the Jolly Rancher Watermelon, Jolly Rancher Green Apple and Yo Cream Bubble Yum flavors are certified kosher dairy. The Jolly Rancher flavors are not to be confused with the Fanta flavors, Sour Watermelon and Sour Apple, which are both certified kosher pareve.
Twizzler Strawberry is NOT the same Twizzler that was sold a few years ago. The new flavor is still being reviewed and has not been certified kosher at the time of this alert.
Another new flavor, Monster Black, will be introduced in July. This flavor is NOT KOSHER!
ed. note: The Kashrut.com slurpee list can be found at www.kashrut.com/consumer/slurpees
The following kashrus alert is from the Atlanta Kashruth Commision and the OU posted on June 5, 2008.
The OU will no longer be certifying artichoke hearts. The Atlanta Kashrus Commission has stated the following: "Frozen artichoke hearts from Israel with a reliable certification are acceptable. Artichoke hearts from Peru bearing a K on them are unacceptable. Artichoke bottoms are acceptable."
The following South African kashrus notice is from UOS on June 4, 2008.
"Sipahh" flavoured straws are Kosher, Parev and Mehadrin, certified by the OU and approved by the Johannesburg Beth Din, with or without the OU logo on the packaging. Approved flavours: Banana, Caramel, Chocolate, Chocolate Mint, Cookies & Cream, Honeycomb, Strawberry, Vanilla.
The following kashrus alert from the OU on June 4, 2008.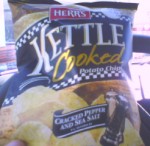 Herr's Kettle Kettle Cooked Potato Chips: Cracked Pepper and Sea Salt flavored Potato Chips, Herr Foods- Nottingham, PA: This product contains dairy ingredients as listed on the ingredient panel but the dairy designation has been inadvertently omitted. Future packaging will be revised.
The following revised kashrus alert from the Rabbinical Council of New England on June 2, 2008.
Contrary to a report by Koshertoday on May 12, 2008, the When Pigs Fly that opened in Brookline, MA and their current store in Somerville, MA will not be certified as kosher by the Vaad Harabonim of New England. However, their products packaged in York, ME bearing the KVH emblem are certified kosher by the Rabbinical Council of New England.