The following revised kashrus alert from the Rabbinical Council of New England on June 2, 2008.
Contrary to a report by Koshertoday on May 12, 2008, the When Pigs Fly that opened in Brookline, MA and their current store in Somerville, MA will not be certified as kosher by the Vaad Harabonim of New England. However, their products packaged in York, ME bearing the KVH emblem are certified kosher by the Rabbinical Council of New England.
The following health alert from CFIA on June 2, 2008.
The Canadian Food Inspection Agency (CFIA) is warning the public not to consume the KingFisher brand cantaloupes described below because these cantaloupes may be contaminated with Salmonella. The affected cantaloupes, produce of the United States, were distributed under KingFisher brand name in cartons containing 6 or 9 cantaloupes. The individual cantaloupes may have a sticker with the following information:
KingFisher Brand
Produce of USA
UPC : 0 33383 11600 6
#4050
Fisher Ranch Corp., Blythe, CA, 92225
These cantaloupes were distributed in Ontario and sold from May 16 up to and including June 2, 2008. Consumers who have purchased whole cantaloupes or in-store products containing pieces of fresh cantaloupes and are not sure of the brand should inquire at the place of purchase to verify if the stores have received the affected product.
The following South African kashrus alert from UOS on June 2, 2008.
Samoosas manufactured by "Food Delight" bearing the Beth Din Logo are being distributed in various outlets. These products are NOT KOSHER – the Beth Din logo has been forged. Appropriate action is being taken against the company.
The following kashrus alert from Rabbi Gornish and posted on June 3, 2008.
Rabbi Yisroel P. Gornish no longer supervises Rosenman Farms, 1701 McDonals Ave, Brooklyn, NY.
The following health alert from FDA on May 31, 2008.
Abbott is voluntarily recalling two lots of of Calcilo XD Low-Calcium/Vitamin D-Free Infant Formula with Iron Powder in 14.1-Ounce (400g) cans with stock code number 00378 and with lot numbers 39973RB or 47239RB6 printed on the bottom of the cans because small amounts of air may have entered the can, resulting in product oxidation. A common sign of oxidation is an off aroma. The problem is isolated to these two lots of Calcilo XD Powder in 14.1-ounce (400g) cans. Consumption of highly oxidized foods can cause gastrointestinal (GI) symptoms such as nausea, vomiting and diarrhea. If parents have questions or concerns they should contact a health care professional. The two lots were distributed in the United States, Canada, Malaysia, Korea and Bahrain, between 06/06/06 and 04/17/08. Consumers who purchased Calcilo XDŽ Low-Calcium/Vitamin D-Free Infant Formula with Iron powder from either of the two lots mentioned above should contact Abbott Nutrition at 1-800-638-6493.
The following kashrus alert is from BC Kosher on May 30, 2008.
It has been brought to our attention that Kayan Mediterranean Cuisine, located at #202-777 West Broadway in Vancouver, Canada has been representing themselves as a kosher restaurant. The restaurant is in fact not certified kosher.
The following kashrus alert is from the OU on May 30, 2008.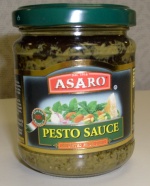 Asaro Pesto Sauce UPC: 8 020793 000065, A. Pensabene Agroalimentari: This product bears an unauthorized OU symbol and is being withdrawn from the marketplace. Consumers spotting this product are requested to contact the Orthodox Union at 212-613-8241 or via email at kashalerts@ou.org.
The following kashrus alert is from the OK dated May 7, 2008.
Please be advised that due to a packaging error, some packages of Hostess Mix (produced by Royal Candy Company Brooklyn, NY) may contain one pack of a non-certified Smarties candy. This is an isolated instance and is being corrected. We request that any consumer who finds a package of the Hostess Mix containing the non-certified Smarties candy to please contact the OK Kosher Certification immediately.
The following South African kashrus alert is from the UOS on May 29, 2008.
The Cape Town Beth Din advises as follows: Lancewood fat free chunky and fat free smooth cottage cheese with "use-by" dates up to and including 05/07/08 must be regarded as non-kosher. Products with "use-by" date from 06/07/08 are kosher. This applies throughout South Africa.
The following revised kashrus notice is from the OK on May 22, 2008.
365 Sorbets distributed by Whole Foods Markets are now certifid OK-D (dairy, cholov stam. Any old packaging still available in Whold Foods Stores are kosher dairy. Signs to that effect are up on the shelves in Whole Foods Stores.