K A S H R U T . C O M©
The Premier Kosher Information Source on the Internet
---
HOME | PASSOVER | CONSUMER | COMMERCIAL | TRAVEL | ZEMANIM | LINKS | ARTICLES | RECIPES | HUMOR | E-MAIL LIST

---
Kosher News and Announcements
The following kashrus information is from the OU in response to a reader's question and posted on July 9, 2014.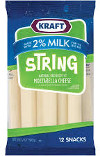 The OU certifies some Kraft Cheese products, however, ONLY when they bear the OU symbol. As of now, the OU certifies the following products:
Kraft String Cheese 2% Milk Mozzarella
Kraft String Cheese Cracked Black Pepper
Kraft String Cheese Jalapeno
Kraft String Cheese Tomato Basil
It is possible more will become certified in the near future.
The information posted is from secondary sources. We cannot take responsibility for the accuracy of the information.