K A S H R U T . C O M©
The Premier Kosher Information Source on the Internet
---
HOME | PASSOVER | CONSUMER | COMMERCIAL | TRAVEL | ZEMANIM | LINKS | ARTICLES | RECIPES | HUMOR | E-MAIL LIST

---
THIS SECTION IS FOR NEWS AND INTERESTING STORIES RELATED TO FOOD, NUTRITION AND FOOD PROCESSING. THEY ARE NOT NECESSARILY RELATED TO KOSHER BUT MAY BE OF INTEREST TO THE KOSHER CONSUMER, MANUFACTURER OR MASHGIACH.
The following safety alert from the CPSC on February 16, 2011.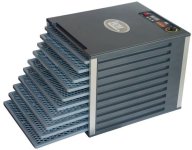 LEM Products, Harrison, Ohio is recalling Food dehydrators with digital timers. The screws that secure the motor to the back panel can come loose, causing the motor to fall on the heating element. This poses a fire hazard. This recall involves 5-tray and 10-tray LEM food dehydrators with serial numbers 2010 0701, 2010 0702, 2010 07021, 2010 0901, 2010 0902, 2010 1001 or 2010 1101. The dehydrators are gray and are made of plastic. The LEM logo is embossed on the top of the unit. The serial number is located on the label on the back panel. The last section of the UPC code found in the packaging reads "1009 1" for the 5-tray unit and "1010 7" for the 10-tray unit.
Sold at: Mass merchandisers and retailers nationwide and online at www.lemproducts.com from August 2010 through December 2010 for about $160.
The information posted is from secondary sources. We cannot take responsibility for the accuracy of the information.