K A S H R U T . C O M©
The Premier Kosher Information Source on the Internet
---
HOME | PASSOVER | CONSUMER | COMMERCIAL | TRAVEL | ZEMANIM | LINKS | ARTICLES | RECIPES | HUMOR | E-MAIL LIST

---
THIS SECTION IS FOR NEWS AND INTERESTING STORIES RELATED TO FOOD, NUTRITION AND FOOD PROCESSING. THEY ARE NOT NECESSARILY RELATED TO KOSHER BUT MAY BE OF INTEREST TO THE KOSHER CONSUMER, MANUFACTURER OR MASHGIACH.
The following safety alert from the CPSC on March 5, 2012.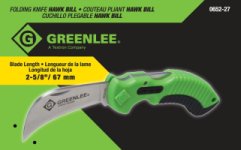 Greenlee Textron Inc., Rockford, IL recalls Folding Pocket Utility Knifes due to laceration hazard. The blade locking mechanism can fail, allowing the blade to fold inward toward the handle, posing a laceration hazard. This recall involves Greenlee Hawk Bill folding pocket utility knives with model numbers 0652-27 and UT652-27. The models are identical. Each has a single curved 2.6-inch stainless steel blade and a 4-inch green and black plastic handle. The Greenlee name and logo are printed on the blade. Model numbers are printed in the upper right corner of the boxes in which the knives are packaged. Sold by distributors of professional tools and products nationwide from September 2011 through November 2011 for about $20. Consumers should immediately stop using the recalled knife and return it to the distributor for a full refund.
Consumer Contact: For additional information, contact Greenlee toll-free at (800) 435-0786 between 8 a.m. and 5 p.m. CT or visit the firm's website at www.greenlee.com
The information posted is from secondary sources. We cannot take responsibility for the accuracy of the information.