K A S H R U T . C O M©
The Premier Kosher Information Source on the Internet
---
HOME | PASSOVER | CONSUMER | COMMERCIAL | TRAVEL | ZEMANIM | LINKS | ARTICLES | RECIPES | HUMOR | E-MAIL LIST

---
THIS SECTION IS FOR NEWS AND INTERESTING STORIES RELATED TO FOOD, NUTRITION AND FOOD PROCESSING. THEY ARE NOT NECESSARILY RELATED TO KOSHER BUT MAY BE OF INTEREST TO THE KOSHER CONSUMER, MANUFACTURER OR MASHGIACH.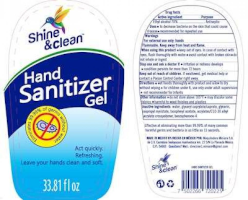 Maquiladora Miniara S.A. de C.V. Issues Voluntary Nationwide Recall of Shine and Clean Hand Sanitizer and Due to Potential Presence of Undeclared Methanol (Wood Alcohol)
July 24, 2020 from the FDA
Maquiladora Miniara S.A. de C.V. is voluntarily recalling lots of Shine and Clean Hand Sanitizer gel to the consumer level. The products are being recalled due to the potential presence of methanol (wood alcohol)
These products are used as topical hand sanitizers. The affected Shine and Clean Hand Sanitizer Gel is packaged in 1000 ml bottles and 1-gallon containers. Lot numbers:
F200829088/F200829095/F200829107/D202728743/D202528742/D202428733/D202728743/
D2028753/D202528742/D202428733/ D202028689/ D201828660/ D202428734/E200128784/E200418795/
D202428734/D202828689/D201828660/E201628912/E201628913/E201628911/E201528902/E201528903/
E201628910/E201628918/E201628914/E201628915/E201628916/E201628917/ E202328969/E202428975/
E202528981 /E202128947/ E201728918/E201728919/E201428876/ E201828894/ E201828920/
E201428876/E201128850/E201328859/E200628817/E200828826/E200928840/D202128699/D202428700.
Maquiladora Miniara S.A. de C.V. is notifying its distributors and customers by e-mail and is arranging for return of all recalled products. Distributors that have Shine and Clean Hand Sanitizer which is being recalled, should stop using and distributing product and contact their clients.
Consumers who have questions about this recall can contact Maquiladora Miniara S.A. de C.V. By +52 55 33871987 + 52 55 8394 5857 or Hector.carrillo@miniara.com.mx the hours are available from 10:00 a.m. to 1:00 p.m. and from 2:00 p.m. to 4:00 p.m. Consumers should contact their doctor or healthcare provider if they have experienced any problems related to taking or using this medicine.
The information posted is from secondary sources. We cannot take responsibility for the accuracy of the information.