K A S H R U T . C O M©
The Premier Kosher Information Source on the Internet
---
HOME | PASSOVER | CONSUMER | COMMERCIAL | TRAVEL | ZEMANIM | LINKS | ARTICLES | RECIPES | HUMOR | E-MAIL LIST

---
THIS SECTION IS FOR NEWS AND INTERESTING STORIES RELATED TO FOOD, NUTRITION AND FOOD PROCESSING. THEY ARE NOT NECESSARILY RELATED TO KOSHER BUT MAY BE OF INTEREST TO THE KOSHER CONSUMER, MANUFACTURER OR MASHGIACH.
Israeli Product Recall - Body Lotion Bottles from the Oatmeal Series, 500 ml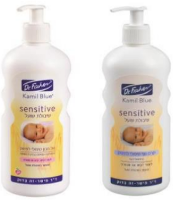 July 27, 2020 from health.gov.il
Fischer Pharmaceuticals Ltd. announces the recall from shelves of a small number of body lotion bottles from the Oatmeal series, 500 ml, from batch no 1570020520 due to a labeling error.
A very small number of these bottles contains oatmeal soap-less soap but due to a printing error a body lotion label was attached to the front of the product. We apologize for any inconvenience and undertake to continue and ensure our customers' full satisfaction with the quality of all our products. Customers in possession of a product from this batch are required to contact our customer service at 1-800-618-888 and receive a replacement product.
The information posted is from secondary sources. We cannot take responsibility for the accuracy of the information.