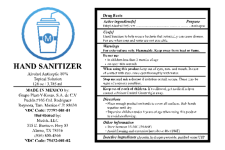 Medek, LLC. Issues Voluntary Nationwide Recall of M Hand Sanitizer Due to Potential Presence of Methanol (Wood Alcohol) and Subpotent Ethanol Levels
September 10, 2020 from the FDA
Medek, LLC is voluntarily recalling all lots of M Hand Sanitizer Alcohol Antiseptic 80% 128 oz/3,785 mL to the consumer level. FDA analysis found the M Hand Sanitizer to contain methanol and be sub-potent for ethanol.
The recalled product is used as a hand sanitizer for hand washing to decrease bacteria on the skin when soap and water are not available. The recalled Hand Sanitizer is packaged in a one (1) gallon (128 oz/3,785 mL) High-density polyethylene (HDPE) plastic bottle, NDC 75432-001-02.
The recalled Hand Sanitizer was distributed directly to walk-in customers in Alamo, TX, between the dates of 04/17/2020 to 05/22/2020.
Consumers with questions regarding this recall can contact Medek, LLC at (956) 800-4366 (Monday to Friday from 9 am to 5 pm CST). Consumers should contact their physician or healthcare provider if they experience any problem that may be related to the use of this product.