K A S H R U T . C O M©
The Premier Kosher Information Source on the Internet
---
HOME | PASSOVER | CONSUMER | COMMERCIAL | TRAVEL | ZEMANIM | LINKS | ARTICLES | RECIPES | HUMOR | E-MAIL LIST

---
THIS SECTION IS FOR NEWS AND INTERESTING STORIES RELATED TO FOOD, NUTRITION AND FOOD PROCESSING. THEY ARE NOT NECESSARILY RELATED TO KOSHER BUT MAY BE OF INTEREST TO THE KOSHER CONSUMER, MANUFACTURER OR MASHGIACH.
The following Sukkot information is from the cRc on September 13, 2013. This informarion was resent out by the Atlanta Kashus Commion.

with additional information on September 17, 2013.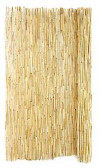 "This year, the Home Depot store located at 6211 N. Lincoln Ave., Chicago, IL 60659 is selling Natural Reed Fencing with the Hampton Bay brand name. As per the guidelines provided by Rav Schwartz and Rav Fuerst in previous years, we are able to recommend two varieties which are very similar to one another:
A 6 foot X 16 foot variety, with UPC code 48037 06164, and marked as having a Natural Finish. This variety is being sold in the aforementioned store, and is also available elsewhere in the Midwest.
A 6 foot X 16 foot variety, with UPC code 48037 06167, and marked as having a Peeled and Polished Finish. This variety is being sold on the West Coast, and may also be available elsewhere.
This may be used as schach only if:
The reeds are placed perpendicular to the schach support-beams rather than parallel to the beams, as shown in the diagram below.
A 2 X 4 or some other piece of kosher schach should be placed on top of the fencing so that the fencing is secure enough to not blow off during Succos. This condition applies to all lightweight schach including mats, and is based on Shulchan Aruch 628:2.
As with all schach, the schach-portions of the mat must be thick enough that they provide more shaded area than open space (Shulchan Aruch 631:1). Other similar items have not been investigated and should only be used after consulting with one's Rabbi.
To see the results of the research and the proper way to put it on your sukkah, please click here. The second page is an explanation of the psak.
The information posted is from secondary sources. We cannot take responsibility for the accuracy of the information.