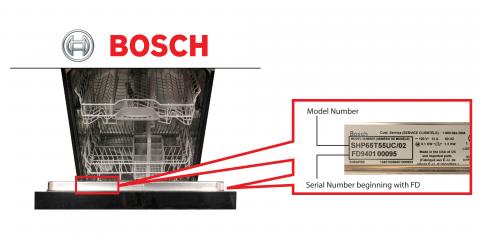 BSH Home Appliances Expands Recall of Dishwashers Due to Fire Hazard
October 20, 2017: The CPSC in conjunction with Healthy Canadians:
Bosch, Gaggenau, Jenn-Air and Thermador brand dishwashers have been recalled because the dishwasher power cord can overheat and catch fire.
This recall expansion involves Bosch, Gaggenau, Jenn-Air and Thermador brand dishwashers sold in stainless steel, black, white and custom panel. The model and serial numbers are printed inside the dishwasher either on the top of the dishwasher inner door panel or on the side of the dishwasher panel.
Brand

Model number beginning with

Serial number range

*indicates models that were included in the previous recall on October 1, 2015. The date range was expanded for these models.

Bosch

SHE33T SHE53T SHE65T SHE68T SHE7PT SHE8PT

SHP53T SHP65T SHP7PT

SHV53T SHV68T SHV7PT SHV8PT

SHX53T SHX65T SHX68T SHX7PT SHX8PT

FD 9209 – 9403

SGE53U SGE63E* SGE68U SGV63E* SGX68U

SHE9PT* SHV9PT* SHX5ER* SHX7ER*

SHX9PT*

SPE5ES* SPE53U SPE68U

SPV5ES* SPX5ES*

SPX68U

FD 9401 – 9501

Gaggenau

DF2417*

DF2607*

DF2617*

FD 9401 – 9501

Jenn-Air

JDB9600CWS

JDB9600CWP

JDB9600CWX

FD 9404 – 9501

Thermador

DWHD44

FD 9209 – 9403

DWHD64*

DWHD65*

FD 9401 – 9501
Sold at Appliance and specialty retailers, department stores, authorized builder distributors, and home improvement stores nationwide and online from January 2013 through May 2015 for between $850 and $2,600.
Consumers should immediately stop using the recalled dishwashers and contact BSH Home Appliances for a free inspection and repair. Consumer Contact:
BSH Home Appliances toll-free at 888-965-5813 from 8 a.m. to 8 p.m. ET any day or online at the brand websites listed below for more information.
Bosch www.bosch-home.com/us and click on Service, then Safety Notices
Gaggenau www.gaggenau.com/us and click on Support, then Safety Notices
Jenn-Air www.jennair.com and click on product recalls at the bottom of the page
Thermador www.thermador.com and click on Customer Care, then Safety Notices