K A S H R U T . C O M©
The Premier Kosher Information Source on the Internet
---
HOME | PASSOVER | CONSUMER | COMMERCIAL | TRAVEL | ZEMANIM | LINKS | ARTICLES | RECIPES | HUMOR | E-MAIL LIST

---
THIS SECTION IS FOR NEWS AND INTERESTING STORIES RELATED TO FOOD, NUTRITION AND FOOD PROCESSING. THEY ARE NOT NECESSARILY RELATED TO KOSHER BUT MAY BE OF INTEREST TO THE KOSHER CONSUMER, MANUFACTURER OR MASHGIACH.
Newer news
Why is it so hard to know whether organic food is really organic
May 22, 2017: The WashingtonPost: :
"The USDA is in charge of regulating organic food, both when it is produced in the United States and when it is imported. It's illegal to sell imported foods as organic in the United States unless the product meets USDA standards". "However, the USDA doesn't actually administer the standards for imported foods. Instead, the certification — checking that the food meets U.S. standards - is done by USDA-recognized foreign regulators or USDA - authorized third-party organizations. This means the USDA outsources its authority to its equivalent agencies in other countries, as well as third-party certifiers. Not all countries have U.S.-recognized regulators."
In most cases the USDA is relying on third party regulators. "In practice, ensuring that imports labeled "organic" are actually organic is very hard, because global supply chains are complex and nontransparent. A number of suppliers or organizations may sell the product before they reach the final customer.This creates ample opportunity for things to go wrong. For instance, the USDA may not have any good way to know whether its accredited certifying agents have issued false certification documents to unqualified foreign suppliers. Middleman organizations can use real certification documents for products that are not actually organic."
"More regulatory oversight would make it easier for genuine organic producers abroad to sell their food to American customers."
---
Flaws in the 'USDA Organic' certification can allow ordinary products to be labeled organic
May 20, 2017: The WashingtonPost and the ColumbiaTribune: :
"A shipment of 36 million pounds of soybeans sailed late last year from Ukraine to Turkey to California. Along the way, it underwent a remarkable transformation."
"The cargo began as ordinary soybeans, according to documents obtained by The Washington Post. Like ordinary soybeans, they were fumigated with a pesticide. They were priced like ordinary soybeans, too."
"But by the time the 600-foot cargo ship carrying them to Stockton, Calif., arrived in December, the soybeans had been labeled "organic," according to receipts, invoices and other shipping records. That switch - the addition of the "USDA Organic" designation - boosted their value by approximately $4 million, creating a windfall for at least one company in the supply chain." "About 21 million pounds of the soybeans have already been distributed to customers."
"While most food sold as "USDA Organic" is grown in the United States, at least half of some organic commodities - corn, soybeans and coffee - come from overseas, from as many as 100 countries."
The importer does not "need not trace the product back to the farm." "Farmers hire their own inspection companies; most inspections are announced days or weeks in advance and lack the element of surprise; and testing for pesticides is the exception rather than the rule.
One company testing for pesticide residues from organic tea leaves from China found 37% had more than traces of pesticide residues.
"The rise of imports has helped drop prices by more than 25 percent, hurting U.S. organic farmers, many of them small operations."

Pier 1 Imports Recalls Chalk Note Mugs Due to Burn Hazard
May 18, 2017: The CPSC in conjunction with Healthy Canadians:
Chalk Note Mugs have been recalled because the mugs can crack when filled with hot liquid, posing a burn hazard to users.
This recall involves the Pier 1 Imports Chalk Note Mugs that can be written on with chalk. The stoneware mugs were sold in black and measure 5.25 inches tall by 5 inches in diameter. "Stoneware" and "Pier 1 Imports" are printed on the bottom of the mug.
Consumers should immediately stop using the recalled mugs and contact Pier 1 Imports for a full refund or merchandise credit.
Sold Exclusively at Pier 1 Imports stores nationwide and online at Pier1.com from March 2016 through April 2017 for about $8.
Consumer Contact: Pier 1 Imports toll-free at 855-513-5140 from 8 a.m. to 7 p.m. CT Monday through Friday, 9 a.m. to 5 p.m. CT Saturday or 10 a.m. to 6 p.m. CT Sunday or online at www.pier1.com and click on "Product Notes & Recalls" at the bottom of the page for more information.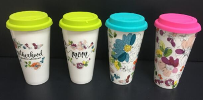 Michaels Recalls Ceramic Travel Mugs Due to Burn Hazard
May 18, 2017: The CPSC:
Ceramic travel mugs have been recalled because the mug's lid does not fit securely and can cause liquids to leak from the bottom of the lid when tilted, posing a burn hazard. Also, the mug does not have a silicone hand wrap so the consumer could burn their hand on the side walls of the mug.
This recall involves Michaels private brand Celebrate It™ ceramic travel mugs with a silicone lid. The mugs measure about 6.5 inches tall and hold about 16 ounces of liquid. The travel mugs have four designs:
Motherhood the greatest adventure (lime green lid)
MOM (lime green lid)
Blue floral (turquoise lid)
Pink floral (pink lid)
Only ceramic mugs with SKU number 508992 and UPC code 886946619458 printed on a label on the bottom of the mugs are included in the recall.
Sold At: Michael's stores nationwide from March 2017 through April 2017 for about $8.
Consumers should immediately stop using the recalled mugs and return them to any Michaels store for a full refund.
Consumer Contact: Michaels at 800-642-4235 from 9 a.m. to 7 p.m. CT Monday through Friday or online at www.michaels.com and click on "Product Recalls" at the bottom of the page for more information.
Belgian ban on Jewish ritual slaughter passes without opposition
May 17, 2017: The Arutz 7:
"The Walloon Parliament in southern Belgium voted unanimously to ban the slaughter of unstunned animals, a requirement for both kosher and halal ritual slaughter. Only the two Labor Party lawmakers in the 75-member plenum in Belgium's largest region abstained in the vote Wednesday."
"Earlier this month, the environment committee of the Walloon Parliament voted unanimously for the ban, which takes effect on Sept. 1, 2019. Similar legislation has been proposed by the parliament in the northern Belgium Flanders or Flemish region. The federal kingdom of Belgium comprises those two regions and the capital, Brussels."
"The move in the Walloon region, which has only a few hundred Jews, follows an agreement in March that imposes limitations on ritual slaughter in the Flemish region, where half of Belgium's Jewish population of 40,000 people live. The remaining 20,000 live in the Brussels region."
"Flormer UK Chief Rabbi Lord Jonathan Sacks has said that supposed concern for human rights and animal welfare are the new excuses for anti-Semitism, now that previous coverups for anti-Semitism, whether Christian, anthropologic, racist or economic are not politically correct."
Audits and inspections are never enough: A critique to enhance food safety
May 11, 2017: The Barafblog, and Food Control:
"Internal and external food safety audits are conducted to assess the safety and quality of food including on-farm production, manufacturing practices, sanitation, and hygiene. Some auditors are direct stakeholders that are employed by food establishments to conduct internal audits, while other auditors may represent the interests of a second-party purchaser or a third-party auditing agency." "Critics contend that while external audits and inspections can be a valuable tool to help ensure safe food, such activities represent only a snapshot in time. This paper identifies limitations of food safety inspections and audits and provides recommendations for strengthening the system, based on developing a strong food safety culture, including risk-based verification steps, throughout the food safety system."
"The Israeli State Comptroller's Report: The Kashrut System - 'Serious Findings, Misleading the Public, An Unmanageable Situation'"
May 17, 2017: The Ynet.co.il, Google translate at here:
The Israeli State Comptroller exhamined the work of the mInistry of Religious Services, The Israeli Chief Rabbinate and several religious councils from March to September, 2016. They doubted that the current system can insure that food is kosher. Some religious overseers were expected to work 20 to 24 hours a day in Jerusalem, Natanya and Rehovot. Most of the kosher supervisors were employed by the business they supervise and not the religour council which is a built-in conflich of interest.
The Israeli Chief Rabbinicate is working on modifying the current system

Bradshaw International Recalls Coffee Presses Due to Laceration Hazard
April 11, 2017: The CPSC in conjunction with Healthy Canadians:
Coffee presses have been recalled because the glass beakers can break during normal use, posing a laceration hazard to users.
This recall involves Bialetti coffee presses with a glass beaker in a plastic frame with a stainless steel metal plunger. The coffee presses were sold in blue, green, black and red and hold eight cups of water. The plunger is stainless steel metal and mesh with a polypropylene lid and handle in matching color to the frame. The coffee press exterior measures 6.5 inches by 9.5 inches and the interior of the glass beaker measures 7 inches by 3.75 inches. The polypropylene lid has 14 vents in the bottom of the rim to strain fluids, while pouring. The Bialetti icon and logo are printed on each side of the frame and "Bialetti" is printed on the top of the plunger. The date stamp of March 2017 or earlier is printed on the underside of the plunger in a dial date code. (Dial date codes are read from the center of the circle outward. The two numbers in the center of the circle represent the year of production. The arrow in the circle points to the month of production on the outer circle.)
Sold At: Fred Meyer, Kroger, Ross, Target, HomeGoods and other specialty and grocery stores nationwide and online at Amazon.com from July 2016 through March 2017 for between $15 and $20.
Consumers should immediately stop using the recalled coffee presses and contact Bradshaw International for a free replacement coffee press.
Consumer Contact: Bradshaw International toll-free at 877-614-9571 from 8 a.m. to 5 p.m. PT Monday through Friday or online at www.bradshawintl.com and click on "Recalls" for more information.
Transition period in Belgium to change religious slaughter
May 11, 2017- from the GlobalMeatNews:
Belgium's Wallonia Flanders regions "will allow halal and kosher abattoirs over two years to switch to a new slaughter technique that requires pre-kill stunning during religious slaughter. On September 1, 2019, religious slaughterhouses will have to stun animals before they are killed.
Bumble Bee agrees to plead guilty and pay millions for price fixing
May 9, 2017- from the SeafoodSource:
"Bumble Bee Foods has agreed to plead guilty to one count of price fixing as well as pay a USD 25 million (EUR 22.8 million) fine for its alleged role in conspiring to set the cost of canned and pouched tuna in the United States, the U.S. Department of Justice announced in a statement on 8 May."
"According to the Department of Justice, executives from Bumble Bee, Thai Union Group's Chicken of the Sea and StarKist – known collectively as the "big three" because, combined, the companies own 70 to 80 percent of the U.S. multibillion-dollar packaged tuna industry – all took part in meetings between 2011 and 2013 that involved discussions and strategizing around how 'to fix, raise, and maintain the prices of packaged seafood' in the United States."
Fake 'kosher' cheese at kids' camps leads to criminal charges
May 10, 2017- from the TheStar:
"The Canadian Food Inspection Agency has charged Creation Foods and its vice-president, Kefir Sadiklar, with sending cheddar cheese falsely described as "kosher" to Jewish summer camps in June 2015."
"The Canadian Food Inspection Agency has charged Creation Foods and its vice-president, Kefir Sadiklar, with sending cheddar cheese falsely described as "kosher" to Jewish summer camps in June 2015. The agency alleges forged documents were created to make it seem like the cheese adhered to Jewish dietary laws."
"The regulatory body, which polices food labels across Canada, has laid five charges against Sadiklar and his family-run Woodbridge-based distributor related to cheese products sent to two camps — Camp Moshava near Peterborough and Camp Northland-B'nai Brith in Haliburton."
"The agency alleges that forged letters of kosher certification were slipped into boxes of non-kosher Gay Lea Ivanhoe shredded 'Ivanhoe Old Cheddar Cheese' that Creation delivered to "strictly kosher" Jewish summer camps in June 2015. Kosher products are typically sold at a higher price than non-kosher products."
"The Canadian Food Inspection Agency takes action if a label gives a false impression, such as saying a food is kosher when it isn't. But it's up to certifying organizations like the council to enforce the requirements for kosher food."
Older news
The information posted is from secondary sources. We cannot take responsibility for the accuracy of the information.