The following news is from the DNAinfo on January 6, 2015.
Streit's is closing the company's 90-year-old matzah factory on New York's Lower East Side following the Passover baking season in April and shifting all production and their offices to their other facility in New Jersey. Streit's now produces approximately 40 percent of the matzah consumed in the United States.
The following news is from the CPSC on October 23, 2104.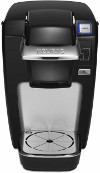 Keurig® MINI Plus Brewing Systems Water have been recalled because can overheat during brewing, spray out and burn consumers.
This recall involves Keurig® MINI Plus Brewing System with model number K10 (previously identified as model number B31). Recalled brewers have an identification number starting with "31" followed by a range of numbers printed on a white sticker on the bottom of the brewer. They are single-serve, hot beverage brewers and were sold in 13 different colors with silver trim. Colors include black, red, white, cobalt blue, aqua blue, purple, platinum, emerald, yellow, orchid, bayberry, mauve and poinciana. The recalled brewers measure about 11 inches tall, have a "Brew" button, three cup size brewing options (6 oz., 8 oz. and 10 oz.), and a removable drip tray. The water tank is located on top of the unit towards the back. K10 is marked on the packaging. Recalled units were produced between December 2009 and July 2014 and can be identified by the serial number printed on a white sticker on the bottom of the brewer:
Keurig MINI Plus Brewing System Serial Number Ranges
31.0000.0000001 through 31.0000.0250560
31.0001.0000001 through 31.0001.0010328
31.0002.0000001 through 31.0002.0081312
31.0003.0000001 through 31.0003.0010328
31.0004.0000001 through 31.0004.0263772
31.0014.0000001 through 31.0014.0001250
31.0015.0000001 through 31.0015.0001250
31.1000.0000001 through 31.1000.0015984
31.1002.0000001 through 31.1002.0002664
31.2000.0000001 through 31.2000.1977238
31.2001.0000001 through 31.2001.0174310
31.2002.0000001 through 31.2002.0745280
31.2003.0000001 through 31.2003.0055668
31.2004.0000001 through 31.2004.1156585
31.2015.0000001 through 31.2015.0081287
31.2017.0000001 through 31.2017.0047310
31.2019.0000001 through 31.2019.0117035
31.2020.0000001 through 31.2020.0019028
31.2021.0000001 through 31.2021.0076016
31.2022.0000001 through 31.2022.0022444
31.2030.0000001 through 31.2030.0032028
31.2031.0000001 through 31.2031.0042714
31.2033.0000001 through 31.2033.0018685
31.2034.0000001 through 31.2034.0016074
31.2035.0000001 through 31.2035.0013366
31.3000.0000340 through 31.3000.1524059
31.3001.0000001 through 31.3001.0021252
31.3002.0000001 through 31.3002.0510030
31.3004.0000001 through 31.3004.0016532
Consumers should contact Keurig for a free repair. While waiting for a free repair, consumers can contact Keurig about steps to avoid a burn injury.
The recalled items were sold at Kmart, Kohl's, Target, Walmart and other retailers nationwide, and online at www.keurig.com, www.greenmountaincoffee.com and www.keurig.ca from December 2009 through December 2014 for about $100.
Consumer Contact is Keurig Green Mountain at toll-free at (844) 255-7886 Monday through Friday from 8 a.m. to 8 p.m. ET, and from 8 a.m. to 3 p.m. ET on Saturday or Sunday or online at www.keurig.com and click on "Product Recall" for more information.
The following news is from liebertpub.com on December 18, 2014.
A microbiological study of raw "organic" or "antibiotic-free" or conventional chicken breasts purchased at grocery stores found that "commonly contaminated with enteric pathogens associated with foodborne illness and commensal bacteria harboring genes conferring resistance to critically important antimicrobial drugs."
The following news is from Barfblog on December 14, 2014.
"The $35 billion U.S. organic-food industry has nearly tripled in size in the past decade, challenging the Agriculture Department's ability to monitor the more than 25,000 farms and other organizations that sell organic crops and livestock."
"There are currently 81 accredited 'certifying agents,' or groups that stamp food as organic in the U.S. But of the 37 that had a complete review this year, 23 were cited for failing to correctly enforce certification requirements on farms in audits, according to an internal Agriculture Department report. The 23 firms didn't properly conduct onsite inspections or correctly review applications for organic certification."
A Wall Street Jounal investigation found that "40% of these 81 certifiers have been flagged by the USDA for conducting incomplete inspections; 16% of certifiers failed to cite organic farms' potential use of banned pesticides and antibiotics; and 5% failed to prevent potential commingling of organic and nonorganic products."
---
The following news is from Foodmanufacturing.com on December 10, 2014.
"For a farm to be certified as "organic," it must comply with the Organic Foods Production Act of 1990 and the USDA National Organic Program (NOP) rules and regulations. 7 U.S.C. § 6501 et seq.; 7 C.F.R. Part 205. An operator who makes a false statement or knowingly sells or labels a product as organic that does not comply with the Organic Foods Production Act of 1990 or the NOP regulations may be subject to criminal prosecution and fined up to $10,000 per violation." The govenment is also using criminal prosecution as a tool. "Criminal prosecutions generally receive significant press attention and have a strong deterrent effect, which could make them a powerful tool for ensuring the integrity of organic food labels." Companies must ensure their supply chain and if they see a problem, contact the appropriate authorities and seek restitition.
The following news is from Foodnavigator.con on December 15, 2014.
Mintel has reported that "Non-GMO, Kosher, gluten-free, ethical, environmentally-friendly, lactose-free, vegan, no additives/preservatives, and on-the-go claims are all gaining more traction on US food labels; while growth in 'all-natural'- antioxidant- and low/no/reduced sugar/sodium/fat claims has been pretty flat over the past six years.
Mintel found that the label mention of kosher was 2014 (40.6%), 2013 (36.3%), 2012 (26.8%), 2011 (27.4%), 2010 (29.3%), 2009 (26.6%). This was the highest label claim. They found that vegan or no animal ingredient claims are low but on the rise.
The following news is from phys.org on December 15, 2014.
"Researchers in Chapman University's Food Science Program and their collaborators at University of Washington have just published a study on the presence of Salmonella and E. coli on certain herbs sold at farmers' markets. The study focused on farmers' markets in Los Angeles and Orange counties in California, as well as in the Seattle, Washington, area. Specifically tested were samples of the herbs cilantro, basil and parsley. Of the 133 samples tested from 13 farmers' markets, 24.1 percent tested positive for E. coli and one sample tested positive for Salmonella."
The following news is from BaltimoreSun on December 11, 2014.
The Baltimore Sun is reporting on a decline in the number of special investigative agents and enforcement cases at the National Oceanic and Atmospheric Administration (NOAA). "The number of NOAA special agents who specialize in complex investigations has been cut by more than a third, from 147 to 93, since 2008, with further cuts in the works. Enforcement cases nationwide have fallen even further." "the number of NOAA special agents who specialize in complex investigations has been cut by more than a third, from 147 to 93, since 2008, with further cuts in the works. Enforcement cases nationwide have fallen even further." This is during a time when there is lots of mislabeling, species substitution and short-weighting of seafood products which harms the fishing industry and cheats consumers.
The U.S. Food and Drug Administration's Seafood List of acceptable market names is never enforced at the restaurant level where two-thirds of all seafood is consumed and where a vast majority of these bait-and-switch schemes uncovered by DNA tests are found.
The following news is from Thisfish.info on December 11, 2014.
On December 13, 2014 " new European Union regulations (No. 1379/2013) come into force that will require seafood to be labeled with detailed information on its harvesting and production. That's in sharp contrast to the minimal and convoluted requirements in the United States and Canada." "Mandatory information on consumer labels will include:
Commercial and scientific species name;
Production method such as "caught," "caught in freshwater" or "farmed;"
Catch Area that includes the FAO area, sub-area or division for marine fisheries, body of water for freshwater fisheries and country of production for farmed species;
Fishing gear including one of the following types: seines, trawls, gillnets and similar nets, surrounding nets and lift nets, hooks and lines, dredges, and pots and traps;
Defrosted, if a product was previously frozen;
Best before date or "Use by" date regarding the durability or shelf life of the product; and
List of allergens"
"The E.U. requires the scientific name, along with a common species name, to be labeled on fish.
" The U.S. Food and Drug Administration manages 1,827 acceptable common names of species while its Canadian counterpart manages 876. Oddly, only 579 names overlap between the two agencies, creating a convoluted naming system in North America that can leave consumers confused."
The following news is from NY Times on December 9, 2014.
As nutrition science is evolving, the experts now are allowing moderate amount of saturated fats. The New York Times reported that schmatz is now finding a new, younger audience.
The following news is from JTA and INNon December 10, 2014.
A 5-4 majority of the Polish Constitional Tribunal ruled on Wednesday that the ban on ritual slaughter is unconstitional. The ruling stated that "religious freedom is a supreme value in accordance with the Constitution of Poland and stands above any other law and is not restricted." This overthows a January 1, 2013 ban based on a 1997 Polish law that banned slaughter without prior stunning.