THIS SECTION IS FOR NEWS AND INTERESTING STORIES RELATED TO FOOD, NUTRITION AND FOOD PROCESSING. THEY ARE NOT NECESSARILY RELATED TO KOSHER BUT MAY BE OF INTEREST TO THE KOSHER CONSUMER, MANUFACTURER OR MASHGIACH.
The following information is from the Food Product Design posted on August 10, 2011.
FDA has reopened the comment period for its proposed rule on regulations related to "gluten-free" labeling of products. It has also made available a safety assessment of exposure of gluten to people with celiac disease.
The proposed rule dictates that foods carrying the claim cannot exceed 20 ppm gluten. This number was tapped based on the fact that it was deemed testing methods could not reliably determine amounts below 20 ppm. Also, FDA notes that this is the level that has been agreed upon for foods carrying a "gluten-free" claim in other countries. Comments on this proposed rule (docket number FDA-2005-N-0404) can be submitted on the regulations.gov website.
The following information is from the Jounal of Agricultural and Food Chemistry posted on August 10, 2011.
In an article to the Jounal of Agricultural and Food Chemistry titled New Strategy for Expression of Recombinant Hydroxylated Human-Derived Gelatin in Pichia pastoris KM71, the authors Huiming Duan, Sirajo Umar, Runsong Xiong, and Jinchun Chen reports a new method for producing recombinant hydroxylated human-derived gelatin in Pichia pastoris KM71, a strain of yeast. The researchers are now testing this yeast for its attributes compared to other gelatins and to see how the can scale it up for commercial use.
The following information is from the Reuters on August 3, 2011.
New York's newest law for certifying and labeling food under Jewish rules is, well, kosher, according to a federal ruling on Wednesday.
The revised law attempted to overcome problems with an earlier kosher-labeling law, which was thrown out when a judge found it created "excessive" entanglements between synagogue and state.
All food claimed to be kosher must be labeled as such by producers and distributors, and basic information about the qualifications of the individual bestowing the kosher certification must be disclosed in a publicly available database.
The new law was challenged in a 2008 lawsuit by a Long Island deli and butcher shop, Commack Self-Service Kosher Meats Inc., that claimed it violated the First Amendment.
What is and is not kosher is a matter exclusively for Jewish law to determine, Commack said in the lawsuit. By requiring labels on food as kosher, and by sending out state inspectors to verify compliance, the state essentially attempted once again to define and enforce its own kosher standard, according to the complaint.
On Wednesday, Federal Judge Nina Gershon in U.S. District Court in Brooklyn disagreed, saying the latest version of the law does not violate Jews' religious or free speech protections under the U.S. Constitution and should be upheld.
The following story is an example of how non-kosher ingredients can be found in unlikety places.
The following story from seafoodsource.com on July 18, 2011.
Binh An Seafood Joint Stock Co. (Bianfishco), a Pegasius (Vietnamese Catfish) producer is making energy drinks with collagen from Vietnamese catfish trimmings. The two fruit flavored drinks are branded Binh An and carry the company"s golden Q quality mark that has been used for all Bianfishco seafood products for the past two years. These collagen drinks will be exported to Japan and China as an anti-aging drink. The Binh An drink has been approved by the U.S. Food and Drug Administration for importation to the United States.
Two articles on production of food and ingredients in China
China wrestles with food safety problems
"From steroid-spiked pork to glow-in-the-dark meat to recycled cooking oil collected from sewers, a series of illnesses and scandals linked to tainted food has put officials on guard. But tougher measures have had little effect amid an official culture of secrecy."
China is cheaper, but should you do business there?
"Labor? Cheaper. Ingredient costs? Cheaper. Yes, sourcing nutritional ingredients from China can save you lots of money, but other "costs" should be considered-otherwise it could cost you big time down the road."
The following information from the Reuter's and www.thejc.com/news/world-news/50911/dutch-vote-ban-kosher-slaughter">on June 29, 2011.
"The Dutch parliament voted on Tuesday to ban ritual slaughter of animals, a move strongly opposed by the country's Muslim and Jewish minorities, but left a loophole that could let traditional butchery continue.
The bill by the small Animal Rights Party, the first such group in Europe to win seats in a national parliament, passed the lower house of parliament and must be approved by the upper house before becoming law.
It stipulates that livestock must be stunned before being slaughtered, contrary to the Muslim halal and Jewish kosher laws that require animals to be fully conscious."
"The law said religious groups could continue ritual slaughter if they proved it was no more painful than stunning, but it was not clear how to do this. The Jewish community has challenged a study on animal pain used to support the ban."
"Of the 500 million animals slaughtered annually for food in the Netherlands, only 1.2 million animals are slaughtered according to Muslim or Jewish traditions, Dutch statistics show."
The Senate must now vote on the measure, which will most likely take place in September. The Dutch Party for Animals, the first group of its kind to win seats in a national parliament in Europe, have been lobbying to close a loophole in Dutch law which gives Jews and Muslims permission to kill an animal without stunning.
Poisoning the well of animal welfare by Spengler is an interesting article on the subject.
The following health alert from the FDA on June 27, 2011.
Nestlé Purina PetCare Company (NPPC) is voluntarily recalling approximately 870 bags of dry cat food shipped to Colorado, Idaho and Oregon. This is being done as a precautionary measure, as the product has the potential to be contaminated with Salmonella. List of recalled products can be found at www.fda.gov/Safety/Recalls/ucm261072.htm.
The following kashrus alert from the editor on June 22, 2011.
Be aware that the "Kosher for Everyone" Discussion and Reception at Italian Embassy July 11 in conjuction with the Fancy Food show will not be certified as kosher.
The following safety alert from the CPSC on June 14, 2011.

Calphalon Corporation, of Atlanta, GA is recalling Calphalon Contemporary Cutlery Knife Sets to repair them because the tips of the 8- inch slicing knife and/or the 8-inch bread knife can protrude through the bottom slot row on the wooden block holder, posing a laceration hazard. This recall involves all 17- and 21-piece Contemporary Cutlery Knife Sets with model numbers KNS17C and KNS21C. The knife sets were manufactured from August of 2007 through May 1, 2011. The recalled cutlery sets do not have model or date code markings on the wooden block although all sets have the "Calphalon" logo stamped in black on the front. Knife block sets with a three digit number imprinted on the underside are not included in this recall.
These products were sold at: Macy's, Bed Bath and Beyond, Belk, Bloomingdales, Crate and Barrel, Dillard's, Kitchen Collection, Cutlery and More, Carlson Marketing, Maritz, Hinda, Calphalon Retail Outlets and stores nationwide; online by Amazon, Cooking.com; and in Chef's Catalog from from 2007 through May 2011 for between $200 and $300.
Consumers should immediately contact Calphalon to receive a free repair kit for the recalled products. To order a free repair kit, contact Calphalon anytime at (800) 766-5652.
The following safety alert from the CPSC on May 25, 2011.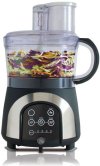 General Electric Food Processors purchased from Walmart Stores Inc., of Bentonville, Ark. have been recalled because the safety interlock system on the recalled food processor can fail; allowing operation without the lid secured which poses a laceration hazard. In addition, the product can emit smoke, or catch fire, posing a fire hazard. This recall involves GE-branded digital, 14-cup food processors. The food processors are black with stainless steel trim, and model number 169203 is imprinted on the underside of the unit. Sold exclusively at: Walmart stores nationwide and Walmart.com from September 2009 through February 2011 for a retail price of about $50.
Consumers should immediately stop using the recalled food processor and return the product to any Walmart for a full refund. For additional information, contact Walmart Customer Service toll free at (877) 207-0923 between 7 a.m. and 7 p.m. CT Monday through Friday, or visit the firm's website at www.walmartstores.com/recalls.