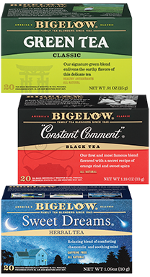 Look for select Bigelow® Teas Kosher for Passover in your local supermarket. Perfect to enjoy while relaxing with family and friends during the holiday.
Black Iced Tea
Cinnamon Stick
"Constant Comment"
Cozy Chamomile
Darjeeling
Earl Grey
Earl Grey Loose
Earl Grey Green
English Breakfast
English Breakfast Loose
English Teatime
Green Loose Cut Tea
Green Tea
Green Decaffeinated
Green with Mint

Jasmine Green
Mint Medley Herb
Oolong
Organic English Breakfast Fair Trade Black
Organic Green
Organic Green Decaffeinated
Organic Pure Green
Organic South Indian Select
Peppermint Herb
Plantation Mint
Premium Blend Iced Tea
Sweet Dreams Herb
Always Kosher & Healthy Too,
De La Rosa is the Choice for You
We are a manufacturer of Kosher, Organic & Conventional products & believe in only the purest quality
Our products are GMO Free & Kosher for Passover.
Putting Heavenly Sparks back into Foods is our motto.
The following is a list of our wonderful products that can be used for Passover and All Year Round:
Avocado Oil
Grape Seed Oil
Extra Virgin Mediterranean Olive Oil – Organic & Conventional
Moroccan Filtered & Unfiltered Olive Oil
Balsamic Vinegar – Organic & Conventional
Organic Red & White Wine Vinegar
Organic Red Grape Juice
Available in many sizes
Contact us at info@delarosa613.com for more information.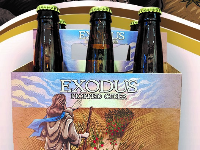 Kosher for Passover Beer? It's a Miracle!
Introducing EXODUS Hopped Cider, a hard apple cider made with hops. EXODUS is dry, not sweet, and flavored with hops just like beer. It's the perfect Kosher for Passover alternative to beer for your Chol Hamoed barbecue or any other event.
EXODUS is certified Kosher for Passover by the Star-K and is sold in 6-packs. It will be available at kosher wine stores and served at select Passover programs.
For more information or to order, visit www.passoverbeer.com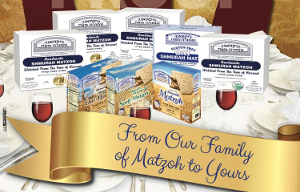 Lakewood Matzoh has been in business for 21 years and is back this year with a complete line of Passover matzoh. We offer certified gluten free oat matzoh that is made from GFCO certified oat flour. Our gluten free matzoh is made from GF oat flour that is not heat treated and water and is appropriate for hamotzi & Seder use. We also have regular, whole wheat and organic spelt matzoh. All our matzoh is available in both traditional round and square machine made.th. Visit us on the web at www.lakewoodmatzoh.com send an email to sales@lakewoodmatzoh.com or call us at 732-364-8757. You can also like us on www.facebook.com/GlutenFreeMatzoh.