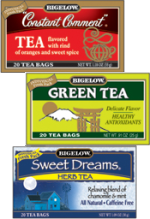 Look for select Bigelow® Teas Kosher for Passover in your local supermarket. Perfect to enjoy while relaxing with family and friends during the holiday.
Cinnamon Stick
"Constant Comment"
Cozy Chamomile
Darjeeling
Earl Grey
Earl Grey Green
English Breakfast
English Teatime
Green Tea
Green Decaffeinated
Green with Mint
Jasmine Green
Mint Medley
Novus Darjeeling
Novus Dragon Well Green
Novus Egyptian Mint
Novus Kenilworth Ceylon
Novus Organic Jasmine Green

Novus Organic Sencha Green
Novus South Indian Select Fair Trade™ Certified
Novus Pai Mu Tan
Oolong
Organic Ceylon Fair Trade™ Certified
Organic Green
Organic Green Decaffeinated
Organic Pure Green
Organic Pure Green Decaffeinated
Organic English Breakfast Decaf
Peppermint
Plantation Mint
Premium Black Iced Tea
Sweet Dreams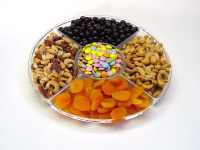 home of Fantasia Confections, under new ownership since 2004, is proud to announce that we will be kosher for Passover under the supervision of the Chicago Rabbinical Council. We have an extensive selection of Pareve bulk candy & nuts, including many new & difficult to find items as well as a full line of our Fantasia Confections including hand made chocolates, cashew brittle, and chocolate covered matzah, just to name a few. We also have a great selection of children's items & hostess gifts, from bountiful gift baskets, to trays & platters that will be sure to please. Shipping is available throughout the US. 1-800-590-NUTS

Lakewood Matzoh has been in business for close to 19 years and is back this year with a complete line of Passover matzoh. We offer certified gluten free oat matzoh that is made from GFCO certified oat flour. Our gluten free matzoh is made from GF oat flour and water only, and is appropriate for hamotzi & Seder use. We also have regular, whole wheat and organic spelt matzoh. All our matzoh is available in both traditional round and square machine made. The last day to place orders is Sunday, March 17th. Visit us on the web at www.lakewoodmatzoh.com send an email to sales@lakewoodmatzoh.com or call us at 732-364-8757. You can also like us on www.facebook.com/GlutenFreeMatzoh.