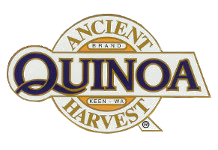 This page sponsored by:
Ancient Harvest
Still Quonfused about Quinoa
Information about Quinoa and Passover
Revised for Passover 2013
By Arlene Mathes-Scharf, Kashrut.com
Copyright © 2009-2013 Kashrut.com
With information from the Chicago Rabbinical Council and the Star-K
Quinoa has become a part of the Passover diet for many observant Jews since the Star-K published an article Quinoa, The Grain That's Not, in the Kashrus Kurrents for Pesach, 1997. In this article the Star-K explains that quinoa is not related to the five types of grain that can become chometz, nor it is related to millet or rice. It is a species of goosefoot (Chenopodium) related to the beet and spinach.. The Star-K tested quinoa to see if it would rise It did not, it decayed. The result was as Chazal termed, sirchon; the quinoa decayed - it did not rise.
After the Star-K article was publlished in 1997, quinoa has become part of the Passover diet for some Ashkenazim. Quinoa fills a diet hole for many people for Passover. These include people on gluten-free diets, vegetarians, and vegans. It is also a non-meat protein source for dairy-intolerant people. It has become so mainstream that Susie Fishbein has featured recipes using quinoa in her bestselling Passover cookbook that was published by Artscroll. Some of the companies that process quinoa do so in a chometz-free environment to enable the product to be consumed by people on a gluten-free or wheat -free diet.
The custom of not eating kitiniot evolves from the fact that it is similar to chometz grains.
The question is, is quinoa kitniot or not. Rabbi Blech in Know thy Beans Kitniyos in the Modern World quotes the following characteristics of kitniot that are listed by authorities: cooked grains which may be confused with chometz, grown in fields adjacent to chometz, and ground into flour and confused with chometz. Rabbi Moshe Feinstein 1 said that there is no halachic basis to extend this to new foods. The Chicago Rabbinical Council accepts the use of quinoa that has not come in contact with chometz on the basis of this ruling.
The OU has written "There is a difference of opinion among Rabbinic decisors (machloket ha-poskim) as to whether quinoa is considered kitniyot. Ask your Rabbi for his guidance. Additionally, while quinoa is not one of the five grains that can create chametz (wheat, oat, barley, spelt and rye), and quinoa is not grown in the same vicinity as the grains mentioned above, the processing of quinoa is sometimes done at the same location where they process wheat and wheat flour. It is highly doubtful that the mills are effectively cleaned between grains. The concern of wheat flour or particles finding their way into the quinoa flour would be a serious one."
Quinoa has become a very popular commodity and additional companies and areas have been producing it since it a very high value agricultural product. In the past it was believed that it is grown in the Andes mountains in locations that do not support growth of the five grains which can become chometz: wheat, rye, oats, barley and spelt. Quinoa's healthy grain status has made it very popular and it is grown in additional locations including ones which support the growth of the five grains. A visitor to Peru discovered barley growing near the quinoa fields and that the farmers when drying the quinoa, covered it with barley or oats. 2 This may not be true in the highlands of Bolivia, but may be true in the lowlands of Bolivia and Peru.
An additional problem with quinoa is the conditions that it is packed. My research has determined that different manufacturers provide different conditions for the packing of quinoa. Even if a manufacturer says that the quinoa is gluten free, it may not be relevant, since there are gluten-free oats that many be packed on the same lines.
The Star-K has certified quinoa for Pesach 5773/2013. The grain-like crop will be available for both wholesale and retail sale, bearing the STAR-K-P logo. This product will be available from Quinoa Corp. Ancient Harvest Brand, retail and wholesale and Andean Naturals, wholesale.
This information is accurate only for Passover 2013.
---
List of stores and distributors carrying Ancient Harvest (Quinoa Corp) Quinoa & other Star-K P Quinoa

Hungarian Kosher Foods
4020 Oakton
Skokie, IL. 60076
847-674-8008

Shalom Kosher
1361 Lamberton Drive
Silver Spring, MD. 20902
301-946-6500

Seven Mile Market
201 Reistertown Road
Baltimore, MD. 21208
410-653-2000

Gourmet Glatt Emporium
137 Spruce Street
Cedarhurst, N.Y. 11516
(516) 569-2662

Koshervitamins.com
1-800-645-1899

Lantev Distributing (Distributor)
11010 Foster Avenue
Brooklyn, NY. 11236
718-240-9550

Brach's Supermarket
11 Lawrence Lane
Lawrence, NY. 11559
516-239-1030

C & W Direct (Distributor)
240 58th Street
Brooklyn, N.Y. 11220
718-772-0891

Natural & Tasty (Distributor)
54 Freeman Street
Newark, NJ. 07105
973-854-0688

Natural Earth Products
16 oz. Boxes when bearing Star-K symbol and stating "Kosher for Passover."

Setton Farms
12 oz. containers When bearing Star-K symbol and stating "Kosher for Passover."

Simon Kohn's Meat Market (St.Louis, MO)
When bearing OV- Kosher for Passover.
314-569-0727

Streit's
When bearing Kof-K-P symbol

Ed note: Retailers selling Passover certified quinoa can contact us at passover@kashrut.com for inclusion in the list.
---