Aspen Hills Recalls Cookie Dough Sold to Other Firms
October 11, 2016: The FoodManufacturing.com:
Aspen Hills, Iowa is recalling cookie dough that it sold to Blue Bell Creameries and other food companies because it may be contaminated with listeria. "Aspen Hills' cookie dough was implicated in last month's Blue Bell recall because the Texas-based ice cream-maker said its tests confirmed the presence of listeria in the product." "The recall includes 22,000 cases of cookie dough made between July 15 and September 30."
Kosher Alert Supremo Italiano Mozzarella Cheese

October 7, 2016 from the OU:
Supremo Italiano Mozzarella Cheese, Restaurant Depot, Jetro, College Point NY: The Orthodox Union does not certify Supremo Italiano Mozzarella cheese. Some boxes were printed with an unauthorized OU mark. Corrective actions are being implemented.
Kosher Alert - Fake kosher certificate for Muzzel Services SDN BHD Malaysia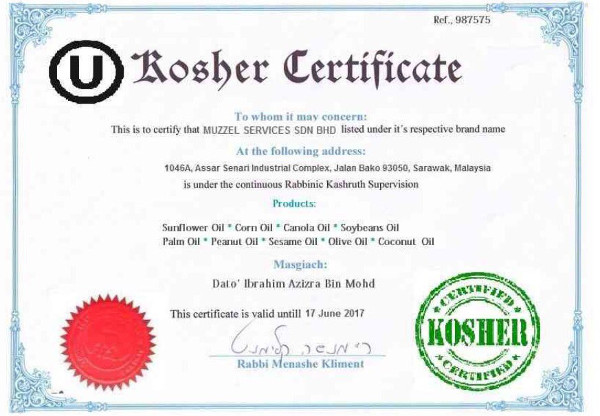 September 29, 2016 from the OM Kosher Twitter Feed and confirmed by the OU:
This is a fake certificate listing oil products from Muzzel Services SDN BHD Malaysia
Kosher Alert - H.C. Brill Icing is no longer Pareve

September 23, 2016 from the Kosher Atlanta:
Many of the local bakeries are experiencing pareve icing shortages for icing pareve cakes. The icing they used to get from H.C. Brill (CSM Bakery) has switched its formula to OU-D. The bakeries will have difficulties icing pareve cakes until they can find a pareve supplier.
Limited Number of Canned Vegetable Products, Primarily Non-Retail, Recalled for Possible Shellfish Allergen Risk




September 23, 2016 from the FDA:
Sager Creek Foods, Inc., Walnut Creek, CA, a subsidiary of Del Monte Foods, Inc., announced a recall of approximately 15,000 shipped cases of FIELD PEAS WITH SNAPS and GREEN BEAN PRODUCTS, primarily non-retail, which may have the potential for trace amounts of shellfish contamination. A customer alerted Sager Creek to the incident.
Of the 15,000 cases being recalled, 14,761 (98.5 percent) were distributed to foodservice customers. The product was shipped to 22 states: (AL, AR, CO, IL, MD, MO, MS, FL, GA, KS, KY, LA, OK, PA, NC, SC, TN, TX, UT, VA, WI, WV).
The products are sold in 106 ounce metal cans with Best By Dates of JUN 01 19 printed on the top and contain the following UPC codes and product names:
| | |
| --- | --- |
| 0 34700 01224 4 | Allens Cut Green Beans |
| 0 34700 01224 7 | Allens Cracker Barrel Label |
| 0 74865 12172 9 | Reliance BL Cut Green Beans |
| 7 58108 01041 3 | Monarch SWD Cut Green Beans |
| 7 58108 01048 2 | Monarch Mixed Cut Green Beans |
| 8 06795 04718 9 | Silver Source SH/C Green Beans |
| 0 74865 02895 9 | Reliance MX/SH Cut Green Beans |
| 0 34700 63214 8 | Allens Field Peas with Snaps |
If customers or consumers have any of the listed products with the indicated UPC codes and Best By dates, they should return it to the place of purchase for a full refund. Consumers with questions may contact the company by calling the toll-free hotline at 1-800-543-3090, Monday-Friday, 9:00 am – 5:00 pm Eastern Time or by logging onto www.delmontefoods.com.
Kashrus alert on Oleofats Inc. Coconut Oil
September 14 2016 - from the Star-K:
Effective immediately, coconut oil manufactured by Oleofats, Inc., of Quezon City, Metro Manila, Philippines, is no longer certified by STAR-K due to Kashrus violations.
Corrective action is being taken. For more information, contact STAR-K at info@star-k.org or call 410-484-4110.
Kashrus alert on Identic Sugar Products
September 13 2016 - from the MK:
Please be advised that the following products from Identic bear an unauthorized MK symbol:
CINNAMON PEARL SUGAR
LEMON PEARL SUGAR
CARAMEL PEARL SUGAR
ORANGE PEARL SUGAR
STRAWBERRY PEARL SUGAR
ORANGE ICING SUGAR
RASPBERRY PEARL SUGAR
PINK ICING SUGAR
MINT PEARL SUGAR
YELLOW ICING SUGAR
Corrective action has been taken.
Kashrus alert for sugar products from Edosa, Texas USA
July 13, 2016: From the KSA:
Please be aware that the KSA is not certifying any sugar products from Edosa USA.
Fraudulent LOC is here
Fresh sprouts from Denver linked to 9-state outbreak
August 5, 2016 - From the FoodSafetyNews:
At least 30 people across nine states have fallen ill in an outbreak of Salmonella infections traced to "Living Alfalfa Sprouts" supplied by Sprouts Extraordinaire of Denver.
A number of the victims reported eating fresh sprouts at several different restaurants before becoming ill, according to the Friday afternoon outbreak announcement from the Centers for Disease Control and Prevention.
The 30 confirmed victims are infected with strains of Salmonella Reading or Salmonella Abony. Traceback investigation as of Friday showed several victims had eaten fresh sprouts on sandwiches from restaurants supplied by the Sprouts Extraordinaire company.
The recalled alfalfa sprouts were sold in 5-pound boxes and labeled "Living Alfalfa Sprouts," according to the CDC.
Illnesses onset dates for the outbreak victims range from May 21 to July 20. Illnesses that occurred after July 12 might not yet be reported because of the time it takes between when a person becomes ill and when the illness is confirmed and reported by local and state officials. This takes an average of 2 to 4 weeks.
JML Ingredients Recalls IQF Cut Green Beans Because Of Possible Health Risk
July 22, 2016 from the FDA:
JML Ingredients, Inc. of East Petersburg, PA is recalling IQF Cut Green Beans, because it has the potential to be contaminated with Listeria monocytogenes.
IQF Cut Green Beans was distributed to manufacturers in Massachusetts, New York, and Pennsylvania.
The recall was the result of a routine sampling program by a manufacturer who used the product in their finished product. JML Ingredients has ceased the distribution of the product as FDA and the company continue their investigation as to what caused the problem.
Products being recalled are as follows:
| Brand | Product | Lot Number | Expiration Date | Product size/container |
| --- | --- | --- | --- | --- |
| ICAPP | IQF CUT GREEN BEANS | 110815 / 15649 | August 10, 2017 | 20 lb. / 9.070 kg. bulk case |
| ICAPP | IQF CUT GREEN BEANS | 120815 / 15650 | August 11, 2017 | 20 lb. / 9.070 kg. bulk case |
| ICAPP | IQF CUT GREEN BEANS | 050915 / 15651 | September 4, 2017 | 20 lb. / 9.070 kg. bulk case |
| ICAPP | IQF CUT GREEN BEANS | 200915 / 15652 | September 19, 2017 | 20 lb. / 9.070 kg. bulk case |
Consumers who have purchased ICAPP IQF CUT GREEN BEANS are urged to return it to the place of purchase for a full refund. Consumers with questions may contact JML Ingredients at 717-569-2141.