K A S H R U T . C O M©
The Premier Kosher Information Source on the Internet
---
HOME | PASSOVER | CONSUMER | COMMERCIAL | TRAVEL | ZEMANIM | LINKS | ARTICLES | RECIPES | HUMOR | E-MAIL LIST

---
Commercial Kashrut Alerts
---
The following milk allergy alert is from the FDA on December 15, 2011.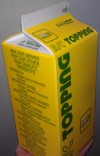 Ohio Processors, Inc., London, OH announced a voluntarily recall on Instantwhip B/C Topping because the product contains an undeclared milk ingredient (sodium caseinate). The product in question is Instantwhip B/C Topping packaged in ½ gallon containers only, and include codes 060, 080, 124, 143, 145, 167, 179, 188, 193, 244, 256, 300, 313, and expiration codes 12/16/11, 12/21/11, 12/28/11, 12/30/11, 1/7/12, 1/12/12. Instantwhip B/C Topping is not packaged for retail distribution and the affected products were sold to Instantwhip foodservice distributors in OH, MD, NY, IN, PA and MI. The recall was initiated after it was discovered that a supplier had provided the wrong packaging.
Ohio Processors, Inc. has already notified all of its distributors and customers who received the products in question by telephone and in writing regarding the recall. Customers with questions or concerns about the recall may contact Ohio Processors, Inc. at (877) 488-0816 between the hours of 8:00 a.m. and 5:00 p.m. ET.
The information posted is from secondary sources. We cannot take responsibility for the accuracy of the information.
Copywrite © kashrut.com. Permission is granted to reprint these alerts if kashrut.com is credited as the source of the information.
כל האומר דבר בשם אומרו, מביא גאלה לעולם אבות ו"ו