K A S H R U T . C O M©
The Premier Kosher Information Source on the Internet
---
HOME | PASSOVER | CONSUMER | COMMERCIAL | TRAVEL | ZEMANIM | LINKS | ARTICLES | RECIPES | HUMOR | E-MAIL LIST

---
Commercial Kashrut Alerts
---
The following health alert is from the FDA on October 9, 2012.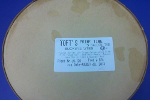 After receiving a recall notice from a former supplier of peanut butter base, Toft's has issued a voluntary recall on 48 oz cartons and 3 gallon tubs of Buckeye Bites Ice Cream with expiration dates of March 14,2013 or before. Any 48 oz or 3 gallon tub of Toft's Buckeye Bites with an expiration date after March 14, 2013 is NOT involved in this recall due to us switching peanut butter suppliers on March 15, 2012. Toft's Prime Time Buckeye Bites Ice Cream has been distributed throughout the state of Ohio and Southern Michigan.
The recalled product contains a peanut butter base that contains peanut butter manufactured by Sunland, Inc, which has just announced an expansion of a voluntary recall covering peanut products made in their Portales, New Mexico plant. Sunland's peanut butter products have been linked to Salmonella outbreaks across the United States dating back to March 1, 2010.
Toft's 48 oz Buckeye Bites Product UPC is 19473-00602. The Product Code for Toft's 3 gallon tubs of Buckeye Bites is 874. Buckeye Bites 48 oz cartons and 3 gallon tubs are the only items in this voluntary recall. No other Toft's products are included in this recall.
If consumers have 48 oz cartons or 3 gallon tubs of Toft's Buckeye Bites with an expiration date of March 14, 2013 or before in their freezers, they should cut out the date on their Buckeye Bites 48 oz carton or 3 gallon tub label and send it to the following address to Toft's for a full refund: Buckeye Bites, Toft Dairy, PO Box 2558; Sandusky, Ohio 44870. If you have any questions, please contact our corporate office at 800-521-4606 between the hours of8:00 a.m.-4:30p.m. EST.
The information posted is from secondary sources. We cannot take responsibility for the accuracy of the information.
Copywrite © kashrut.com. Permission is granted to reprint these alerts if kashrut.com is credited as the source of the information.
כל האומר דבר בשם אומרו, מביא גאלה לעולם אבות ו"ו