The following health alert is from the FDA posted onMarch 4, 2010.
Basic Food Flavors Inc. of Las Vegas, Nev. has recalled its flavor enhancer called hydrolyzed vegetable protein (HVP) because the product may be contaminated with the bacterium Salmonella Tennessee. At this time, no illnesses associated with this contamination have been reported to the FDA. Basic Food Flavors sold its HVP to other food manufacturers and distributors for use in producing other food products. Only HVP from Basic Food Flavors is associated with this recall.
List of recalled Basic Food Flavors products.
The following revised kashrus alert is from the Atlanta Kashrus Commission on February 24, 2010.
Please be advised that the Atlanta Kashruth Commission discontinued its supervision of Eurochem International Corporation, 600 Wendell Court, Atlanta, GA 30336 in 2006. It has never certified ZUCRA SO2.
Ed. note: Eurochem Zucra S02 is certified Kosher Parve by the Kashrut of Maguén David, A. C. See attached letter.
The following health alert is from the FDA dated February 26, 2010.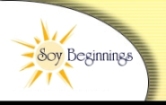 Thumb Oilseed Producers' Cooperative of Ubly, MI. has recalled certain shipments of soybean grits and flour because they have the potential to be contaminated with Salmonella. The recalled soybean grits and flour were distributed to a limited group of wholesale customers located around the nation. These customers have been contacted by Thumb Oilseed and are reviewing this inventories and production processes and taking the necessary steps to protect consumer health, including, if necessary, sub recalls. The product is labeled with Soy Beginnings or Nexsoy brands; packaged in 40# paper bags. Feed is packaged in 1500# totes. (Lot numbers include TF121608 through TF012210, TG121608 through TG010510). The recall resulted from routine sampling programs conducted by the company and its wholesale customers. Thumb Oilseed has suspended production and distribution of the potential affected products and is cooperating with the US Food and Drug Administration and Michigan Department of Agriculture in investigating the situation. The recall does not involve soy oil products produced by Thumb Oilseed. Consumers with questions may contact the company at 989-658-2344 between 9:00 am and 4:00 pm EST Monday-Friday.
The following kashrus alert is from the COR on February 18, 2009.
Coby's Cookies - Frozen Muffin Batters (various flavours) were labeled with an unauthorized COR 352. This product is not kosher certified by COR.
Please note that any product bearing COR 352 is not COR certified at present.
The following kashrus alert is from the Rabbi Ian Baley on December 17, 2009.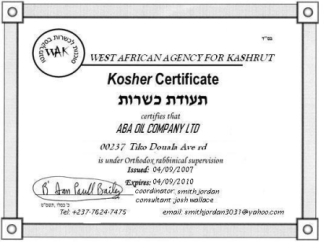 Forged kosher certificate:
The following kashrus alert is from the Chicago Rabbinical Council on December 15, 2009.
Please be advised that the following formulas for E.A. Weber are being reviewed and the kosher status is undetermined until further notice:
26-09-0022
22-78-0220
22-90-0170
The following kashrus alert is from the Star-K on December 2, 2009.
Effective immediately, HANA PASTRIES, Brooklyn, NY, is no longer Star-K certified. Even items bearing the Star-K, sealed with Star-K tape and bearing a Hebrew signature are NOT certified.
The following kashrus alert is from the Rabbinical Council of New England on November 30, 2009.
Please be advised that Chef's Quality Assorted Rolls (RCA-128RD) containing Parmesan Rolls bear an unauthorized KVH symbol. The product is being removed from the shelves and new packaging will not have the KVH symbol on the boxes.