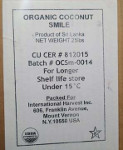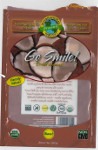 International Harvest, Inc. Recalls Organic Go Smile! Raw Coconut Because of Possible Health Risk
March 16, 2018 from the FDA:
International Harvest, Inc of Mount Vernon, NY is recalling 14,620 lbs. of bulk and 24,270 bags of Organic Go Smile! Raw Coconut, because it has the potential to be contaminated with Salmonella.
The product was distributed to customers via online retailers, retail stores, and distributors. Product was directly distributed to the following states: NY, NJ, CT, CA, CO, OK, GA, VT, IL, FL, ME, WA, NH, and UT.
Recalled products are as follows:
Retail: International Harvest Brand Organic Go Smile! Dried Coconut Raw, in a 9oz poly/plastic bag, UPC: 7 39446 40220 7, with the following "Sell by Dates" on the back of the bag: 010118, 020118, 030118, 040118, 050118,060118, 070118, 080118, 090118, 100118, 110118, 120118, 010119, 020119, 030119.
Bulk: Go Smiles Dried Coconut Raw in a 25-bulk case labeled with the following batch/Lot #'s: OCSM-0010, OCSM-0011, Lot# OCSM-0014.