StarKist's former senior vice president of sales charged in ongoing tuna price-fixing scandal
June 5, 2017: The SeafoodSource:
"Stephen L. Hodge, a former senior vice president of sales for StarKist, has been charged with price-fixing in the latest development in a federal investigation that has shaken up the canned tuna industry in the United States."
"The scandal, which originated out of a joint criminal antitrust investigation by the U.S. Department of Justice and the Federal Bureau of Investigation, has engulfed the so-called "big three" tuna companies - Bumble Bee Foods; Thai Union-owned Tri-Union Seafoods, which controls Chicken of the Sea; and StarKist, owned by Dongwon Industries, South Korea's largest seafood company. Last month, Bumble Bee Foods became the first of the three to plead guilty to price-fixing and was subsequently fined USD 25 million (EUR 22.8 million). Two Bumble Bee executives also pled guilty to price-fixing earlier this year and are awaiting sentencing."
"Separately, several large retailers, including Wal-Mart, have filed a civil lawsuit against the "big three" tuna companies, which remains on hold until the criminal investigation is completed."
FDA sampling finds high level of compliance with gluten-free standards
June 2, 2017: from The FDA and IFT_:
"More than 99.5% of sampled food products labeled 'gluten-free' are in compliance with the U.S. Food and Drug Administration's (FDA) requirement that such foods have less than 20 ppm (parts per million) of gluten. This is the finding of an FDA sampling assignment in which 702 samples from more than 250 products labeled 'gluten-free' were collected and analyzed from July 2015 to August 2016."
"The FDA found that only one of the products sampled did not comply with one of the major FDA requirements that went into effect in August 2014 for manufacturers using the term 'gluten-free' on their labeling. This product was recalled and subsequent sampling by the FDA did not find levels of gluten that violated the regulation."


Following Plumber's Death, Electric Ranges Recalled by Arçelik A.S. Due to Shock and Electrocution Hazards
May 19, 2017: The CPSC:
Blomberg and Summit electric ranges have been recalled because the electric ranges can become energized, posing electric shock and electrocution hazards to a consumer who touches the range
The U.S. Consumer Product Safety Commission (CPSC), Arçelik A.S. of Turkey and Beko US, of Bolingbrook, Ill. are announcing the voluntary recall of about 6,300 Blomberg and Summit brand freestanding electric ranges. The electric ranges can become energized because a screw was not installed to secure the grounding strap during manufacturing, posing electric shock and electrocution hazards. In August 2016, a 52-year-old professional plumber from Portsmouth, New Hampshire died from electrocution when he came in contact with an energized range and a grounded object. This recall involves Blomberg BERU 24200 SS, BERU 24100 SS and Summit CLRE24 24-inch wide freestanding glass top electric ranges. The ranges were sold in stainless steel and black. A label on the lower frame of the range inside the over door has the brand name "Blomberg" or "Summit," the model name and number BERU 24200 SS, BERU 24100 SS or CLRE24 and a 10-digit serial number. Serial numbers included in the recall are:
| | | | |
| --- | --- | --- | --- |
| 12 XXXXXX XX | 15 XXXXXX XX | 16 XXXXXX 03 | 16 XXXXXX 06 |
| 13 XXXXXX XX | 16 XXXXXX 01 | 16 XXXXXX 04 | 16 XXXXXX 07 |
| 14 XXXXXX XX | 16 XXXXXX 02 | 16 XXXXXX 05 | 16 XXXXXX 08 |
The ranges were sold by AJ Madison, State Street Discount and other stores nationwide and online at Amazon.com from October 2012 through March 2017 for between $1,000 and $1,500.
They were manufactured by Arçelik A.S. in Turkey.
Consumers should immediately stop using the recalled ranges, and avoid all direct contact with the product until the electricity supply is shut off. Consumers should contact Arçelik A.S. to schedule a free on-site inspection and repair.
Contact Arçelik toll-free at 877-271-1489 from 8 a.m. to 5 p.m. ET Monday through Friday, or online at www.blombergappliances.us and click on Recall Information at the bottom of the page.
Israel issues new guidelines requiring more humane ways of kosher slaughter on imported beef
May 18, 2017: The JTA:
"Israel's Agricultural Ministry has issued new guidelines that will require more humane ways of kosher slaughter on beef that is imported into the country."
"In the New Guidelines for Humane Kosher Slaughter, the Veterinary Services and Animal Health Division of the ministry mandated that imported meat must be slaughtered using a rotating restraint device, which is seen as more humane than the commonly used shackle-and-hoist method."
"The switch to a rotating restraint device must be made by June 1, 2018, and new suppliers must begin using the more humane method immediately."
"Forty percent of the beef consumed in Israel comes from Paraguay, which does not export beef to the United States. The practice is not permitted in Israel, which has limited kosher beef slaughter."
"The shackle-and-hoist method is common in slaughterhouses in Argentina and Uruguay, which do export to the United States."
"A petition by animal rights groups was filed with Israel's Supreme Court after the investigative report went public, calling on the court to order that meat import licenses require foreign slaughterhouses to comply with Israeli law and other international ordinances and prohibit the use of the shackle-and-hoist method."
Why is it so hard to know whether organic food is really organic
May 22, 2017: The WashingtonPost: :
"The USDA is in charge of regulating organic food, both when it is produced in the United States and when it is imported. It's illegal to sell imported foods as organic in the United States unless the product meets USDA standards". "However, the USDA doesn't actually administer the standards for imported foods. Instead, the certification — checking that the food meets U.S. standards - is done by USDA-recognized foreign regulators or USDA - authorized third-party organizations. This means the USDA outsources its authority to its equivalent agencies in other countries, as well as third-party certifiers. Not all countries have U.S.-recognized regulators."
In most cases the USDA is relying on third party regulators. "In practice, ensuring that imports labeled "organic" are actually organic is very hard, because global supply chains are complex and nontransparent. A number of suppliers or organizations may sell the product before they reach the final customer.This creates ample opportunity for things to go wrong. For instance, the USDA may not have any good way to know whether its accredited certifying agents have issued false certification documents to unqualified foreign suppliers. Middleman organizations can use real certification documents for products that are not actually organic."
"More regulatory oversight would make it easier for genuine organic producers abroad to sell their food to American customers."
---
Flaws in the 'USDA Organic' certification can allow ordinary products to be labeled organic
May 20, 2017: The WashingtonPost and the ColumbiaTribune: :
"A shipment of 36 million pounds of soybeans sailed late last year from Ukraine to Turkey to California. Along the way, it underwent a remarkable transformation."
"The cargo began as ordinary soybeans, according to documents obtained by The Washington Post. Like ordinary soybeans, they were fumigated with a pesticide. They were priced like ordinary soybeans, too."
"But by the time the 600-foot cargo ship carrying them to Stockton, Calif., arrived in December, the soybeans had been labeled "organic," according to receipts, invoices and other shipping records. That switch - the addition of the "USDA Organic" designation - boosted their value by approximately $4 million, creating a windfall for at least one company in the supply chain." "About 21 million pounds of the soybeans have already been distributed to customers."
"While most food sold as "USDA Organic" is grown in the United States, at least half of some organic commodities - corn, soybeans and coffee - come from overseas, from as many as 100 countries."
The importer does not "need not trace the product back to the farm." "Farmers hire their own inspection companies; most inspections are announced days or weeks in advance and lack the element of surprise; and testing for pesticides is the exception rather than the rule.
One company testing for pesticide residues from organic tea leaves from China found 37% had more than traces of pesticide residues.
"The rise of imports has helped drop prices by more than 25 percent, hurting U.S. organic farmers, many of them small operations."

Pier 1 Imports Recalls Chalk Note Mugs Due to Burn Hazard
May 18, 2017: The CPSC in conjunction with Healthy Canadians:
Chalk Note Mugs have been recalled because the mugs can crack when filled with hot liquid, posing a burn hazard to users.
This recall involves the Pier 1 Imports Chalk Note Mugs that can be written on with chalk. The stoneware mugs were sold in black and measure 5.25 inches tall by 5 inches in diameter. "Stoneware" and "Pier 1 Imports" are printed on the bottom of the mug.
Consumers should immediately stop using the recalled mugs and contact Pier 1 Imports for a full refund or merchandise credit.
Sold Exclusively at Pier 1 Imports stores nationwide and online at Pier1.com from March 2016 through April 2017 for about $8.
Consumer Contact: Pier 1 Imports toll-free at 855-513-5140 from 8 a.m. to 7 p.m. CT Monday through Friday, 9 a.m. to 5 p.m. CT Saturday or 10 a.m. to 6 p.m. CT Sunday or online at www.pier1.com and click on "Product Notes & Recalls" at the bottom of the page for more information.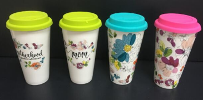 Michaels Recalls Ceramic Travel Mugs Due to Burn Hazard
May 18, 2017: The CPSC:
Ceramic travel mugs have been recalled because the mug's lid does not fit securely and can cause liquids to leak from the bottom of the lid when tilted, posing a burn hazard. Also, the mug does not have a silicone hand wrap so the consumer could burn their hand on the side walls of the mug.
This recall involves Michaels private brand Celebrate It™ ceramic travel mugs with a silicone lid. The mugs measure about 6.5 inches tall and hold about 16 ounces of liquid. The travel mugs have four designs:
Motherhood the greatest adventure (lime green lid)
MOM (lime green lid)
Blue floral (turquoise lid)
Pink floral (pink lid)
Only ceramic mugs with SKU number 508992 and UPC code 886946619458 printed on a label on the bottom of the mugs are included in the recall.
Sold At: Michael's stores nationwide from March 2017 through April 2017 for about $8.
Consumers should immediately stop using the recalled mugs and return them to any Michaels store for a full refund.
Consumer Contact: Michaels at 800-642-4235 from 9 a.m. to 7 p.m. CT Monday through Friday or online at www.michaels.com and click on "Product Recalls" at the bottom of the page for more information.
Belgian ban on Jewish ritual slaughter passes without opposition
May 17, 2017: The Arutz 7:
"The Walloon Parliament in southern Belgium voted unanimously to ban the slaughter of unstunned animals, a requirement for both kosher and halal ritual slaughter. Only the two Labor Party lawmakers in the 75-member plenum in Belgium's largest region abstained in the vote Wednesday."
"Earlier this month, the environment committee of the Walloon Parliament voted unanimously for the ban, which takes effect on Sept. 1, 2019. Similar legislation has been proposed by the parliament in the northern Belgium Flanders or Flemish region. The federal kingdom of Belgium comprises those two regions and the capital, Brussels."
"The move in the Walloon region, which has only a few hundred Jews, follows an agreement in March that imposes limitations on ritual slaughter in the Flemish region, where half of Belgium's Jewish population of 40,000 people live. The remaining 20,000 live in the Brussels region."
"Flormer UK Chief Rabbi Lord Jonathan Sacks has said that supposed concern for human rights and animal welfare are the new excuses for anti-Semitism, now that previous coverups for anti-Semitism, whether Christian, anthropologic, racist or economic are not politically correct."
Audits and inspections are never enough: A critique to enhance food safety
May 11, 2017: The Barafblog, and Food Control:
"Internal and external food safety audits are conducted to assess the safety and quality of food including on-farm production, manufacturing practices, sanitation, and hygiene. Some auditors are direct stakeholders that are employed by food establishments to conduct internal audits, while other auditors may represent the interests of a second-party purchaser or a third-party auditing agency." "Critics contend that while external audits and inspections can be a valuable tool to help ensure safe food, such activities represent only a snapshot in time. This paper identifies limitations of food safety inspections and audits and provides recommendations for strengthening the system, based on developing a strong food safety culture, including risk-based verification steps, throughout the food safety system."
"The Israeli State Comptroller's Report: The Kashrut System - 'Serious Findings, Misleading the Public, An Unmanageable Situation'"
May 17, 2017: The Ynet.co.il, Google translate at here:
The Israeli State Comptroller exhamined the work of the mInistry of Religious Services, The Israeli Chief Rabbinate and several religious councils from March to September, 2016. They doubted that the current system can insure that food is kosher. Some religious overseers were expected to work 20 to 24 hours a day in Jerusalem, Natanya and Rehovot. Most of the kosher supervisors were employed by the business they supervise and not the religour council which is a built-in conflich of interest.
The Israeli Chief Rabbinicate is working on modifying the current system