Israeli Health Minister Rabbi Litzman: Drop That Jelly Doughnut
December 12, 2016: The Hamodia and Matzav.com
" After taking on fast food, junk food and chocolate milk, Health Minister Rabbi Yaakov Litzman is targeting another tasty, if high-calorie and unhealthy, snack – the classic sufganiyah, the Chanukah-season doughnut most usually filled with jelly. Now, in the weeks before Chanukah, the doughnuts are everywhere, including schools, offices and stores." Sufganiot are "Fried in cheap oils, the average doughnut contains between 400 and 500 calories. Those are empty carbohydrates that raise blood sugar levels, guaranteeing the eater will hit a sugar high and then sink down – and that s/he will be hungry again within a short period of time."
"According to statistics supplied by the Central Bureau of Statistics and analyzed by the Ministry, 44 percent of Israelis – nearly one out of two – are overweight or obese, and the same is true of 21 percent of first-graders. By seventh grade, 30 percent of kids are overweight. Rabbi Litzman – along with many health professionals – believes that junk food is largely responsible for this situation, and he is considering numerous legislative initiatives to curb consumption of junk food. Among those initiatives are labeling – cigarette pack-style – the packages of snack food to emphasize their calorie and fat level, along with a "health score," to be determined by professionals, which will rank food products on a scale between 1 and 10 (or 1 and 100) on its desirability. The healthier a food – taking into account its nutrient level, calorie, fat, sugar, salt and other factors – the higher a score it will get."
"In the past, Rabbi Litzman said that among the biggest "victims" of junk food was the chareidi public. Children are often "treated" to snacks at Talmud Torahs or shuls after they participate in learning sessions, and that practice needed to stop, or at least to b"e adjusted in order to prompt children to eat more healthily.
Pesticide data report starts new debate cycle on fresh produce
December 9, 2016: The FoodSafetyNews and USDA
The USDA's Pesticide Data Program's (PDP) has been collecting data on pesticide residues in food for 25 years. "The PDP provides reliable data to help assure consumers that the food they feed themselves and their families is safe. Over 99 percent of the products sampled through PDP had residues below the EPA tolerances. Ultimately, if EPA determines a pesticide is not safe for human consumption, it is removed from the market.
The report "shows American-grown fruits and vegetables are safe because pesticide levels are kept below levels permitted by the Environmental Protection Agency (EPA), which has the most stringent restrictions in the world."
"It's a simple consumer message: Fruits and vegetables are good for you and you don't have to pay higher prices for "organics" to get the benefits."
"In 2015, over 99 percent of the samples tested had residues well below the tolerances established by EPA with 15 percent having no detectable pesticide residue."
Residues exceeding EPA levels were found in 54 samples, which is less than 1 percent of all samples tested. One third of the the 54 samples with excessive residues, 18 samples, were from imports, meaning two-thirds of the samples with residues exceeding EPA levels were from the U.S.
Certification overload
December 9, 2016: The Pure Branding and FoodIngredientsFirst
These are two articles on certification (non-kosher) overload. There are now so many certifications that people are ignoring them and are not understanding what each means.
Ed. note: I have found companies that I talk to so overwhelmed by the certifications that they feel they need to get that they do not understand the usefulneess to obtain kosher certificition. So if you see a product that you want certified as kosher, tell them.

Bumble Bee exec pleads guilty to fixing prices of canned tuna
December 6, 2016: The SeafoodSource
"Bumble Bee Senior Vice President of Sales Walter Scott Cameron has agreed to plead guilty to a charge that he helped fix the prices of canned tuna sold throughout the United States." "The one-count felony charge was filed in the U.S. District Court for the Northern District of California in San Francisco, and Cameron's guilty plea acknowledges that he and unidentified co-conspirators agreed to fix the prices of packaged seafood from as early as 2011 until about 2013."
"A number of American retailers, including Walmart, have recently sued Bumble Bee Foods, StarKist and Tri-Union Seafoods, the owner of Chicken of the Sea – dubbed the "big three" tuna companies because they own a combined 70 to 80 percent of the multibillion-dollar packaged tuna industry in the United States – for fixing prices. But their suits have been held up due to a motion filed by the DOJ in January to stay discovery in the civil cases brought by retailers, and another suit brought by U.S. consumers, in order to aid an ongoing federal grand jury investigation into the matter."
"The Walmart suit alleges that the "big three" carried out their scheme through in-person meetings, as well as through emails and telephone calls. The scheme was aided by close relationships between both the executives at the companies and by intermingled business relationships, such as the co-packaging deal that had Chicken of the Sea packing Bumble Bee's product in its Lyons, Georgia plant and Bumble Bee packing Chicken of the Sea's products in its Santa Fe Springs, California plant, the retailers allege."


Target Reannounces Recall of Menorahs Due to Fire Hazard
December 6, 2016: The CPSC
Target Menorahs have been recalled because the menorahs can melt when the candles are burning, posing a fire hazard.
This recall involves clear acrylic Hanukkah menorahs in a pyramid design that are 10.5 inches long, 1.2 inches wide and 2.3 inches high. Model number 240-14-0169 and bar code can be found on a round white label on the side of the menorah.
Sold Exclusively At: Target stores nationwide from October 2015 through December 2015 for about $20.
Incidents/Injuries: The firm has received eight reports of the product melting, including three reports of fire. No property damage or injuries have been reported.
Remedy: Consumers should immediately stop using the recalled menorahs and return them to Target for a full refund.
Consumer Contact: Target at 800-440-0680 from 7 a.m. to 6 p.m. CT daily, online at www.target.com and click on "School/Stationery/Seasonal" on the product recalls page or the "Product Recalls" tab on Target's Facebook page for more information.
Guilty verdict in 5-hour counterfeiting case seen as potent deterrent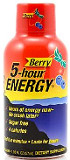 December 2, 2016: From Beverage Daily and FDA:
"A federal jury in San Jose, CA convicted Joseph Shayota and Adriana Shayota late yesterday of conspiracy to traffic in counterfeit goods and conspiracy to commit criminal copyright infringement and to introduce misbranded food into interstate commerce. The defefendants sold more than 4 million counterfeit 5-Hour ENERGY Drink manufactured in unsanitary conditions with with basically perfectly duplicated labels. But no way of knowing what was inside the bottles.
"The duty is on the merchants to sell authentic merchandise. If they bought from a reliable source and they ended up with counterfeit merchandise they are going to be made whole from that source. But if they bought it from just some guy, then they chose to run that risk."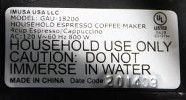 IMUSA Recalls Espresso Makers Due to Impact and Burn Hazards
November 30, 2016: The CPSC
Hazard: The filler cap at the top of the IMUSA's Espresso Makers GAU - 18200 (black) unit can crack and allow steam to escape, posing a risk of burns to the user. In addition, the cap can pop off unexpectedly as a result of pressure buildup, posing an impact injury risk to a bystander.
This recall involves IMUSA espresso makers. The black or gray and black espresso makers have model numbers GAU-18200 and GAU-18201. The caps on the recalled espresso makers have date codes "201407" to "201411" The model number and date code are printed on a rating label on the bottom of the espresso maker. "IMUSA" is printed on the on front of the espresso maker.
The firm has received 43 incidents including one report of a consumer who sustained burns to his hand from steam escaping through a crack in the cap.
Consumers should immediately stop using the recalled espresso makers and contact IMUSA for a free replacement filler cap. Consumer Contact: IMUSA toll-free at 844-750-4165 from 8:30 a.m. to 5 p.m. PT Monday through Friday, email at recall@bowlesverna.com or online at www.imusausa.com and click on "Recall" at the top of the page for more information.
Kosher abattoir in London targeted by animal activists
November 28, 2016: From The JC:
"The Kedassia abattoir in Hackney Wick, east London on was attacked on November 8, by a group calling themselves East London Chicken Save. The new group is part of an animal rights campaign which is targeting abattoir's across Britain."
"A YouTube video shows a group of activists forcing their way into the Kedassia building and abusing the staff inside by shouting "f****** bastards" and accusing them of "helping to kill babies". P
"olice were called and the group were moved on, only to return and climb the walls where they filmed abattoir staff. The protesters also blockaded the road outside the abattoir, stopping a lorry containing live chickens and attempted to free the birds."
"In a separate demonstration which took place last week, protesters reportedly daubed antisemitic graffiti on the walls of the abattoir."
Latest NARMS report contains some positive findings
November 30, 2016: From FoodSafetyNews and NARMS Report:
"The National Antimicrobial Resistance Monitoring System (NARMS), established in 1996, is out with its latest data—covering the year 2014 and showing low levels of salmonella in poultry and meat in the United States." "NARMS collects surveillance data from human clinical samples, slaughter samples and retail meat samples and tracks changes in the antimicrobial susceptibility of enteric (intestinal) bacteria found in ill people (CDC), retail meats (FDA), and food animals (USDA) in the U.S."
"NARMS found measurable decreases in salmonella present in retail chicken and ground turkey. More specifically, NARMS found that salmonella recovery continued to decline in poultry sources to the lowest levels in 20 years of joint testing. Salmonella prevalence reached 9.1 percent in chicken and 5.5 percent in ground turkey while remaining below 1.5 percent in beef (at 0.8 percent) and 1.3 percent in pork. A consistent decline in the proportion of salmonella isolates from retail chicken meat that are multi-drug resistant was also called out."
Study: Restaurants Not Good At Explaining Risks of Undercooked Meat to Customers
December 1, 2016: From NCSU:
"Front-line staff, such as servers in restaurants, are often trusted with providing customers with food safety information regarding their meals. A challenge to the food-service industry is that these positions have high turnover, relatively low wages and servers are focused primarily on providing patrons with a positive experience. And new research shows that this poses a problem."
"A recent study finds restaurants don't do an effective job of communicating with customers when it comes to addressing risks associated with eating undercooked meat – specifically hamburgers. Inaccurate information provided by servers often contradicts science-based information customers need to make informed food safety decisions."
"The study found that 25 percent of restaurants wouldn't even sell an undercooked hamburger to secret shoppers. However, at restaurants that would sell a medium-rare hamburger, the majority of servers – 77 percent – gave customers unreliable information about food safety."
"This study tells us that servers aren't good risk communicators," Chapman says. "We encourage consumers to ask food-safety questions, but they should probably ask a manager.
"It also tells us that we need to work on addressing the widespread – and wrong – belief that color is a reliable indicator of food safety in meat," Chapman adds. "Restaurants are in a position to help us share this information with consumers, but many servers are currently sharing incorrect information."