Pangasius producer in Dominican Republic gains entry to US market
November 04, 2016: The SeafoodSource:
"On 25 October, Value Aquaculture, based in Cabarete, D.R., received approval from the U.S. Department of Agriculture to import siluriformes, or pangasius, into the U.S. While the approval is valid for all pangasius produced in the Dominican Republic, Value Aquaculture is currently the only producer of the species in that country." Pangasius is a catfish."
Ed note: They are using as a name for the fish, satchi which I have not seen before and may confuse people who do not realize that this is a catfish, a non-kosher fish.
Kosher status of Israeli Army kitchens increasingly threatened
November 6, 2016: The Arutz 7:
According to Tzav 1, the organization, which works to ensure that religious IDF soldiers are able to maintain a religious lifestyle while in the Israeli army, serious breaches of kosher dietary laws have been reported which are not being addressed. Some of the complaints come from small army outposts at the far reaches of Israel.
"Officials within the organization assess that the growing number of complaints is related to the Army's decision to reduce the number of kashrut inspectors, who verify that kitchens are being managed according to the dictates of Jewish law, as well as to new procedures which make it harder to keep kosher law."
New York - Animal Rights Groups Accuse South American Kosher Slaughterhouses Of Inhumane Practices
November 3, 2016: Vosisnois
"Animal rights activists are protesting shechita methods employed by South American kosher slaughterhouses, charging that animals are killed using an antiquated practice that leaves them suffering and in pain during their final moments."
"An undercover investigation by People for the Ethical Treatment of Animals and two Israeli organizations, Anonymous for Animals Rights and Let Animals Live, documented the shechita process at the Frigochaco kosher slaughterhouse in Paraguay, which supplies 40 percent of the kosher beef consumed by Israelis."
"Graphic video footage shows cows being subjected to the shackle and hoist method of slaughter, where the animal's hind legs are chained before it is turned upside down for shechita, its head held in position by a sharp metal tool that resembles a trident."
"Shackle and hoist is no longer performed at Israeli slaughterhouses and has been denounced by Israel's Chief Rabbi a few years ago. Instead, animals are placed in rotating pens, considered to be a more humane method because it does not require cows to be held in an inverted position by leg chains."
"While Israel's Ministry of Agriculture's Veterinary Services procedures specify that all imported meats should be subject to the same strict criteria used in Israel, a spokesperson for the department admitted that Israel cannot enforce its standards on other countries. Instead, Veterinary Services is working to promote slaughter in more humane ways."
"The undercover investigation captured video footage filmed at slaughterhouses in Paraguay, Argentina and Uruguay."
"In response to the investigation, the Chief Rabbinate condemned the activities documented in the footage but stressed that legal action can only be taken by other government bodies."
"We were horrified to see the shocking abuse of animals," a statement from the Chief Rabbinate said on Wednesday. "Animal abuse is a serious offense according to the Torah of Israel."
"However, in accordance with the law and the ruling of the High Court of Israel, the Chief Rabbinate cannot revoke kashrut in situations where there is no harm to the core issues of kashrut, and therefore, unfortunately, we are precluded from dealing with this matter," the statement said. 'We hope that the authorized bodies will handle this matter with all of their capabilities to prevent the recurrence of further such acts.'"

Kikkerland Design Recalls Teapots with Stands Due to Fire Hazard
November 1, 2016: The CPSC
Kikkerland and Cost Plus World Market brand teapots with bamboo stands has been recalled because the bamboo votive stand can catch fire, posing a fire hazard to consumers.
This recall involves Kikkerland and Cost Plus World Market brand teapots with bamboo stands. The 30-ounce glass teapots have a removable glass tea infuser sold with a votive-candle holder inside the bamboo stand. The Kikkerland teapots have model number TP02 printed on the packaging next to the UPC code. The Cost Plus World Market teapots have a white sticker with number 25024784 printed on the packaging. No votive candles were included with the teapots.
Remedy: Consumers should immediately stop using the recalled teapots and stands and contact the firm for return instructions. Consumers who purchased online will be mailed instructions on how to receive a refund. Consumers who bought the teapots at stores can return the teapots and stands for a full refund.
Sold At: Amazon retailers, Cost Plus World Market, Uncommon Goods and Urban Outfitters and online at www.Amazon.com from March 2014 through September 2016 for between $40 and $70.
Consumer Contact: Kikkerland at 800-727-7151 from 9 a.m. to 5 p.m. ET Monday through Friday or online at www.kikkerland.com.
Kosher food to be served in UN cafeterias
October 31, 2016: The Arutz 7:
"Israeli UN Ambassador Danny Danon has won the battle for his newest initiative: kosher food will now be served in UN cafeterias."
"His efforts to promote awareness and acceptance of kosher food succeeded, and religious Jews will now be able to eat in UN cafeterias. The selection of kosher food will include dairy sandwiches, salads, meat, tuna sandwiches, and hot dogs."
---
Israel Envoy Wants Kosher Food at UN Cafeterias
September 26, 2016: The The Forward:
Danny Danon, Israel's Ambassador to the United Nations has written the UN Secretary-General that the U.N. cafeterias offer halal, vegetarian and vegan selections but not kosher. "He also requested that the institution act to lower the high cost of kosher catering at the United Nations by allowing more kosher caterers to work at its headquarters. Danon said that the Israeli diplomatic mission, which only orders kosher food, is limited by the U.N. to one supplier and pays about 40 percent more than other missions who have a choice of caterers."
Religious Freedom? A Judge Bans Kapparos in California
October 21, 2016: The Matzav.com
"In United Poultry Concerns v. Chabad of Irvine, a group of chickens'-rights activists petitioned a federal judge to prohibit a California Jewish organization, Chabad of Irvine, from engaging in Kapparot, a Jewish ritual."
The judge initially granted the plaintiffs' request and prohibited the Chabad rabbi, Alter Tenenbaum, from engaging in the ritual use of live chickens. Eventually the judge lifted the ban, but only after it was already too late for Chabad to perform the ritual this year."
The legal arguments advanced by the chicken people make it clear that they want American courts to view the exercise of religion as an ordinary activity enjoying no special legal, moral, or constitutional status. The chicken people sued Chabad under California's Business and Professionals Code, citing a provision aimed at prohibiting unfair competition."

Cabela's Recalls Food Dehydrators Due to Fire Hazard
October 20, 2016: The CPSC
Cabela's food dehydrators are being recalled because Defective wiring can cause a build-up of heat, posing a fire hazard.
This recall involves Cabela's commercial grade 80-liter and 160-liter food dehydrators. The stainless steel dehydrators have model numbers 541549 on the 80 liter, and 541650 on the 160 liters. Model numbers are located on the back panel of the dehydrator.
Sold At: Cabela's stores nationwide and online at Cabelas.com from August 2016 through September 2016 for about $300 for the 80-liter model and $415 for the 160-liter model.
The firm has received nine reports of the product malfunctioning due to defective wiring. No injuries have been reported. Consumers should immediately stop using the recalled dehydrators and contact Cabela's to receive a replacement product or a refund.
Consumer Contact: Cabela's at 800-237-4444 anytime, or online at www.cabelas.com for more information.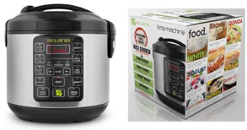 Sherwood Marketing Recalls 3 Squares Rice and Slow Cookers Due to Fire, Electric Shock Hazards
October 18, 2016: The CPSC
3 Squares rice and slow cookers have been recalled because the rice/slow cooker's improperly installed wiring can cause electrical shorting in the unit, posing fire and electric shock hazards.
This recall involves 3 Squares-branded Tim3 Machin3 and Mini Tim3 Machin3 rice and slow cookers with fixed power cords. The 20-cup/4-quart or 8-cup/1.7-quart programmable electric cookers are stainless steel with black molded plastic, have a control panel/keypad on the front and measure about 11 inches in diameter and12 inches tall. The 3Squares logo is printed on the front of the control panel. Model numbers starting with 3RC and ending in 3010S, 3020S, 3434, 5020 and 9010S are included in the recall. The model number is printed on a label on the side of the product.
Sold At: Home, hardware, mass merchandisers and department stores nationwide and online at Amazon, Bed Bath & Beyond, Best Buy, Costco, Get3Squares, Home Depot, Kohl's, Target, Wayfair and other websites from December 2015 through July 2016 for between $30 and $70, depending on the model and capacity.
Consumers should immediately stop using the recalled rice/slow cookers and contact 3 Squares to receive a free replacement cooker, including shipping.
Consumer Contact: 3 Squares at 800-390-0249 from 9 a.m. to 5 p.m. PT Monday through Friday or online at www.Get3Squares.com and click on Recall for more information.
Israeli Finance Minister Exposing Fresh Meat Market to Foreign Competition
October 17, 2016: The Jewish Press:
"At a time when free markets are losing favor in the eyes of GOP voters in the US, Israeli Finance Minister Moshe Kahlon (Kulanu) has decided to open up the fresh meat market to competition from abroad. As part of this move, the quota for duty-free fresh meat imports will be doubled."
"Opening up the Israeli market to supplies from the EU countries is intended to replace the frozen meat market with higher-quality fresh meat, a move similar to the Agriculture Ministry's eliminating the frozen poultry market, which used to encompass the bulk of Israel's poultry market, replacing it with fresh poultry."
"The plan is for the quotas for fresh meat from abroad to be raised in 2020 to 17,500 tons, while duty will be reduced to 12%. In addition, local farmers will be permitted to import up to 10% of the market in fresh meat, to encourage local production and safeguard employment."
Sukkah list
This list is non-complete. Contact the restaurant to confirm.
CHICAGO: October 13, 2016 -From the cRc
The following is a current list of cRc establishments that will, IY"H, have a sukkah up for Chol Hamoed this year. We suggest that you call first to confirm that the sukkah is up.
Chalavi – Main Pizza 773-338-9640
EJ's 224-534-7215
Emma's 847- 673-3030
Evita Grill 773-463-8482
Great Chicago Food & Beverage (773) 465-9030
Park Plaza 773-465-6700
Milt's 773-661-6384
Mizrahi 847-831-1400
Shallot's (847) 677-3463
Taboun 847-965-1818
University of Chicago - @Chabad House,5700 S. Woodlawn
BOSTON AREA:
Milk St. Cafe
50 Milk St , Boston, MA (617)542-FOOD
Under the supervision of the Orthodox Rabbinical Council
Harvard Hillel Sukkah at Rosovsky Hall
BU Hillel Sukkah
213 Bay State Road, Boston, MA 02215
(617) 353 7200
Providence, RI
Roger Williams Park Zoo, located just off exit 17 on route 95 south has a sukkah
MONTREAL - Link to list of sukkahs in Montreal, Quebec
TORONTO AREAA: COR Establishments with a Sukkah