K A S H R U T . C O M©
The Premier Kosher Information Source on the Internet
---
HOME | PASSOVER | CONSUMER | COMMERCIAL | TRAVEL | ZEMANIM | LINKS | ARTICLES | RECIPES | HUMOR | E-MAIL LIST

---
THIS SECTION IS FOR NEWS AND INTERESTING STORIES RELATED TO FOOD, NUTRITION AND FOOD PROCESSING. THEY ARE NOT NECESSARILY RELATED TO KOSHER BUT MAY BE OF INTEREST TO THE KOSHER CONSUMER, MANUFACTURER OR MASHGIACH.
Newer news
Amsterdam kosher eatery's owner will close shop unless police curb vandalism
May 10, 2018 from the JTA:
"The owner of a frequently vandalized kosher eatery in the Dutch capital said he will close it down unless city officials install permanent security measures outside his business."
"Sami Bar-On's lawyer, Herman Loonstein, told the Het Parool daily Wednesday that his client feels it is "irresponsible to go on like this" at HaCarmel restaurant without permanent security measures."
"In December, a 29-year-old Syrian asylum seeker smashed the restaurant's window while holding a Palestinian flag. He then broke into the restaurant and grabbed an Israeli flag as two police officers watched before they arrested him. He has been charged with vandalism, but not a hate crime."
"Since the incident, the restaurant's windows were smashed once more and are repeatedly spat on and smeared with garbage, Bar-On said. Police beef up security after each incident but leave shortly after, he said."
"Bar-On also claimed the mayor has refused to meet him on the issue. But a municipal spokesperson said that Bar-On has declined several offers by the city to have him meet lower-level officials."
Ritual slaughter allowed only in approved slaughterhouses, EU court rules
May 30, 2018 from the DW.com:
"The verdict follows a denial of approval for temporary slaughterhouses in Belgium's Flemish region during Islamic Eid al-Adha festival. Several Muslim groups said the denial infringed their right to religious freedom."
"Ritual slaughter of animals without stunning must be done only in approved slaughterhouses, the European Union's top court ruled on Tuesday."
"The verdict by the European Court of Justice (ECJ) is a setback for several Muslim organizations and mosques, who had argued that the requirement infringed their right to religious freedom as there were not enough approved slaughterhouses to meet the high demand during festivals."
"What did the court say?
The law that limits ritual slaughter to approved slaughterhouses does not violate religious freedom.
Existing legislation merely serves "organization and technical" purposes.
The fact that there are not enough slaughterhouses to meet the high demand was Belgium's internal problem."
"Violation of EU law: The Tuesday verdict concerns temporary slaughterhouses approved by the Belgian authorities in the Flemish region to meet the high demand during Islamic Eid al-Adha (Feast of the Sacrifice) festival. The government in 2014 said it would no longer approve temporary slaughterhouses because it violated EU law."
"What is the EU law on ritual slaughter? A 2009 EU regulation says that animals must be stunned before being slaughtered. The law, however, makes an exception in the case of ritual slaughters provided such slaughters are carried out in approved slaughterhouses."
NYU Hospital Will Accommodate Satmar Bikur Cholim
May 17, 2018 from the Matzav.com:
"After Satmar Bikur Cholim was suddenly barred from patients' rooms at NYU, leaders of Williamsburg Hatzalah, "Chesed", "Mekimi", and representatives of Satmar kehillos met with NYU Hospital top officials.
NYU reassured their full commitment to serve the community and will continue to accommodate Bikur Cholim activities in accordance with the Hospital policies."
Hasidic volunteers, kicked out of a major NY hospital, blame a clash over medical ethics
May 6, 2018 from the Gifteringotham.com and May 22, 2018 from JTA:
"NYU MEDICAL CENTER located at 550 1st Ave, in Manhattan has stopped a decade's old practice of letting Satmar Bikur Cholim visit by professional volunteers and their ability to serve and offer basic social services to patients and their families. In a sudden change of policy, the NYU Hospital administration didn't notify any volunteer organization professionals that they will not be allowed to give food to patients or advocate on behalf of any patients. The new policies have seriously effected urgent services the organization provides."
"For years, volunteers from the Satmar hasidic movement have fanned out daily across the city, boarding private buses and carrying bags full of kosher food cooked each morning (except Saturday) at the organization's commercial kitchen in Williamsburg, Brooklyn."
"Members of the Satmar Bikur Cholim go to a dozen hospital and rehabilitation centers, bringing food and paying a quick visit to any patient who requests it. The volunteers also provide specific recommendations for doctors and rehabilitation centers, when requested, and the organization can provide financial assistance to needy patients."
"'The Satmar Bikur Cholim director says that the policy change "had to do with our advocacy in the hospital. Because we're very big in patient care management and advocacy, the hospital did not like that we're watching them so closely. NYU Hospital's policies have changed and have become more difficult for the Jewish community.'"
Carbon Monoxide Poisoning Alert
May 16. 2018 from the Star-K:
If you plan to leave on a flame on your gas cooktop (especially covered with a blech) or plan to leave your gas oven on over YomTov, make sure that the area is well ventilated. If oxygen is not provided there is a strong possibility of generating carbon monoxide, which is a lethal gas.
---
The following safety alert is from the rabbi of the Young Israel of Brooklineposted on September 13, 2013.
Please be aware that one must leave a window open or exhaust fan on when a gas range or oven on for the holidays to prevent a possibly fatal buildup of carbon monoxide.
From the COR Detroit: Please consult your Rav regarding what is permissible in case your carbon monoxide detector sounds on Shabbos or Yom Tov.
Branch of popular Israeli coffee chain Aroma goes kosher, bucks rabbinate
May 10, 2018 from the JTA:
"A Tel Aviv branch of the popular Israeli cafe chain Aroma turned kosher and will be supervised by a rabbinic group that is challenging the chief rabbinate's hegemony over kashrut in Israel."
"The Aroma branch on Menachem Begin Street will be certified kosher by the Food Supervision program of the Tzohar Rabbinical Organization, launched two months ago as an alternative to the rabbinate's supervision program. Tzohar must call its service "food supervision" and not kashrut supervision since since Israeli law stipulates that only the Chief Rabbinate may use the word "kosher" in its certifying materials." "The Tel Aviv Aroma branch will now close on Shabbat and Jewish holidays. The Aroma chain reportedly is in talks to bring more branches under Tzohar's supervision."
"Aroma operates eight shops in the United States, in Manhattan, New Jersey, Maryland and Miami Beach. None is certified kosher."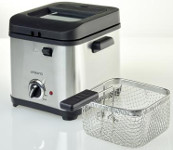 ALDI Recalls Deep Fryers Due to Fire and Burn Hazards
May 10, 2018 from the CPSC :
This recall involves Ambiano mini deep fryers sold in two colors, brushed stainless steel and red. The recalled deep fryers have a black lid and were sold with a metal food basket. The deep fryers measure about 9.45 inches wide by 10.43 inches high by 8.23 inches deep. The units have Ambiano printed on the front. The barcode numbers listed below can be found on the bottom of the unit on the silver rating label.
Ambiano mini deep fryers have been recalled because the deep fryer heating element can overheat, posing fire and burn hazards.
| | |
| --- | --- |
| Color/Model | Barcode Number |
| Stainless Steel Ambiano Mini Deep Fryer | 20072483 |
| Red Ambiano Mini Deep Fryer | 20072490 |
Sold At: ALDI stores nationwide from February 2018 through March 2018 for about $15.
Consumer Contact: ALDI at 800-366-9967 from 8 a.m. to 6:30 p.m. ET Monday through Friday or online at www.aldi.us and click on "Product Recalls" for more information.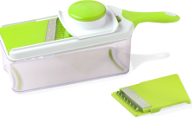 Sharper Image and Frigidaire Mandoline Slicers Recalled by Premier Kitchen Products Due to Laceration Hazard
May 1, 2018 from the CPSC in Conjunction With Healthy Canadians: :
The Sharper Image™ and Frigidaire™ Mandoline slicers have een recalled because the small blades in the julienne slicer attachment can separate from the plastic assembly, posing a laceration hazard.
This recall involves The Sharper Image and Frigidaire Mandoline slicers. The recalled slicers are a non-electric food preparation item used to slice and julienne vegetables. The slicers have a clear plastic container to capture the sliced food, two blade attachments (one large-blade slicer and one small-blade julienne slicer), a holder for the attachments and a plastic knob component to move and hold the food. The model number and UPC code are printed on the packaging. "Frigidaire" is printed on the side of the Frigidaire slicers.
Brand
Model Number
UPC Code
Attachment Color
Measurements
The Sharper
Image
Mandoline
Slicer
12SP1006
709996669580
Light green
The slicer measures 13 x 3 x
3 inches. The julienne blade,measures 5.5
x 3.5 x .25 inches.
Fridigaire
Mandoline
Slicer
12EP203
709996709118
Blue
The slicer measures 10 x
4.5 x 4.5 inches. The julienne blade measures 5 x 3 x .25 inches.
Sold At: Beall's Outlet, Christmas Tree Shops, dd's Discounts, HomeGoods, HomeSense, Kohl's, Macy's Backstage, Marshall's, National Stores/Fallas, Ross, Target and TJ Maxx stores nationwide and online from May 2017 through April 2018 for between $13 and $20.
Consumer Contact: Premier Kitchen Products at 800-304-4035 from 9 a.m. to 5 p.m. ET Monday through Friday, email at recall@pkpny.com or online at www.pkp-recall.com for more information.
Spring Thundershowers Bring Concerns For Matzah Wheat In Eretz Yisrael
April 27, 2018 from the yeshivaworld:
"The winter weather, which suddenly landed in the first trimester of the month of Iyar, also brings with it problems regarding wheat flour for Pesach matzah for the year 5769.
"Rabbonim and mashgichim of the Eida Chareidis checked wheat fields in a number of areas in northern Israel" to determine if the wheat will still be usable for matza.
Food fraud: Over 3600 tonnes of dangerous food removed from EU market
April 28, 2018 from the Barfblog:
"Rotten meat, chemically coloured tuna and fake baby milk powder – these are just a small sampling of the products seized as part of the latest OPSON investigation into the presence of counterfeit and substandard food and beverage products on the market in Europe and beyond."
"Run over the course of 4 months (December 2017 – March 2018) across 67 countries*, OPSON VII resulted in the total seizure of more than 3 620 tonnes and 9.7 million litres of either counterfeit or substandard food and beverages as a results of more than 41 000 checks carried out at shops, markets, airports, seaports and industrial estates. In total some 749 people were arrested or detained with investigations continuing in many countries."
Vinegar can help home cooks battle bacteria on leafy greens
April 16, 2018 from FoodSafetyNews
The author of this article, Carl Custer did a literature review to see if "if anyone had published on the bactericidal effect of vinegar on lettuce."
First: "Before treating your lettuce or other fresh greens, remove broken or bruised leaves. The breaks enable pathogens to enter the cells and thus, become protected from the lethal effect of the vinegar or whatever antimicrobial you use. Additionally, the liquid from broken or bruised leaves aids the multiplication of both good and bad bacteria associated with the produce (Takeuchi & Frank 2000, Brandl 2008)."
"Washing the leaves may reduce any unattached bacteria but has a poor effect on removing attached bacteria. There are many ways to sanitize or disinfect salad greens. Irradiation, cold plasma, electrolyzed water, and chlorine come to mind. But these are not readily available in most home kitchens. Thus, the purpose of this article: To review current science and offer practical recommendations to improve the safety of salads."
Second: "Spoiler alert, vinegar kills pathogenic bacteria. Fans of the Law of Mass Action, will be happy that vinegar's lethal effect is dependent on time, temperature, and the concentration of acetic acid (usually 6%). Balsamic vinegar, with its additional phenols is the cat's pajamas of lethality."
Third: "There's plenty of science on the effect of vinegar. My conclusions: Vinegar is a useful household sanitizing agent for leafy greens and other produce." "Personally, I would douse the lettuce with plain white vinegar then finish chopping the other salad ingredients. Finally give the greens a quick water rinse, shake (or spin), then toss the remaining ingredients with your favorite creamy dressing. See the article for details."
Older news
The information posted is from secondary sources. We cannot take responsibility for the accuracy of the information.