K A S H R U T . C O M©
The Premier Kosher Information Source on the Internet
---
HOME | PASSOVER | CONSUMER | COMMERCIAL | TRAVEL | ZEMANIM | LINKS | ARTICLES | RECIPES | HUMOR | E-MAIL LIST

---
THIS SECTION IS FOR NEWS AND INTERESTING STORIES RELATED TO FOOD, NUTRITION AND FOOD PROCESSING. THEY ARE NOT NECESSARILY RELATED TO KOSHER BUT MAY BE OF INTEREST TO THE KOSHER CONSUMER, MANUFACTURER OR MASHGIACH.
Newer news
IDF Starts New Department for Interested Female Soldiers: Army Kashrut
December 3, 2018 from the Jewish Press:
"For the first time, women will be able to fill positions as kosher food supervisors at IDF bases, according to Galei Tzahal on Thursday.
"The first group of applicants is expected to be put into position in two weeks."
"The decision to go ahead with the plan was given by head of the Personnel Directorate, Maj. Gen.l Moti Almoz, 14 years after the IDF initially decided to open the department to female soldiers."
"The military rabbinate had put the brakes on the move, but the Personnel Directorate has now ordered the military rabbinate to implement the decision and enlist recruits."
"The female supervisors will undergo a special military kashrut course for two-and-a-half weeks before taking up positions in kitchens and food-preparation facilities in numerous army units."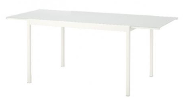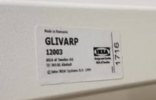 IKEA Recalls Dining Tables Due to Laceration Hazard
November 27, 2018 from the CPSC in conjuntion with Healty Canadians:
GLIVARP extendable dining tables have been recalled because the table's glass extension leaf can detach and fall unexpectedly, posing a laceration hazard.
This recall involves IKEA GLIVARP extendable dining tables in white. The recalled tables have four steel legs and a glass table top with an extension that can be pulled out to the side. They measure about 29 inches tall by 49 inches long. The glass table top extension measures about 25 inches long. The supplier number (12003) is printed on a sticker on the underside of the table frame. "GLIVARP" and the IKEA logo are also printed on the sticker.
IKEA has received three reports of the table's glass extension leaf detaching and falling unexpectedly, one of which included a minor injury where no medical attention was needed.
Sold Exclusively At IKEA stores nationwide and online at www.ikea-usa.com from February 2017 through October 2018 for about $300.
Consumers should immediately stop using the recalled dining tables and return them to any IKEA store for a full refund or free replacement table.
Consumer Contact: IKEA toll-free at 888-966-4532 anytime or online at www.ikea-usa.com and click on Press Room at the bottom of the page, then on Product Recalls at the top of the page for more information.
Israel: Listeria outbreak linked to 'Jerusalem Deli' meats
November 24, 2018 from the OutbreakNewsToday:
Israeli health officials report concluding their investigating into a Listeria monocytogenes outbreak, primarily in the south of the country, within the Bedouin sector settlements.
The products linked to the outbreak are manufactured by the Almadain Food Products Ltd. (Madco) Ltd., a company in Jerusalem.
More than 30 listeriosis cases were reported to the Ministry of Health, some are severe and include invasive infection and fetus mortality, mostly in the southern region among the Bedouin sector settlements.
In food sampling carried out by the Southern District National Food Services according to information emanating in morbidity incidents investigation, Listeria monocytogenes bacterium has been found in "Jerusalem Deli Pastrami" and the "Jerusalem deli smoked salami" products in the 200 and 400 grams packages by Almadain Food Products Ltd. (Madco) Ltd. The manufacturing date of the products is 08/10/2018 and the expiry date is 07/01/2019.
Ed. note: This is not a kosher product.
Airbnb blacklists Israeli communities in Judea and Samaria
November 21, 2018 from the 'worldIsraelNews and 'worldIsraelNews:
"On Monday, Airbnb announced it is removing lodging listings placed by Israelis who live in communities in Judea and Samaria."
"The leading peer-to-peer app allows users to rent out rooms in their dwellings to guests, using their homes as hotels or short-term rentals."
"According to the statement released by Airbinb, the company concluded "it should remove listings" in Israeli communities in Judea and Samaria, which it referred to as 'the occupied West Bank.'"
"The San Francisco-based company admitted its decision, which affects some 200 listings, was for political reasons. In a statement on its website, the company made it clear that it had accepted the Palestinian narrative of the conflict."
"Michael Oren, current deputy minister in the prime minister's Office and Israel's former ambassador to the U.S., tweeted Monday that Airbnb should be boycotted:"
"Airbnb blacklists Jewish apartments in Judea and Samaria – not Palestinian apartments, not apartments in Turkish occupied Cyprus, in Moroccan occupied Sahara, not in Tibet or the Crimea. Airbnb's policy is the very definition of anti-Semitism. No one should use its services."
FDA Extends Comment Period for Plant-Based Dairy Labeling
November 21, 2018 from the Specialty Food News and FDA:
"The U.S. Food and Drug Administration has extended the comment period for a notice related to the use of dairy food names like "milk," "cultured milk," "yogurt," and "cheese" for plant-based products. The agency will accept public comment through Jan. 28, 2019."
"The comments are meant to inform the agency's development of an approach to the labeling of plant-based products that consumers may substitute for dairy foods."
USDA, FDA to Split Lab-grown Meat Oversight
November 20, 2018 from the Specialty Food News and BeefMagazine.com:
"The U.S. Department of Agriculture and the U.S. Food and Drug Administration will jointly oversee the production of cell-cultured food products derived from livestock and poultry, according to the agencies. An agreement between the agencies allows FDA to oversee cell collection, cell bank and cell growth, and differentiation, while USDA will oversee the production and labeling of food products derived from the cells of livestock and poultry."
"The administration does not believe new legislation is needed because the agencies have the statutory authority necessary to appropriately regulate cell-cultured food products derived from livestock and poultry."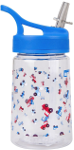 Mountain Warehouse Recalls Children's Water Bottles Due to Choking Hazard
November 8, 2018 from the CPSC :
The Children's water bottles's spout can detach, exposing a small ring, posing a choking hazard to children.
| | |
| --- | --- |
| Water Bottle color/prin | Barcode |
| Blue lid with tractor print | 5052776381048 |
| Yellow lid with hedgehog print | 5052776412063 |
| Pale Blue lid with shark print | 5057634043526 |
| Turquoise lid with fish print | 5057634043533 |
| Pink lid with horse print | 5052776381031 |
Consumers should immediately stop using the water bottles, take them away from young children and contact Mountain Warehouse for a full refund.
Consumer Contact: Mountain Warehouse toll-free at 866-313-2493 from 9 a.m. to 5 p.m. ET Monday through Friday, email at mailto:info@mountainwarehouse.com or online at www.mountainwarehouse.com and click on "product recall" link at the bottom of the homepage for more information.
More confirmed ill in outbreak linked to fresh cucumbers; no recall yet
November 5, 2018 from the FoodSafetyNews:
"As the patient count continues to increase, investigators in Canada are looking look for clues in an ongoing Salmonella Infantis outbreak health officials say is linked to long English cucumbers."
"The Public Health Agency of Canada went public with information about the outbreak on Oct. 19, reporting 45 people across five provinces had been confirmed infected. As of Nov. 2, the agency reported another five people have been confirmed sick."
"Patients and public health officials report illness onset dates beginning on June 17 and running through Sept. 30. Additional people are expected to be confirmed as outbreak victims, partly because it can take several weeks for confirmation testing and reporting to be completed."
"Except for one patient from Quebec — who reported traveling to British Columbia before becoming ill — all of the confirmed outbreak victims are in five western provinces. British Columbia has been hardest hit with 42 cases, followed by Alberta with five. Saskatchewan, Manitoba and Quebec each have one confirmed case."
"Anyone who has eaten any long English cucumbers and developed symptoms of Salmonella infection should seek medical attention. Sick people should tell their doctors about the possible exposure to Salmonella bacteria because special tests are necessary to diagnose salmonellosis. Salmonella infection symptoms can mimic other illnesses, making diagnosis difficult."
"Symptoms of Salmonella infection can include diarrhea, abdominal cramps, and fever within 12 to 72 hours after eating contaminated food. Otherwise healthy adults are usually sick for four to seven days. In some cases, however, the diarrhea may be so severe that patients need to be hospitalized."
Penn State researchers find farmers markets' food safety inadequate; E. coli and Listeria abound
November 2, 2018 from the FoodSafetyNews:
Penn State researchers who completed the final phase of an innovative five-year study found that many vendors at farmers markets take inadequate precautions to prevent the spread of foodborne illness.
"Using a comprehensive three-way approach, the research assessed food safety behaviors at Pennsylvania farmers markets using direct concealed observations, state sanitarian observations, and self-reported vendor surveys. The results revealed key distinctions between observed vendor food-handling practices — by both researchers and state sanitarians — and vendor self-reported practices."
"Vendors were found to demonstrate insufficient or high-risk behaviors in the areas of hand washing, personal hygiene and cross-contamination. Notably, researchers found that the use of disposable gloves at Pennsylvania farmers markets remains low, even among vendors who sell unpackaged, ready-to-eat foods."
"Direct concealed observations conducted by the researchers found less than 24 percent of the vendors had disposable gloves present at vending stands, despite the fact that a majority of surveyed vendors sold raw or temperature-control-for-safety foods, such as meat and seafood, as well as ready-to-eat foods at the same stand. And within the group of vendors observed to be using disposable gloves, slightly less than half used them improperly."
"The handling of money and unpackaged foods without changing gloves in between tasks was the most common improper glove-use behavior seen by both researchers and Pennsylvania state sanitarians."
"E. coli was present in 40 percent — 20 of 50 — of beef samples; 18 percent — 9 of 50 — of pork samples; 28 percent — 15 of 54 — of kale samples; 29 percent — 15 of 52 — of lettuce samples; and 17 percent — 8 of 46 — of spinach samples. They found Listeria in 8 percent — 4 of 50 — of beef samples; 2 percent — 1 of 54 — of kale samples; 4 percent — 2 of 52 — of lettuce samples; and 7 percent — 3 of 46 — of spinach samples."
FDA considers whether sesame should be subject to allergen labeling law
October 29, 2018 from the FDA and FoodSafetyNews:
"FDA Commissioner Scott Gottlieb announced plans that could result in sesame being added to the list of "major food allergens," an action that would almost certainly increase the number of food recalls. Currently, milk, eggs, fish, shellfish, tree nuts, peanuts, wheat and soybeans are the eight "major food allergens" that must be specifically declared on food labels."
"Putting sesame on the allergen labeling list is based partly on research by the Center for Science in the Public Interest (CSPI). Based on a 2018 household survey, CSPI found 300,000 Americans are allergic to sesame. It reported sesame ranks as No. 9 after the Top 8 major food allergies."
"Sesame's current listing as a mere ingredient is confusing because it can be listed as unspecified spice, natural flavor, tahini, benne, various other names, and as unspecified oil, flour, paste and powder."
"Sesame is currently on the major allergen lists in the European Union, Canada, and Australia."
The FDA "has issued a request for information, to gather information about the prevalence and severity of sesame allergies in the U.S., as well as the prevalence of sesame-containing foods sold in this country."
Older news
The information posted is from secondary sources. We cannot take responsibility for the accuracy of the information.