K A S H R U T . C O M©
The Premier Kosher Information Source on the Internet
---
HOME | ALERTS | CONSUMER | COMMERCIAL | PASSOVER | TRAVEL | ZEMANIM | LINKS | ARTICLES | RECIPES | HUMOR | E-MAIL LIST

---
Encrusted Lamb Chops with Apple Pear Chutney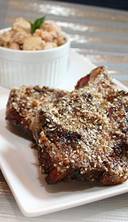 ingredients
5-6 Lamb Chops
1/4 cup pancake syrup
1 cup Manischewitz® Italian Herb Coating Crumbs
For Chutney:
1/2 cup chopped walnuts, lightly toasted
2 Granny Smith apples, cut into small chunks (peeled)
2 large pears, cut into small chunks (peeled)
1/2 cup golden raisins
5 tablespoons Manischewitz® Premium Grape Juice or Sweet Wine
4 tablespoons Manischewitz® Golden Honey
1 teaspoon grated orange peel
3/4 teaspoon cinnamon
1 tablespoon extra virgin olive oil to grease roasting pan
Directions
Heat oven to 350 degrees F.
Using a brush, spread a thin layer of pancake syrup on the top of your lamb chops. Then either spoon on or dredge one side of your lamb chops in the Manischewitz® Italian Herb Coating Crumbs. Shake off the excess and place into a greased roasting pan, crumb side up.
Bake in oven for 35-40 minutes.
While lamb is cooking, combine all ingredients for chutney and mix well. (Can be made one day in advance). Chill and serve cold, or at room temperature with lamb chops.
Back to the Kashrut.com recipe Page
---