K A S H R U T . C O M©
The Premier Kosher Information Source on the Internet
---
HOME | ALERTS | CONSUMER | COMMERCIAL | PASSOVER | TRAVEL | ZEMANIM | LINKS | ARTICLES | RECIPES | HUMOR | E-MAIL LIST

---
Matzo Tomato Lasagna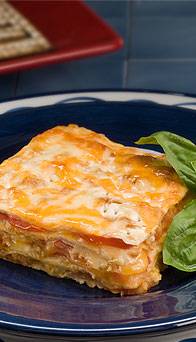 ingredients
1/2 onion, diced
Extra Virgin Olive Oil
3 tomatoes sliced into thin rounds
8-12 Manischewitz® Matzos
2 1/2 cups shredded cheese (mix mozzarella and cheddar) or Haskeval – Greek cheese
Fresh basil for garnish
Directions
Preheat oven to 350 degrees F.
In small skillet sauét the onions in a little olive oil until lightly browned. Add the tomatoes and sauté until thoroughly combined with onions. Remove from flame and set aside. Bring a pot of salted water to a boil. Using a slotted spatula, place one matzo into boiling water for one minute or until soft. Remove, briefly drain and transfer into a greased 9 x 13 pan. Repeat with second matzo and overlap matzos until bottom of pan is covered. Drizzle a little olive oil over matzo. Layer some of the tomato and onion mixture over matzo, spreading evenly. Sprinkle the cheese mixture over tomatoes. Repeat process over again from the beginning until you have created matzo lasagna with 4-6 layers, ending with the cheese layer.
Place in oven until cheese has melted, about 8-10 minutes. Let cool slightly before serving. Garnish with fresh basil.
Back to the Kashrut.com recipe Page
---