parve
Makes 6-8 servings
non-gebrokts
Quinoa has become very popular with cooks today, especially during Passover when this berry, which tastes like a grain, stands in nicely for what we crave. It is high in protein and has other healthful characteristics.
A note about quinoa: Although the halachic status of quinoa is ambiguous, many kashrus organizations deem it acceptable, while others do not. Consult your local rabbi for clarification. See our article on Quinoa and Passover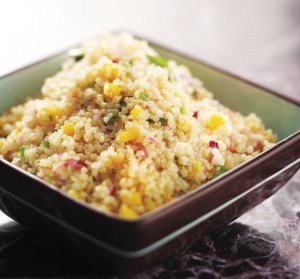 ingredients
1½ cups dry quinoa
3 cups water
1 jalapeño pepper, seeded and minced
6 fresh basil leaves, finely chopped
3 sprigs fresh cilantro, leaves gently torn (discard stems)
1/3 cup minced red onion (about &frac12 small red onion)
&frac12 firm mango, not too ripe, peeled, pitted, and cut into 1/8-inch dice
2 tablespoons extra-virgin olive oil
¾ teaspoon fine sea salt
1 tablespoon plus 1 teaspoon lime juice
Directions
Rinse the quinoa thoroughly either in a strainer or in a pot, and drain. (Do not skip this step or a bitter, soap-like natural coating will remain.)
Once the quinoa is drained, place it into a medium pot with the water. Bring to a boil.
Reduce the heat and simmer until the water is absorbed, about 10–15 minutes, or until the grains turn translucent and the outer layer pops off. Drain.
Meanwhile, in a medium bowl, combine the minced jalapeño, basil, cilantro, red onion, and mango. Drizzle in the oil, salt, and lime juice. Stir to combine.
Add the drained quinoa and toss to combine. Season with salt to taste. Serve warm or at room temperature.