K A S H R U T . C O M©
The Premier Kosher Information Source on the Internet
---
HOME | ALERTS | CONSUMER | COMMERCIAL | PASSOVER | TRAVEL | ZEMANIM | LINKS | ARTICLES | RECIPES | HUMOR | E-MAIL LIST

---
Savory Spinach and Cheese Pancakes
Reprinted with permission from Real Life Kosher Cooking
by Miriam Pascal
© copyright 2017 by Miriam Pascal
Dairy
Yield 18 pancakes
While I generally think of cheese pancakes being a sweet treat, I decided to turn them savory for a low-carb dinner. You can serve these as an appetizer for a dairy meal, on Chanukah as an alternative to potatoes, or simply for a dairy weeknight dinner when you don't want to serve pasta.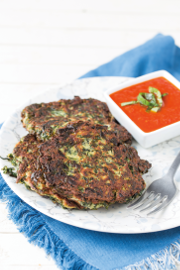 Ingredients
1 pound frozen spinach, defrosted and liquid squeezed out
1 pound ricotta cheese
1 clove garlic, minced
6 eggs
2 Tablespoons flour
1½ teaspoons kosher salt
½ teaspoon black pepper
½ teaspoon dried basil
¼ teaspoon nutmeg
oil, for frying
warm marinara sauce,
for serving (see Note)
Directions
Place spinach, cheese, eggs, garlic, flour, salt, pepper, basil, and nutmeg into a large bowl. Mix well until combined and smooth.
Heat about ¼-inch oil in a frying pan over medium heat.
Drop about ¼ cups of mixture into hot oil, pressing down to flatten into patties. Fry for 2-4 minutes per side, until the outside is browned and crispy.
Serve hot, with marinara sauce.
Note You can use store-bought marinara sauce or prepare the homemade version on page 295.
Plan Ahead
Pancakes can be made a day or two ahead of time. Rewarm, uncovered, in a single layer in the oven at 350°F until heated through.
Back to the Kashrut.com Home Page

---