K A S H R U T . C O M©
The Premier Kosher Information Source on the Internet
---
HOME | ALERTS | CONSUMER | COMMERCIAL | PASSOVER | TRAVEL | ZEMANIM | LINKS | ARTICLES | RECIPES | HUMOR | E-MAIL LIST

---
White Wine and Citrus Roasted Chicken
Reprinted with permission from Real Life Kosher Cooking
by Miriam Pascal
© copyright 2017 by Miriam Pascal
Meat
Yield 6-8 servings
I learned this technique from a recipe in Susie Fishbein's Kosher by Design Brings It Home. Cooking the chicken covered allows it to cook through; then the basting gets it deeply caramelized and so delicious. The citrus adds brightness and freshness, cutting the sweetness for a really well-balanced dish. The flavors here may seem sophisticated, but rest assured that even the pickiest kids asked for seconds!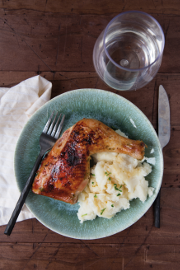 Ingredients
8 pieces bone-in,
skin-on chicken
 (tops or bottoms)
juice of ½ small grapefruit
juice of ½ lemon
juice of 1 small orange
juice of 1 lime
¾ cup semi-sweet
white wine
¼ cup honey
1 teaspoon dried parsley OR 1 Tablespoon fresh chopped parsley
1 teaspoon kosher salt
¼ teaspoon black pepper
Directions
Preheat oven to 350°F.
Place chicken into a large pan. Cover pan tightly; bake for 30 minutes.
Meanwhile, whisk together remaining ingredients until smooth.
After 30 minutes, raise oven temperature to 450°F.
Uncover pan; pour citrus mixture over the chicken. Cook for about 40 minutes, basting every 10 minutes, until the chicken is cooked through and the tops are browned and caramelized.
Plan Ahead
This chicken is best the day it's made, but it can be frozen. Reheat, uncovered, until warmed through.
Back to the Kashrut.com Home Page

---