K A S H R U T . C O M©
The Premier Kosher Information Source on the Internet
---
HOME | ALERTS | CONSUMER | COMMERCIAL | PASSOVER | TRAVEL | ZEMANIM | LINKS | ARTICLES | RECIPES | HUMOR | E-MAIL LIST

---
Zucchini Potato Latkes
Because of the miracle of the oil in the story of Chanukah, it's traditional to eat something oil-fried for the holiday.
Latkes - potato pancakes - are the customary fried dish. This delicious version features zucchini in addition to the potatoes, and makes light, delicate pancakes. Perfect for the Festival of Lights, these are scrumptious as is, or with applesauce or sour cream.
For best latke consistency, half the raw potatoes are grated using the chopping blade of a food processor, half with its fine grating disc. Or use a hand box-grater, grating half the potatoes on the large-hole side, the remainder on the fine-hole. The latkes can be made cocktail size-they're great passed with drinks.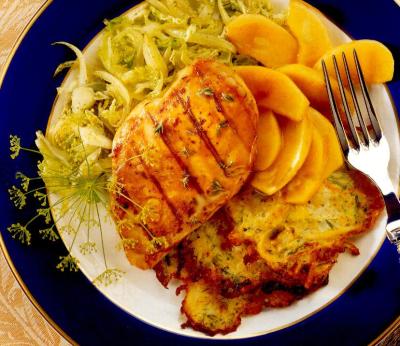 ingredients
2 medium zucchini
4 large potatoes, peeled, cut to fit a food processor feed tube, and placed in bowl of water to prevent discoloration
4 eggs
2 to 4 tablespoons flour or fine matzo meal during Passover (see Note)
1 large onion, Quartered
2 tablespoons chopped fresh dill
Salt and freshly ground black pepper
Canola or other vegetable oil, for frying
Makes thirty-two 2 1/2-inch latkes or 72 cocktail size
Directions
In a food processor fitted with a fine grating disk, grate the zucchini. Squeeze out any extra liquid and place in a large bowl.
Grate half the potatoes in the food processor with the grating disc, or on the finest side of a box -grater, and squeeze out any liquid. Quickly add the potatoes to the zucchini. Add the eggs and the flour until the mixture is no longer runny and stir to blend.
In the processor fitted with a metal blade, pulse-chop the onion and remaining potato finely, or grate the potato only on the large-hole side of a box -grater and combine with the onions. Add to the zucchini-potato mixture. Add the dill and season to taste with the salt and pepper. Stir to blend well.
In a large, heavy skillet, heat 1/8 to 1/4 inch of vegetable oil over medium heat. Stir the batter if it appears to have separated. When the oil is hot (a drop of the potato mixture added to it will sizzle immediately), spoon quarter-cups of the mixture, or tablespoons for cocktail lakes, into the oil. Do not crowd. Brown the pancakes on both sides, about 5 minutes total. Drain them on brown paper or paper towels and keep warm while preparing additional batches. Serve immediately.
Note: To make fine matzo meal, pulse-chop regular matzo meal using a food processor
Back to the Kashrut.com Home Page

---