The following health alert is from the FDA on September 9, 2015.


Appeeling Fruit Inc. in Dauberville, Penn. is voluntarily recalling a limited number of consumer packages of fresh sliced apples with Best-if-Used-by dates of 09/14/15 and 09/21/15, due to the potential to be contaminated with Listeria monocytogenes.
The recalled product was shipped to retail distribution centers; wholesalers; and foodservice customers in the states of Florida, Massachusetts, New York and Pennsylvania between August 31 and September 2.
Consumers can identify the recalled consumer productsby the brand,UPC codes and Best-if-Used-by dates provided in the table at the end of this release.
Anyone who has recalled product in their possession should not consume it, and should either dispose of it properly or return the recalled product to the place of purchase for a refund. Please keep proof of product purchase, if available. Consumers with questions may contact the company's consumer information desk at 1-866-873-0468, or visit its website at http://www.appeelingfruit.com.
The recall is being initiated after the company was informed that an environmental sample taken in the production facility as part of a routine sampling program tested positive for the bacteria. None of the final product tested positive, and subsequent test results from the facility have been negative.
September 9, 2015 Voluntary Recall
Product Description and Consumer Packaging
Brand/Label on bag
UPC on bag if Applicable
Best If Used By date on bag
12oz. package with fresh, green apple slices
Appeeling Fruit
58324 00950
09/21/2015
12oz.package with fresh, red apple slices
Appeeling Fruit
58324 00900
09/21/2015
Convenience pack of 8, 2oz. sized bags of fresh, red apple slices
Appeeling Fruit
Bag of 8, 2 oz. bags
58324 08400

Individual 2 oz bags
58324 00400

09/21/2015
2oz. sized bags of fresh, red apple slices
Burger King (BK) Crown
n/a
09/14/2015
2oz. sized bags of fresh, red apple slices
Snack Fresh
74641 00982
09/21/2015
The following kashrus advisory is from the Rabbinical Council of New England on September 11, 2015.
The Wholesale bakery of Finagle a Bagel is and has been certified by the KVH for many years, however none of their retail locations are Kosher.
A advertisement has been distributed in the Jewish community notifying of a sale on bagels & other prepared foods.
Please note: all items are being sold in sealed packages - and only those items with a KVH Symbol are certified. Specifically Bagels & Challah are the only products we certify when baring a KVH Symbol.
Remember! it is important to always verify products purchased are certified by checking for a reliable Kosher symbol, a current Kosher Certificate is on display in Food Service Establishments, and Event Specific Kosher certificate is present at every Certified Event.
The above statement is true even when purchasing food from or in a establishment that is known to be Reliably Kosher.
The following kashrus alert is from the OU on September 9, 2015.

EAT Chia Chocolate Chunk Chia Bites, Drink Chia LLC: Product contains chocolate manufactured on Dairy equipment and erroneously bears an OU symbol, not the proper OU D (dairy) designation. However, the product does not contain dairy ingredients.
Some Kashrus agencies use a DE symbol, but the OU has chosen not to use a DE designation because it is felt it may be confusing to the kosher consumer. Also, to be a true DE product, the equipment must be properly cleaned of residue after dairy production, and that level of clean-up is sometimes difficult to maintain and guarantee. DE products may be eaten after meat, but may not be eaten together with or cooked with meat products. Future packaging will be revised.
The following Mexican kashrus alert from KMD Mexico on September 11, 2015.
El Establecimiento MI PASTOR ubicado en Avenida Stim 1364, Lomas del Chamizal , NO CUENTA CON NUESTRA SUPERVISIÓN.
Translation by Google Translate: Establishing MI PASTOR on Avenida Stim 1364, Lomas del Chamizal, DOES NOT HAVE OUR SUPERVISION.
The following South African kashrus alert is from the Beth Din of Johannesburg on September 11, 2015.
GUIDELINES FOR SHEMITTAH PRODUCE
Pomegranates available at KOSHER WORLD and at FRESH FELLAS are approved by the Beth Din subject to the conditions below:
All Israeli fresh fruit which is currently available in South Africa, even under the 'heter mechira' is to be regarded as having Kedushat Shevi'it (sanctity of the seventh year).
Any Israeli vegetables should be avoided if at all possible. [Please note: 'Israeli Tomatoes' are locally grown and are not a product of Israel]
Purchasing the fruit, when buying from a Jew, should be done by credit card, not a cash payment.
The Terumot and Ma'asrot (Ma'aser Rishon and Ma'aser Oni) must be separated but without a b'rachah [Please see the UOS website under 'Produce of Israel'].
The fruit must be eaten in the way they are generally eaten locally, as follows:
Edible fruit must not be given to non-Jewish guests or animals.
Fruit that is usually eaten cooked (such as cooking apples) must not be eaten raw.
Fruit that is usually eaten raw (such as an orange) must not be cooked.
Fruit that is eaten both raw or cooked can be eaten either way.
Juice may only be extracted from fruit where this is normal practice, for example: oranges, apples or even pomegranates, but it is prohibited to extract juice from fruit where this is unusual.
Leftovers, peels etc. which are still edible for either humans or animals must be wrapped first and only then be disposed of in the usual manner.
If the fruit is cooked in a soup for example and adds flavour, all the food must be regarded as having Kedushat Shevi'it.
Ensure that the fruit is consumed before the time ofbiur*, i.e. not beyond January 2016.
*A period when there is no longer any such produce in the fields.
The following information on chodosh is from Rabbi Y. Herman on September 10, 2015.
"The following urgent bulletin has just been received from the OU:
The oats used in General Mills cereals has been Chodosh from most factories since the packaging date of Aug 3. (There is one factory that is later, Aug 15. We will issue a new bulletin when we find out the factory code for this factory.) This means that all Cheerios and other General Mills cereals that contain oats will have a Chodosh "Best if used by" date on the package of Aug 10 2016. This development took the staff the OU and General Mills by surprise since no one can remember having such an early Chodosh date from General Mills.
We are still waiting for an update on the Chodosh starting date on Quaker oat meal and other oats products. Meanwhile, the general starting date estimate for oats being Chodosh in cereals is being scaled back from Sept 1 to Aug 4.
More information will be posted as we receive it. Please note that it was the fear of such unexpected developments has been holding up the publication of the first issue of the Guide to Chodosh, which otherwise is ready to go to print."
The following Mexican kashrus alert regarding a product in Panaman is from One Kosher Twitter Feed on September 9, 2015.

La salsa China de la marca al gusto en Panamá por error uso el logotipo kosher, la compañía acepto su error y retiro del mercado el producto, puede ser que en algunos lugares aún haya el erróneo, favor de No consumir.
*reenvíalo a tus conocidos en Panamá.
Translation La salsa China found in Panama bears an unauthorized One Kosher symbol. This product has been recalled.
The following health alert is from the FDA and .foodsafetynews.com/ on September 4, 2015.


Andrew and Williamson Fresh Produce ("A&W") of San Diego, California is voluntarily recalling all cucumbers sold under the Limited Edition® label during the period from August 1, 2015 through September 3, 2015 because it may be contaminated with Salmonella.
A&W is currently working with health authorities to determine if, in fact, this product is the source of an outbreak of Salmonella with illnesses being reporting in as many as 27 states. In the meantime, out of an abundance of caution, the company is taking all actions necessary to prevent further consumption of potentially affected products. These actions include this voluntary recall and all harvesting and packing of cucumbers with the potential to be linked to this outbreak have been stopped until further information is known. A&W has also contacted all customers who may have received this product so that product in marketing channels can be removed.
Limited Edition® cucumbers were produced in Baja California and distributed in the states of Alaska, Arkansas, Arizona, California, Colorado, Florida, Idaho, Illinois, Kansas, Kentucky, Louisiana, Mississippi, Minnesota, Montana, New Jersey, New Mexico, Nevada, Oklahoma, Oregon, South Carolina, Texas, and Utah and reached customers through retail, food service companies, wholesalers, and brokers.
These cucumbers are shipped in a black, green, yellow, and craft colored carton which reads "Limited Edition Pole Grown Cucumbers." This variety is often referred to as a "Slicer" or "American" cucumber. It has a dark green color. It typically has a length of 7 to 10 inches and a diameter of 1.75 to 2.5 inches. In retail it is typically is sold in a bulk display without any individual packaging or plastic wrapping. In food service it is typically served as part of a salad.
According to the Centers for Disease Control, 285 cases of Salmonella Poona have been reported to date in 27 states.
Consumers who have purchased Limited Edition® brand cucumbers are urged not to consume them and to return them to the place of purchase for a full refund or to dispose of them. Consumers with questions may contact Andrew & Williamson Fresh Produce by visiting the company website at www.andrew-williamson.comdisclaimer icon or by calling the company at (844) 483-3864.
Below is were A&W sells produce, but not all may have sold the recalled cucumbers: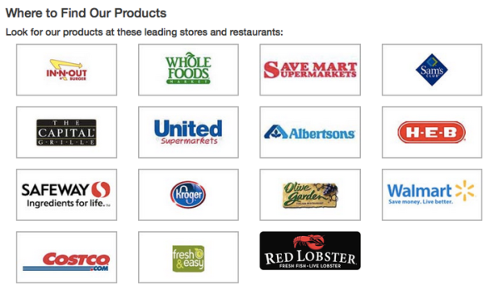 The following Canadian health alert is from the CFIA on September 6, 2015 with additional information at CFIA on Sept 8, 2015 and CFIA on September 9, 2015.
Safeway is recalling field cucumbers and various in-store produced products that contain cucumbers purchased from Safeway due to possible Salmonella contamination. Consumers should not consume the recalled products described below.
This recall applies to fresh field cucumbers sold in bulk, unwrapped and various in-store produced products that contain cucumbers, such as Greek salad, vegetable trays, sushi and sandwiches purchased from Safeway on or before September 6, 2015. Consumers who are unsure if they have purchased affected products should check with their Safeway store.
Recalled products
Brand Name
Common Name
Size
Code(s) on Product
UPC
None
Field cucumbers (bulk, unwrapped)
Variable
Purchased from Safeway on or before September 6, 2015

PLU 4062

Safeway
Various in-store produced products that contain cucumbers (Greek salad, vegetable trays, sushi and sandwiches)
Variable
Purchased from Safeway on or before September 6, 2015
Various
Various
Any in-store produced products that contain field cucumbers
Variable
Purchased from the listed retail stores on or before September 8, 2015
Various
None
Field cucumbers
(bulk, unwrapped)
Variable
Purchased from Save On Foods, PriceSmart Foods, Coopers Foods, Overwaitea, and Freson Brothers on or before September 4, 2015
PLU 4062
Field Cucumbers - List of Stores in Canada here
The following kashrus alert is from the OU on September 9, 2015.

Jelly Belly Chocolate Dutch Mints, Jelly Belly Candy Company, Fairfeild CA: The Orthodox Union certifies Jelly Belly Chocolate Dutch Mints as an OU D - Dairy product. This product contains dairy ingredients as indicated in the ingredient statement. Some packaging was printed with a plain OU symbol, without the D - Dairy designation. It is primarily sold in the UK. Corrective measures have been implemented.
The following kashrus alert is from Kosher Miami on September 9, 2015.
Please be advised that Fresco Express, which was a small outlet in the Chase Building at 19495 Biscayne Blvd, has been sold, and it will now operate as Rococoa Cafe and Bistro. Rococoa Cafe and Bistro is NOT kosher certified.
However, Rococoa Cafe will carry sealed and ready to eat products prepared by Fresco, which ARE certified by Kosher Miami.
The only products sold by Rococoa Cafe that are certified as kosher are the ones prepared and sealed by Fresco, with the KM logo on the packaging.
Older alerts
The information posted is from secondary sources. We cannot take responsibility for the accuracy of the information.
Copyright © kashrut.com. Permission is granted to reprint these alerts in hardcopy print media if kashrut.com is credited as the source of the information.
כל האומר דבר בשם אומרו, מביא גאלה לעולם אבות ו"ו