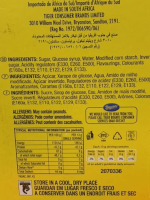 June 10, 2021: From the South African Beth Din in response to a question from a reader:
Jelly Tots, unfortunately, are still NOT kosher. Only very old stock bearing the BD logo on the actual little packets are okay. The outer box bearing the BD logo is also NOT okay. Going forward, the company has endeavoured to cover the BD logo with stickers before the boxes leave the factory.
---
October 18, 2020: From the Beth Din of Johannesburg:
We have received new information from Tiger Brands that produces Jelly Tots. They have recently introduced grape juice into some of the variations of Jelly Tots which is a non-kosher ingredient.
Therefore, please note, that Jelly Tots requires a kosher logo and any variation without a kosher logo is not kosher certified.
We are working together with the company to find a possible alternative solution going forward.