The following American and Canadian milk allergy alert is from the FDA on August 25, 2015 and CFIA on August 26, 2015.


Jo's Candies of Torrance, California is voluntarily recalling Trader Joe's Dark Chocolate covered Honey Grahams with Sea Salt (SKU 55024), because it may contain milk, which was not declared on the label.
The Trader Joe's Dark Chocolate covered Honey Grahams with Sea Salt is packaged in an 8 oz. clear tub. The potentially affected product was distributed to Trader Joe's stores nationwide. The voluntary recall was initiated by Jo's Candies after Trader Joe's was contacted by a customer.
Customers who have purchased the Dark Chocolate covered Honey Grahams with Sea Salt may return it to Trader Joe's for a full refund. Customers with questions may contact Jo's Candies at (310) 257-0260 8:00 AM- 5:00PM PST, Monday-Friday.
All lots of Dark Chocolate covered Honey Grahams with Sea Salt are being recalled, see the lot codes listed below. Refer to the picture and location of the lot code on the container. The lot code may be found on the clear side panel to the right or left of the label containing the product name.
UPC
Product Description
"BEST BY"
Dates
00550246
Trader Joe's Dark Chocolate covered Honey Grahams with Sea Salt - 8 oz. clear tub
16 Mar 2016, 17 Mar 2016, 18 Mar 2016, 19 Mar 2016, 20 Mar 2016, 21 Mar 2016, 22 Mar 2016, 30 Mar 2016,
03 Apr 2016, 04 Apr 2016, 05 Apr 2016, 08 Apr 2016, 09 Apr 2016, 10 Apr 2016, 11 Apr 2016, 12 Apr 2016, 15 Apr 2016, 16 Apr 2016, 17 Apr 2016, 18 Apr 2016, 19 Apr 2016, 22 Apr 2016, 23 Apr 2016, 26 Apr 2016, 29 Apr 2016, 30 Apr 2016,
01 May 2016, 02 May 2016, 03 May 2016, 09 May 2016, 11 May 2016, 13 May 2016, 14 May 2016
The following kashrus alert is from Kosherquest.org in Los Angeles on August 13, 2015.
The KCSS (Rabbi Elazar FRankel) has found an insect infestation in East and West Gourmet Afghan Foods Spinach products, certified Kosher by the KCS. The KCS has alerted this company to put a hold on this product until further notice. It is NOT currently under the supervision of the KCS.
The following kashrus alert is from the http://yudelstake.blogspot.com on August 23, 2015.
Kashrus Alert- Creatine vitamin and Krill oil are not kosher
They are being distributed in Lakewood by individuals that don't realize their non-kosher status.
Ed. note: Kashrut.com has information on Kosher Over the Counter Medications, Vitamins and Supplements at www.kashrut.com/articles/medicine_list
The following Israeli kashrus alert was reported by Haaretz with additonal information from the OK on August 24, 2015.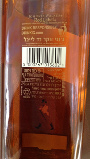 "In Israel, a company named IBBL Spirits is the official importer of Johnnie Walker (and many other alcoholic products) and is authorized by Diageo, the British multinational alcoholic beverages company that owns the Johnnie Walker brand."
"Another Israeli importer, Paneco Group, has been importing and selling Johnnie Walker (in particular the Black Label edition, and at a lower price). The bottles it sells bear a label stating the whiskey is kosher and under the OK's supervision, and has the approval of the Chief Rabbinate." This turns not to be the case according to the Israeli Chief Rabbinate.
From the OK: OK Kosher Certification will only stand behind the kashrus of the Johnnie Walker products when bearing the label shown here and showing the distributors name – IBBLS (Israel Beer Breweries Ltd).
The following kashrus alert is from the Kof on August 21, 2015.

Please be advised that Rosemary & Olive Oil Kettle Cooked Potato Chips distributed by Deep River Snacks was mistakenly labeled with the KOF-K PAREVE and DAIRY logo. THIS PRODUCT IS IN FACT KOF-K DAIRY. Corrective action has been taken.
The following Israeli produce alert is from an ad from the Vaad HaKashrush and HaShemita of the Eida Hacharedis-Yerushalalayim on August 5, 2015.

"We were unfortunately notified that various vegetables and produce sourced and grown in Eretz Israel such as potatoes, carrots, red and greeen peppers, cherry tomatoes, etc aare being distributed across the United States and Europe.
These vegetables were most likely planted on Shmiteh or Hetter Mechira.
The public is to be aware of the abouve and thoughly check the source of fruits and vegatables before purchasing to avoid the Issur of which may require Kashering the pots, dishes and utensils.
Furthermore, there are various food products such as potato chips, salads, nuts, frozen aand canned vegetables, jams, etc. which are likewise grown in Smiteh or Heter Mechireh often bearing a clear label 'acccoridng to Heter Mechireh'. The dame includes products from known companies that usually bear the Badatz Seal and speciaal cauthion should be taken to confirm each and every package has the Badatz Kosher stamp on it."
Ed. note:There are different opinions as to whether you can rely on heter mehira. Please check with your rabbi.
The following information on chodosh is from Rabbi Y. Herman on August 15, 2015.
REVISED CHODOSH DATE FOR GENERAL MILLS FLOUR FROM BUFFALO NY
MASHGICHIM AND CONSUMERS NOTE: The OU has revised the Chodosh starting date for at least one major flour mill, General Mills in the New York area. The new Chodosh date is now Aug 22 or shortly thereafter. This mill is one of the more popular sources of professional flour to bakeries and pizza shops in the New York area, including the All Trump brand high gluten flour. Keep in mind that this early in the season, information is still subject to change. Nevertheless, we still keep to our earlier estimate that to be safe it is reasonable to assume that as of Aug 9, these freshly baked items may be Chodosh everywhere in the USA (MidWest after Aug 2), unless otherwise indicated by mashgichim or unless they were produced in facilities under hashgocho for Yoshon.
---
THE FOLLOWING HAS NOT CHANGED SINCE THE AUG 7 BULLETIN

MASHGICHIM NOTE: We became aware last year that some pizza shops and other facilities that produce both Yoshon and non-Yoshon items may be using the same oven for both at the same time. Mashgichim should please check that this practice should not be allowed. They also should make sure that other keilim should not be used interchangeably between Yoshon and Chodosh items.

THE FOLLOWING INFORMATION HAS NOT CHANGED SINCE THE PREVIOUS BULLETIN OF AUG 4.

"The following Chodosh starting dates are based on the weekly crop bulletins from the US Department of Agriculture.
Freshly baked items using spring wheat, including breads, challahs, bagels, rolls, pizza and some cakes and cookies may be Chodosh in the Midwest after the PURCHASE DATE of Aug 2. Elsewhere in the US, this date would be Aug 9.
Packaged foods from spring wheat may be Chodosh after the PACKING date of Aug 2, or the PURCHASE date of Aug 16.
Noodles and pasta may be Chodosh after the PACKING date of Aug 15 and the PURCHASE date of Sept 1.
Barley, such as pearled barley, may be Chodosh after the PACKING date of Aug 2 and PURCHASE date of Aug 16.
Oats: Last year, according to the O-U all oats used in cereals had a Chodosh PACKING date of Sept 1 or later, PURCHASE DATE of Sept 15 or later. Exceptions to this included General Mills cereals such as Cheerios and Quaker oats made in the USA for which the Chodosh dates were later. We are waiting for an update on this for the forthcoming season from the O-U. Oats used in non-cereal products such as oatmeal cookies, may be Chodosh starting a PACKING date of Jul 26, PURCHASE date of Aug 9.
Barley malt (also listed in the ingredients as "malt") may be Chodosh as of the packing date of Dec 15. Package codes should be checked after the purchase date of Jan 15 for beer and Mar 15 for malt in other products. "
"The above dates are estimates of the earliest time that those items may already be Chodosh. In case of packaged goods, in most cases you may use last year's Guide to see what the package code is for the cutoff dates given. Just add 1 to the year given in those codes. Those who do not have last year's Guide may get last year's Guide by sending an email message to either chodosh@sefer.org or to chodosh@moruda.com. We plan to issue a Preliminary Guide to Chodosh, BE"H, by early September which will contain the package codes revised for the new season."
The following kashrus alert is from the OnlySimchas.com posted on August 14, 2015.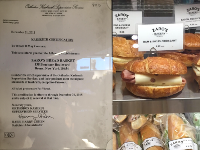 OmlySimchas.com reported that a visitor to Zaro's bakery at Penn Station in NYC noticed a kosher certificate at the entrance to a store that sells non-kosher sandwiches including ham and cheese sandwiches. The kosher certificate is for anther location. People may see a kosher certificate and not pay attention as to what it is for.
The following kashrus alert is from the OU on August 13, 2015.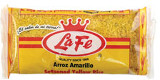 La Fe All varieties of seasoned rice, La Fe Food Company, Moonachie, NJ Issue: Varieties of seasoned rice, including Yellow Rice, Seasoned Rice & Black Beans, Mexican Style Seasoned Rice and Seasoned Rice & Red Beans, bear an unauthorized OU and are not kosher. Corrective action has been implemented. If consumers see this product on the market they are asked, if possible, to take a picture of it and report the location to kosherq@ou.org.
The following Mexican kashrus alert is from One Kosher Twitter Feed on August 14, 2015.
El restaurante One ou one/101 dentro del Zentro Mixcalco Col: Centro NO TIENE NUESTRA SUPERVISIÓN
Translation by One Kosher: The One restaurant ou one/101 within Zentro Mixcalco Col: Center do not have our SUPERVISION