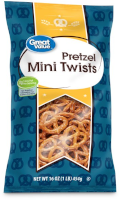 September 20, 2022 from the COR Detroit:
KROGER, MEIJER and GREAT VALUE [Walmart] brands of PRETZELS that previously had a plain OK symbol, including Pretzel Sticks, Pretzel Rods and Pretzel Mini Twists, are now changing to an OK-D symbol due to dairy equipment, and should not be eaten together with meat. Packages that still bear a plain OK symbol are pareve. Several other store brands of OK certified pretzels (e.g., Clancy's at Aldi) will also be changing status. Check each bag. (Note: These pretzels are not Pas Yisroel.)
---
Kosher Advisory Walmart Pretzel Mini Twists & other other Walmart Great Value Pretzel products
March 14, 2022 and March 18, 2022 from the OK in response to a question from the editor:
Walmart Pretzel Mini Twists, Pretzel Rods, Pretzel Sticks, Pretzel Salty Sticks, Pretzel Nuggets Sourdough, and Pretzel Twists are changing from pareve to DE (labeled with the OK D symbol). All packaging with the OK symbol are still pareve.
From the OK, the status can change to dairy without notification (since the product is already approved as dairy. The consumer should check with the OK office every few months to reconfirm the DE status of this product.
The pretzels will be DE and labeled with the OKD symbol.