K A S H R U T . C O M©
The Premier Kosher Information Source on the Internet
---
HOME | ALERTS | CONSUMER | COMMERCIAL | PASSOVER | TRAVEL | ZEMANIM | LINKS | ARTICLES | RECIPES | HUMOR | E-MAIL LIST

---
Consumer Kashrut Alerts
Kashrut Alert: SUPER K FORTUNE COOKIES from KARI-OUT COMPANY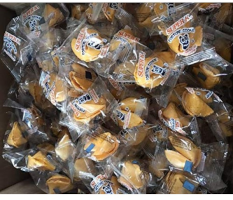 September 20, 2022 from the COR Detroit:
SUPER K FORTUNE COOKIES from KARI-OUT COMPANY, White Plains, NY, are Kosher only when bearing the OU symbol on the case and also on each individually wrapped cookie. Cases not bearing the OU, and cookies not bearing the OU on their individual wrapper, were produced by a non-certified supplier. Some cases bearing an OU were found to mistakenly contain some non-certified cookies mixed in that did not bear an OU. Check each wrapper. (Note: These cookies are not Pas Yisroel.)
The information posted is from secondary sources. We cannot take responsibility for the accuracy of the information.
Copyright © kashrut.com. Permission is granted to reprint these alerts in hardcopy print media if kashrut.com is credited as the source of the information.
כל האומר דבר בשם אומרו, מביא גאלה לעולם אבות ו"ו