The following South African kashrus alert is from the Beth Din of Johannesburg on September 22, 2010.
Parmalat will be reformulating their yoghurts and will again be using gelatine as an ingredient. This change will only take place when ALL of the packaging bearing the BD logo has been used up. (NOTE: Some flavours are already appearing without the BD logo.)
UNTIL 27 September 2010: ALL Parmalat Yoghurts will be kosher even if gelatine is listed as an ingredient.
AFTER 27 September 2010:
ONLY those Parmalat Yoghurts bearing the BD logo will be kosher.
The following British kashrus alert is from the London Beth Din on September 21, 2010.
Please note that recently launched products Ella's Kitchen Stage 1 Sweetcorn, Pumpkin & Peas and Stage 1 Sweet Potatoes, Broccoli & Carrots are Not Kosher.
The following British kashrus alert is from the London Beth Din on September 21, 2010.
Chewits Vampire Teeth, listed as approved Parev on p.41 of The Really Jewish Food Guide 2010 are currently being reformulated. The new recipe includes gelatine and is therefore Not Kosher. It will still be possible to buy old stock for some time, which can be identified by the absence of gelatine in the ingredient declaration.
The following kashrus alert is from the Star-K on September 15, 2010.
New Ravens Pizza, located at 116 Chartley Drive, Reisterstown, MD 21136, recently distributed flyers bearing a Star-K logo. New Ravens Pizza is not Star-K certified and is not Kosher. Corrective action has been taken.
The following kashrus alert is from the COR on September 15, 2010.
Please be advised that Nature's Blend Premium Bagels Whole Grain Whole Wheat being sold at Safeway stores was labeled with an unauthorized COR 153. This product is not under COR certification.
The following kashrus alert is from the OK on September 14, 2010.
Please be advised that JERRY'S SUBS * PIZZA in Silver Spring, MDis advertising their Carvel ice cream as OK certified. OK KOSHER CERTIFICATION DOES NOT CERTIFY ANY CARVEL ICE CREAM OR THEIR STORES (Carvel Packaged Ice Cream premixes may be certified, but this does not cover the ice cream or the stores.)
Ed. note: JERRY'S SUBS * PIZZA is not a kosher establishment.
The following kashrus alert is from the Star-K on September 13, 2010..
It has recently been discovered that Red Cabbage can be infested with insects. As a result, the Star-K has upgraded its Red Cabbage inspection procedures from a simple thorough wash to the same procedure used for other leafy vegetables. See Star-k.org/cons-vegdetail.php?ID=15 for details. Packaged Red Cabbage that is kosher certified as insect-free remains acceptable.
The following kashrus alert is from the Chicago Rabbincal Council, on August 25, 2010.
Recently it has been discovered that red/purple cabbage may be infested with small white bugs. The insects might not be noticed during a casual check of the cabbage, but if the leaves are removed from the head and checked carefully (before the leaves are washed), the bugs can easily be seen standing or crawling on the inside of the leaves.
The insects have been found in cabbage checked in New York, Baltimore, and Chicago, but the exact extent of the infestation or the reason for its sudden appearance is not yet understood.
We therefore recommend that until further notice one should only used red/purple cabbage in one of the following two ways:
It is purchased pre-washed and pre-shredded (i.e. bagged cabbage).
The leaves are removed from the head and each leaf is rinsed thoroughly under a stream of water.
To the best of our knowledge, green cabbage is not affected by this infestation. We will continue to monitor the issue and inform the public if the infestation ends and/or if there are alternative washing methods which are sufficient.
The following pas yisroel notice is from the Rabbinical Council of California on September 12, 2010.
Please not that only the following industrial bakeries are Pat Yisrael:
International Pita
Ara-z Lavash
Other industrial bakeries such as Global, Glendale fine, Original Jack's, etc. are not Pat Yisrael.
The following kashrus alert is from the Vaad Hoeir of Colonmbus on September 13, 2010.
The Torah Center and Catering by Chani operating out of 2942 E. Broad St. Columbus, Ohio 43209 are no longer certified by the Vaad Hoir of Columbus, Ohio Inc.
The following health alert is from the FDA and Foodmanufacturing.comon September 8, 2010.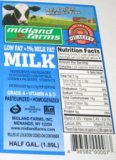 Midland Farms, located in Menands, NY, is voluntarily recalling certain milk products due to the potential of improper pasteurization. Proper pasteurization heats milk in order to effectively eliminate all pathogenic bacteria, such as Listeria and Salmonella. The milk was marketed under the brand names Midland Farms, Corrado's Market, Jersey Dairy Farms and Trade Fair Premium. It went in sizes from pints to gallons to stores in NY, CT, MA, NJ and RI. Inspectors found failed pasteurization equipment at the Midlands Farm plant near Albany on Sept. 7. Consumers should look for the plant code 36-1661 and a Sept. 24 date code. Milk should be returned to the place it was bought.