The following news is from the FoodNavigator.com on May 5, 2015.
EU labeling laws require species declaration for meat and fresh fish but do not require explicit labeling of species for processed fish products. The author of the article felt that this was because of intense pressure from industry lobbies.
The following news jta on April 20, 2015.
Some Australian companies have asked to have their kosher symbol removed from products because consumers think that halal certification supports terrorism. Rabbi Yankel Wajsbort said that Australian Kosher consumers have been using a Kosher list/app for decades and the Kosher symbol on the packaging is a help. The labelling for products exported to the US is usually prepared specifically for export and will likely carry logos as requested.
The following article about use of insects as food is from the fusion.net on April 16, 2015.
A new study in the scientific journal PLoS One. by University of California, Davis researchers Mark Lundy and Michael Parrella tested crickets under different feed and rearing conditions. They found that the massive efficiency (and therefore sustainability) crickets are supposed to deliver didn't quite materialize. "Compared to the industrial-scale production of chickens, crickets fed a poultry feed diet showed little improvement in protein conversion efficiency, a key metric in determining the ecological footprint of grain-based livestock protein," write Lundy and Parrella. However, the crickets could exist quite nicely on a diet of filtered grocery store waste, and that its environmental footprint was much lower than a corresponding amount of livestock feed.
---
The following article about use of insects as food is from the Barfblog.com on April 14, 2015.
"To meet the challenge of feeding the world in 2030, the United Nations Food and Agriculture Organization (FAO) has ruled in favor of the development of large-scale breeding insects." In response, ANSES - French Agency for Food, Environmental and Occupational Health & Safety presented the risks and dangers and the need for more research. The article mentions that "many insects and arthropods (mites, crustaceans, molluscs, etc.) have common allergens". This may mean that foods containg insects may be required to post allergen notices.
The following article about food fraud is from the FoodSafetyNews.com on April 14, 2015.
Food fraud is present now in the food that we eat. It was also a common occurance in the past. Various methods are being attempted now to regulate and prevent food fraud but this is a very difficult thing to do.
The following information is from the FoodNavigator.com on March 27, 2015.
A New York law regulating nondairy coffee whiteners by requiring them to operate as a dairy, has been applied to a company making "milk" from nuts. "Plant based food and beverage manufacturers need to know the standard of identity for their products based on what they call them'"
The following product safety alert is from the CBS News on March 23, 2015.
Kansas wheat farmers are funding research to breed a gluten-free wheat variety. "The research, which began in July at the Wheat Innovation Center in Manhattan, Kansas, is still in its early stages, with researchers extracting proteins from seeds of various varieties of wheat. Miller has yet to begin work combining the proteins with antibodies produced by the human immune system to test for reactions."
The project may end up with a less toxic wheat product that isn't completely safe for all celiac disease patients but may be useful for some.
The following product safety alert is from the CPSC on March 17, 2015.

"A class-action lawsuit was filed against 28 California wineries—including the creators of Trader Joes' Charles Shaw (a.k.a. "Two-Buck Chuck"), Sutter Home's, and Franzia, Beringer, and Cupcake—alleging that some varietals of their wines contain dangerously high levels of arsenic. According to the complaint, three independent laboratories tested the wines and found that some contained levels of arsenic "up to 500% or more than what is what is considered the maximum acceptable safe daily intake limit. Put differently, just a glass or two of these arsenic-contaminated wines a day over time could result in dangerous arsenic toxicity to the consumer." Two of the wines tested was Mogen David Concord and Mogen David Blackberry Wine.
The following product safety alert is from the CPSC on March 17, 2015.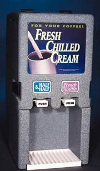 CreaMiser refrigerated creamer dispensers have been recalled because a relay inside the creamer dispensers can overheat, posing a fire hazard.
This recall involves CreaMiser refrigerated coffee creamer dispensers for commercial use with model numbers 200, 210 and 400, digital thermometers and certain serial numbers. The plastic dispensers were sold in the following colors: black granite, gray granite and sand. Models 200 and 210 have two creamer dispenser stations and model 400 has four creamer dispenser stations. Model, serial number and "CreaMiser Products Corporation" are printed on a white sticker or metal name plate on the back of the dispensers.
| | |
| --- | --- |
| Model numbers | Serial numbers |
| 200 | CP200-02001 through CP200-05151 |
| 210 | CP210-00001 through CP210-01925 |
| 400 | CP400-02001 through CP400-05500 |
Incidents/Injuries
There have been seven incidents with the recalled creamer dispensers, including two fires at repair facilities and five units that had melted digital thermometers. No injuries have been reported.
Owners should immediately unplug the recalled creamer dispensers, remove them from service and contact CreaMiser for a free repair.
Sold at distributors nationwide to convenience stores, quick-serve restaurants, hospital and workplace cafeterias, college food service facilities and hotels and motels from January 2001 through November 2003 for about $990 for the two dispenser models and about $1,235 for the four dispenser models.
Manufacturer(s)
CreaMiser Products Corp., of Phoenix, Ariz., now owned by WhiteWave Foods, of Broomfield, Colo.
Consumer Contact: CreaMiser at (800) 905-3366 from 7:30 a.m. to 4:30 p.m. MT Monday through Friday or online at www.creamiser.com and click on "CreaMiser Refrigerated Creamer Dispensers Recalled by WhiteWave" below the menu on the left side of the home page for more information.
The following product safety alert is from the CPSC on March 11, 2015.

Urban Outfitters Recalls Teacups Due to Fire Hazard : The tea cups are mislabeled as microwave safe. If microwaved, the gold paint accents on the teacups can spark, posing a fire hazard.
This recall involves four styles of "Cheeky" six-ounce ceramic teacups. The cups have floral motifs with gold painted accents and have four "cheeky" phrases, such as "booze" and "more whiskey please," painted on the inside or outside rim of the cup. "Dishwasher Safe," "Microwave Safe" and "Made in China" are printed on the bottom of the cup.
Consumers should immediately stop using the recalled teacups and contact Urban Outfitters for instructions on returning the product for a refund.
Consumer Contact: Urban Outfitters at (800) 282-2200 anytime, or online at www.urbanoutfitters.com and click on "Cheeky Teacup Voluntary Recall" for more information. Consumers can also email the firm at service@urbanoutfitters.com.
The following news is from the Food Saftety News on March 4, 2015.
Half the FDA recalls in the last quarter of 2014 were for undeclared allergens and, for the second consecutive quarter, more than 80 percent of FDA food recalls were classified as Class II events, meaning there was no immediate threat to public health." "The number of meat, poultry and egg recalls during the final quarter of 2014 was the highest level experienced since the first quarter of 2012. During the final period, 31 companies were involved in a total of 31 recalls, with the total volume reaching 2.1 million pounds, which was 2.5 times more than during the previous quarter."
In "Europe, where 2014 saw more significant rises in food recalls and notifications. It marked a 14-percent increase in such activity for the final period of 2014. The top five countries of origin for European food recalls were Turkey, India, Poland, France and China, with fish and fish products being among the most frequently recalled products." This is important for everyone, since there is a world-wide food market.